Rare Colorized Footage of Bustling Street From 1897 Compared to a 'Time Machine'
Rare colorized footage depicting Jerusalem in 1897 has resurfaced, with the captivating film compared to a "time machine."
The 124-year-old clip was shot at the infamous Jaffa Gate in the city in Israel, showing a bustling street in front of the eastern façade.
According to Archive.org, it was filmed by Alexandre Promio in April 1897, working for the Lumière film company, with the finished product entitled "Porte de Jaffa: côté Est."
The 43-second long clip was originally silent and captured in black-and-white, but advancements in modern technology have breathed new life into this incredible snapshot of the past.
The updated version was shared to YouTube account Film Rescue, which explained: "This was a Black and White film colorized using Artificial Intelligence so you can see how was the old times but in much higher quality. Weird artifacts can be seen, the colors are not natural but pretty close."
Explaining how they optimized it, they claimed they added frames for smoothness, upscaled to 4K, added sharpness and removed grain. While they included sound "for ambiance."
The account has shared numerous vintage films, with the Jerusalem clip uploaded last year, but it's resurfaced after being posted to Reddit on Sunday.
Redditor Zachdit uploaded it to the forum's Damn That's Interesting thread, where it's already amassed more than 106,000 upvotes.
"Jerusalem, 1897, colorized. The closest thing to a time machine that we have," they said.
The incredible scene was met with delight online, as Coolguycam commented: "My personal fave is the guy that walks by with like his whole living room strapped to his back."
Vulgrin commented: "What's funny is that I've seen few of these types of videos and it seems like in almost every one there are a couple kids being kids at the camera. Makes me smile every time."
BoppedEEMinDAsmoof thought: "They have no idea that people from the year 2021 will be watching them on futuristic devices, like looking through a window in time.
Purplepenguin4163 said: "Something so mundane as people walking down a street will have people watching it with fascination."
"Makes me wonder who'll be watching me doing what 150 years from now...," Ddbogey reckoned.
According to the Jerusalem Foundation, the Jaffa Gate was originally a gatehouse built between 1530-40.
It was also known as Gate of the Friend, Hebron Gate and the Gate of David's Prayer Shrine, and marks the end of the road which led from the port of Jaffa.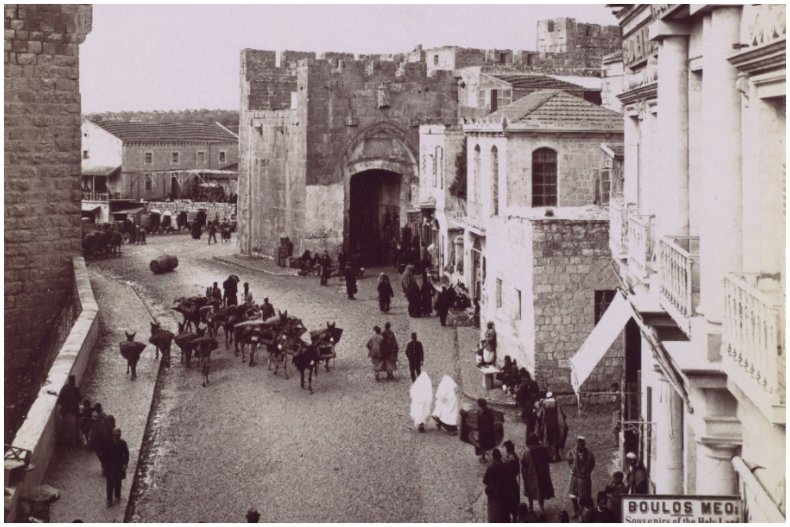 The site claimed it's been "an entry point into the Old City for western pilgrims for centuries."
Just one year after the footage was taken, the gate was opened and the road paved to allow the carriage of Kaiser Wilhelm to enter.
The Lumière film company was comprised of brothers Auguste Marie Louis Nicolas Lumière and Louis Jean Lumière, who were pioneers in their field.
The pair came up with the Cinématographe in 1895, which recorded and, crucially, projected film.
The siblings recorded workers leaving their factory at the end of the day and screened the film, which they called "La Sortie des ouvriers de l'usine Lumière," at a public viewing that same year. It is considered the first motion picture.
According to the website History.com, by 1896 they opened Cinématographe theaters in London, Brussels, Belgium and New York.
The site noted: "They began sending other cameramen-projectionists out into the world to record scenes of life and showcase their invention."
Newsweek reached out to Film Rescue for comment.