Unearthed Sears Catalog From 1905 Reveals Arsenous Tablets and Bust Cream
An unearthed Sears catalog from 1905 has revealed what was being marketed to women, with bust cream and arsenous tablets on sale.
The origins of the department store, officially known as Sears, Roebuck and Co., date back to 1886 when it first began trading or selling watches.
Over the years it's grown to become a staple of the American retail industry, but a catalog from the beginning of the 20th century reveals how much its stock differs from today's.
A woman, named Laura Evans, uploaded a clip to her TikTok page, where she shares numerous vintage finds.
"Oh the good old days," she captioned the video, shared on Friday, as she flicked through the retro catalog listed as no. 114.
The pages show gloves, guns and pocket watches being advertised, along with a range of unusual items.
The 26-year-old told Newsweek she originally found it in a hotel lobby in Julian, California.
She said: "My favorite products I've seen in the catalog are the perfumes since the bottles were so ornate. I still need to look through more of the catalog but so far those are the main things I would still consider using today.
"The weirdest thing I've seen so far is probably 'Pink Pills for Pale People.' They claim to build the blood and cure pale complexions that are the result of 'mental worry and early decay.' It's so fascinating to see all of the problems that they claimed to cure with medicines back then."
Laura, who lives in L.A., said in the footage: "What Sears sold to women in 1905. Female pills for 'female troubles' like hysteria and nervousness. Arsenous tablets for skin disease. They are apparently 'perfectly harmless.' Lots of pretty perfumes. I love the bottles. A 'bust developer' for 'if nature has not favored you.' Well that looks terrifying. And don't forget the bust cream. All of the powders and hair products. And finally whatever this contraption is."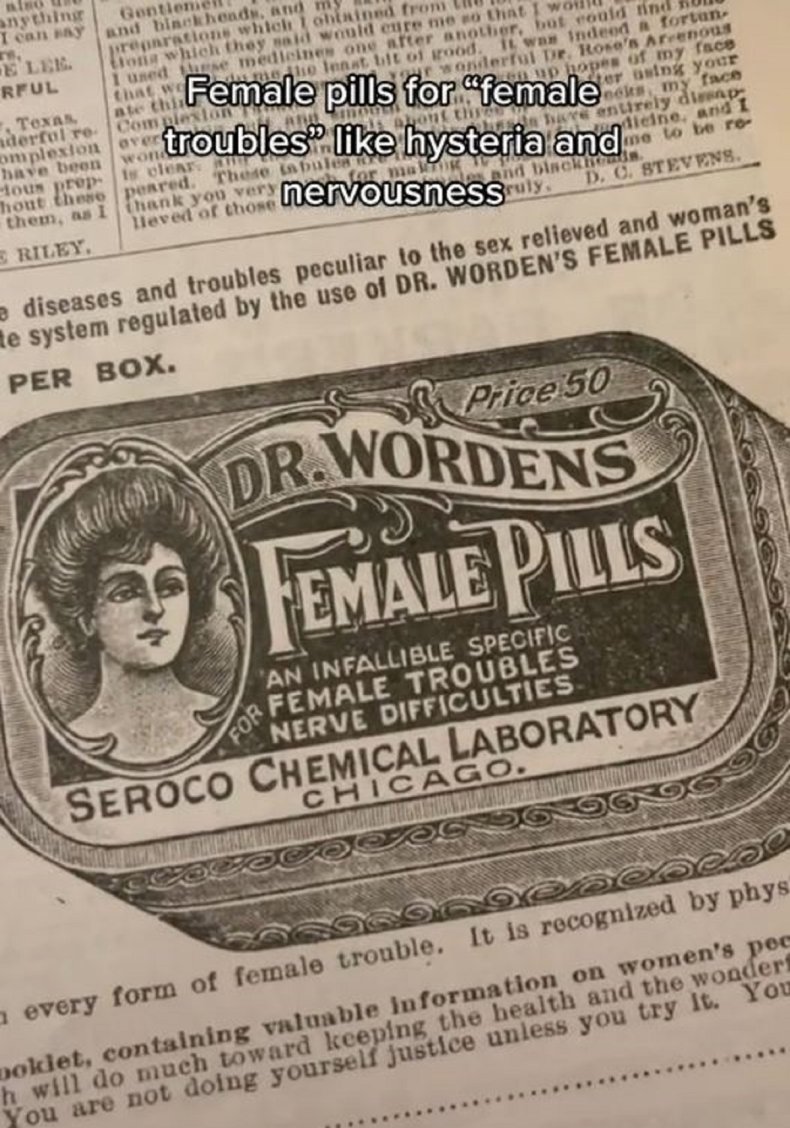 As she flicks through pages, an illustration shows "Dr. Worden's female pills. Sold only by us. 38 cents per box."
The box says: "An infallible specific for female troubles, nerve difficulties."
While a chunk of text goes into further detail, saying: "Thousands of women suffering from the nerve and health-racking ailments peculiar to their sex have been restored to full health and strength by this great remedy after they despaired of ever being well and strong again.
"Female trouble. What a world of misery is expressed in those two words. What headaches, nausea, weakness, sickness, depression etc. is the direct result of a derangement of the delicate female organism and nature's regular functions. Every woman well understands, far better than pen can write or words can tell, the suffering her sex must undergo by what is known as female trouble; suffering which is usually borne in silence, because only a woman can be confided in."
While Dr. Rose's arsenous tablets are billed as: "A guaranteed cure for bad complexion and skin disease of every nature."
Despite claiming to be perfectly safe, The Toxin and Toxin Target Database (T3DB) stated "arsenous acid is a chemical compound of arsenic," which is lethal to humans.
Meanwhile a device resembling a toilet plunger is being sold as a bust developer.
The accompanying ad says: "The princess bust developer is a new scientific help to nature. Combined with the use of the bust cream or food, forms a full firm well developed bust. It will build up and fill out shrunken and underdeveloped tissues, form a rounded, plump, perfectly developed bust, producing a beautiful figure. The princess bust developer and cream food is absolutely harmless, easy to use, perfectly safe and the only successful bust developer on the market.
"If nature has not favored you with that greatest charm, a symmetrically rounded bosom, full and perfect, send for the princess bust developer, and you will be surprised, delighted and happy over the result of one week's use. No matter what you have tried before, no matter if you have used other so-called bust developers (paying $4.00, $5.00 or $6.00) the Princess Developer will produce the desired result in nearly every case. If you are not entirely satisfied with the result after giving it a fair trial, please return it to us and we will gladly refund your money."
Other weird and wonderful items for sale include floral massage cream, English lavender smelling salts, hair elixir and Barbers' egg shampoo.
Evans' video has been watched hundreds of thousands of times, as people were fascinated by the products on sale.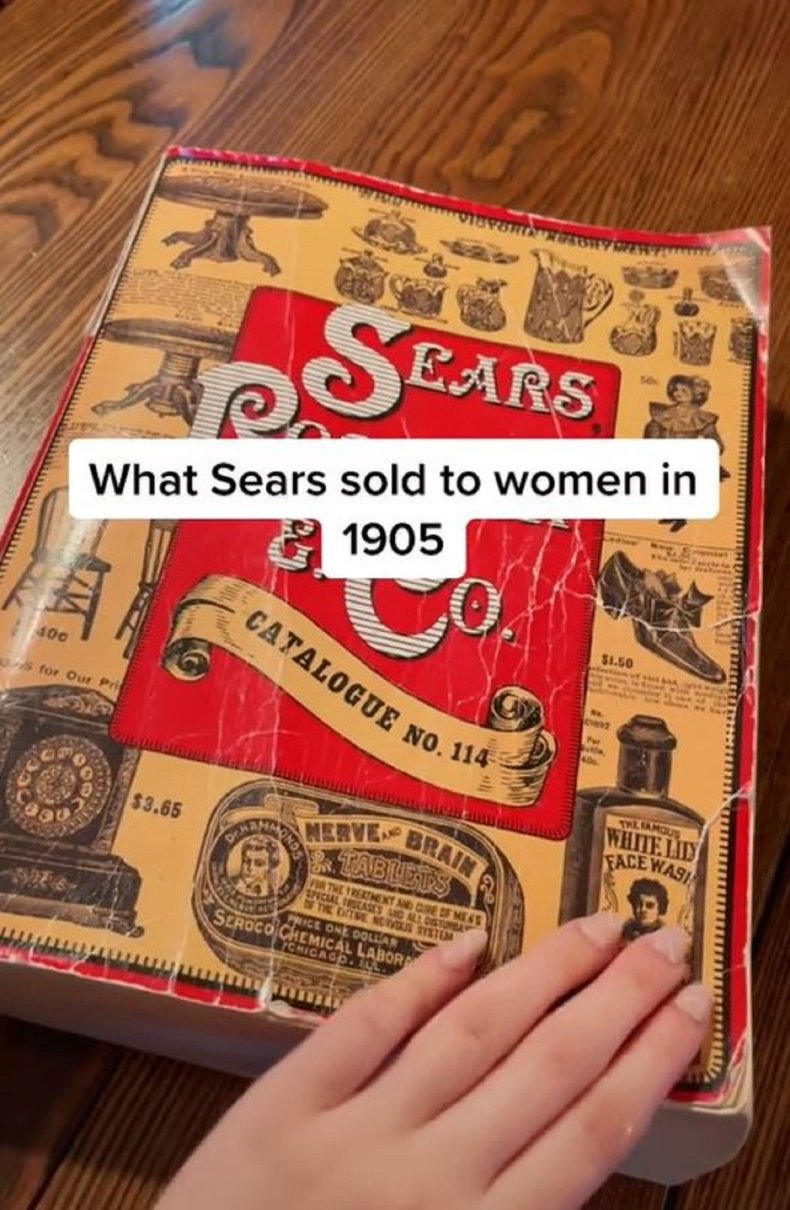 Cindy joked: "I bet everything contained lead or cocaine in it."
Agreeing, MN520 wrote: "Before the FDA [Food and Drug Administration], half that stuff was outright poison. Arsenic, mercury etc."
Outside_Intention reckoned: "They'll look back at our modern day pills just the same."
And Jimmy reckoned: "Fashion and beauty products targeted towards anxieties? Huh. Looks like only names and prices have changed since then. Super cool catalogue."
Update 6/17/21, 7:15 a.m. ET: The article has been updated with additional pictures and video.
Update 6/21/21, 6:25 a.m. ET: The article has been updated with quotes from Evans.