Rare Deadly Fungal Infection Affecting Snakes in Eastern U.S.
An infectious fungal disease discovered among snakes has reportedly been rapidly spreading across eastern America, and may prove catastrophic to native snake populations.
According to a report from the United States Geological Survey [USGS] released on Friday, snake fungal disease [SFD], has been "confirmed in numerous species of snakes" recently. While the skin infection has thus far only been documented in snakes, it may significantly impact their declining populations in America.
"Signs of SFD include crusted or ulcerated scales, nodules [that is, abnormal bumps] under the skin, abnormal molting, white opaque cloudiness of the eyes [not associated with molting], and facial disfiguration that can be quite severe, leading to emaciation and death," the USGS wrote. "Many snake populations are already in decline due to habitat loss and dwindling prey populations, and SFD may accelerate this decline."
As the fungus spreads over the body, it usually remains under the scales. However, in aggressive cases it penetrates through the body and cause a systemic fungal infection.
Scientists identified the fungus that causes SFD, Ophidiomyces ophiodiicola, in 2015. However, the fungus has been present in North America much longer than that, and was known to be potentially devastating to snakes in 2006, according to the BBC. In fact, it was so dangerous that it cut the population of timber rattlesnakes in half, from 40 to only 20.
In a 2017 study published in the journal Science Advances, researchers fed information about species of snakes known to be affected by this disease into a neural network. Ideally, the neural network would take the information about the snakes, separate and compare their different characteristics, and isolate the factors that the snakes had in common to help them determine what might cause the infection.
However, the network couldn't come up with a specific factor. "Then we figured it out," Frank Burbrink, associate curator with the department of herpetology at the American Museum of Natural History, told Newsweek at the time. "All of these snakes are susceptible to having it."
Calling it a "worst-case scenario," Burbink decreed it a "call to arms, for people to start taking this seriously."
"When we looked at it we said, ok, this is kind of scary because all the snakes that have this disease are extremely different," he said. "They're so different ecologically and evolutionarily that we think any snake could get it."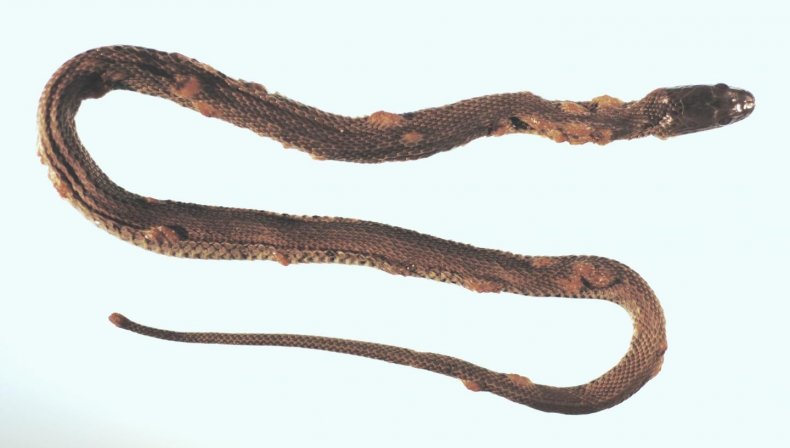 In the USGS report last week, the organization claimed that new cases of SFD "recently...has increased substantially."
"As of August 2017, O. ophidiicola has been detected in much of the eastern half of the United States," the USGS also reported.
The National Wildlife Health Center (NWHC) as well as the USGS are currently working together across several eastern states with the respective natural resource agencies to "better [understand] SFD and its potential impacts on snake populations," in order to determine if human intervention is necessary.
"NWHC has analyzed samples from over 100 whole carcasses and biopsies from snakes exhibiting clinical signs consistent with SFD," the USGS reported. "USGS scientists are working to better understand the epidemiology of SFD in different snake populations in North America and abroad.
"The intent of this research is to determine the spatial extent and severity of this disease in wild populations to determine if intervention is needed to reduce its impacts on sensitive populations."
While in 2017 researchers deemed SFD a potentially global threat, it is not immediately clear how dangerous the recent outbreaks are considered to be.
"It could be in the environment already, it could be transmitted by humans or even captive animals," Burbrink told Newsweek in 2017. "But we know definitely that it spreads from one snake to another when they touch."
Fortunately, a 2021 USGS fact sheet noted that SFD is not transferrable from snakes to humans. To date, over 30 species in Europe and America have been afflicted with SFD.
"Snakes have a massive service for human beings, they eat rodents, they serve as food for other animals," Burbrink added. "This could be pretty devastating, and they're important in the food web as mid-level predators. We can't afford to lose them as a whole."
Newsweek reached out to the USGS and NWHC for additional comment on the situation, but did not hear back in time for publication.
The increase in SFD cases has coincided with another strange outbreak among animals. In several midwestern states, a "mysterious" illness has proven fatal to birds over the past few weeks. Wildlife officials in Kentucky are even asking some residents to take down their bird feeders to curb the blinding and death of birds in the state.