Rare Mercedes Sells for Record-Setting $143M
Mercedes-Benz announced today that it sold a 1955 300 SLR Uhlenhaut Coupe, one of two in existence, for about $143 million.
The proceeds from the (135 million euro) sale, which happened at a private auction between the German automaker and select customers and collectors, will go towards establishing the Mercedes-Benz Fund. The new organization will fund university scholarships and school programs in environmental science and education.
The auction took place on May 5th.
"As a global company and as a luxury brand we bear a great level of responsibility towards society," Mercedes board member Renata Jungo Brüngger said in a press release. "The proceeds from the sale of the 300 SLR Uhlenhaut Coupe provide us with a unique opportunity to strengthen our commitment with a long-term flagship project: We will establish the global scholarship program "Mercedes-Benz Fund" supporting young people in their studies, commitment and actions towards a more sustainable future."
Brüngger, who will direct the funds, added that environmental education is crucial for understanding society's modern problems and strengthening social cohesion.
The fund will focus on two areas: scholarships for university-level students to study and conduct research in the environmental science field and school-level scholarships for children to participate in local environmental projects.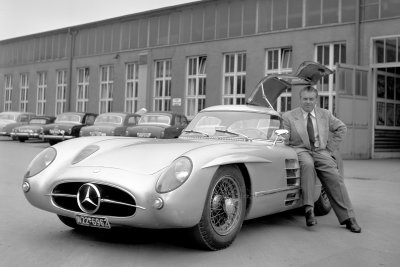 "We are proud that we can contribute with our historical collection to this initiative connecting the past with the future of engineering and decarbonization technology", head of Mercedes-Benz Heritage Marcus Breitschwerdt said in a statement. "The private buyer has agreed that the 300 SLR Uhlenhaut Coupe will remain accessible for public display on special occasions, while the second original 300 SLR Coupe remains in company ownership and will continue to be displayed at the Mercedes-Benz Museum in Stuttgart."
Only one of two street-legal prototypes developed by Rudolf Uhlenhaut, the company's chief engineer at the time, this 300 SLR was his personal car.
Developed after Mercedes pulled out of motorsport, the car is most notable for its use of gullwing doors. The car was engineered for a top speed of about 186 miles per hour, eclipsing other road-legal cars at the time.
Uhlenhaut outfitted the two-seater coupe with a naturally aspirated eight-cylinder and a five-speed manual transmission.
Later this year, the company will announce how it will distribute the funds and the partner organization it plans to work with on the initiative.