Rare Pygmy Sperm Whale Euthanized After Hitting Rocks at Low Tide in California
A pygmy sperm whale that got stranded on a Malibu beach has been euthanized after suffering severe injuries.
California lifeguards found the whale on Malibu Surfrider Beach on Sunday evening, according to a tweet from the Los Angles County Fire Department. Photos posted on Twitter show the bloody wounds that covered the animal's body.
Fire crews worked with the lifeguards to transfer the pygmy sperm whale from the beach to California Wildlife Rescue. However, the animal was in "poor health and had sustained many injuries as a result of hitting against low tide rocks," the rescue organization told CBS.
The California Wildlife Rescue and the National Oceanic and Atmospheric Administration opted to euthanize the whale to "prevent additional suffering."
Pygmy sperm whales are found in tropical seas worldwide, although they are rarely seen by humans. In the U.S. they live off the coasts of Hawaii, the Pacific Northwest, the North Atlantic and the Gulf of Mexico.
Unlike other, larger whales that are sometimes spotted off the California coast, pygmy sperm whales come to the surface only when the conditions are very calm. They tend to avoid vessels and are a deep-diving species, foraging for food in low to mid-level water depths.
Because of this, scientists have found it difficult to determine their population size. However, they may be more common along the southeastern coasts, as most strandings have taken place there.
Marine wildlife strandings have become particularly common in California. The causes of this phenomenon remain largely a mystery, but some researchers believe that injuries linked to human interference are a large contributing factor.
According to the National Oceanic and Atmospheric Administration, the predominant reason varies from species to species, but common causes include ship and vessel collisions, entanglement in fishing gear and waste pollution.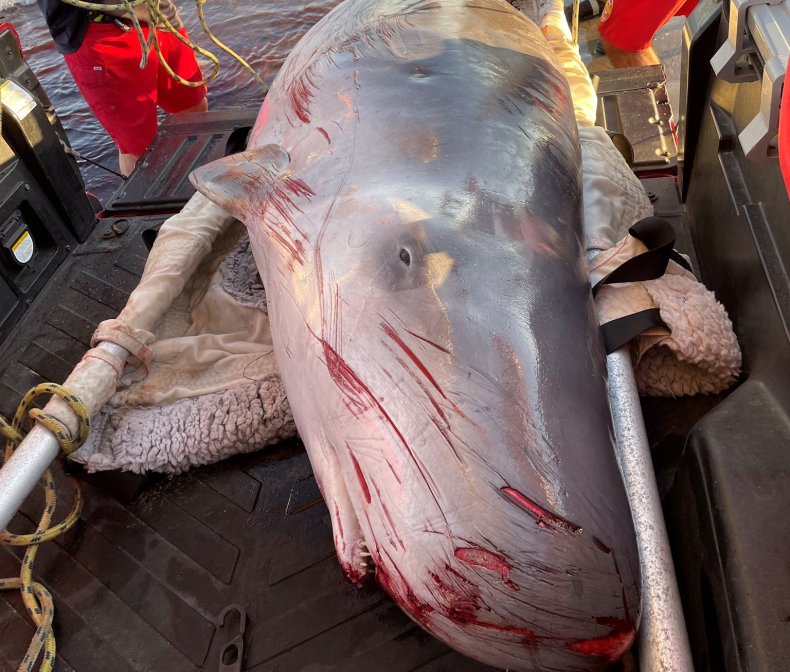 In 2019, the number of whale strandings on California beaches began to climb. The NOAA classed it as an "unusual mortality event" because a surprising number of stranded whales were turning up along the coast with no obvious cause. The NOAA found evidence of emaciation in some of the whales, but this wasn't universal.
According to the NOAA, of the 600-plus beached whales, dolphins and porpoises reported in 45 years, only three have been pygmy sperm whales.
One of these washed ashore in California in February 2021. The pygmy sperm whale was found in the San Francisco Bay area and was dead when it was discovered. Its cause of death remains a mystery.