Rare White Tiger Mauls Zookeeper to Death in Enclosure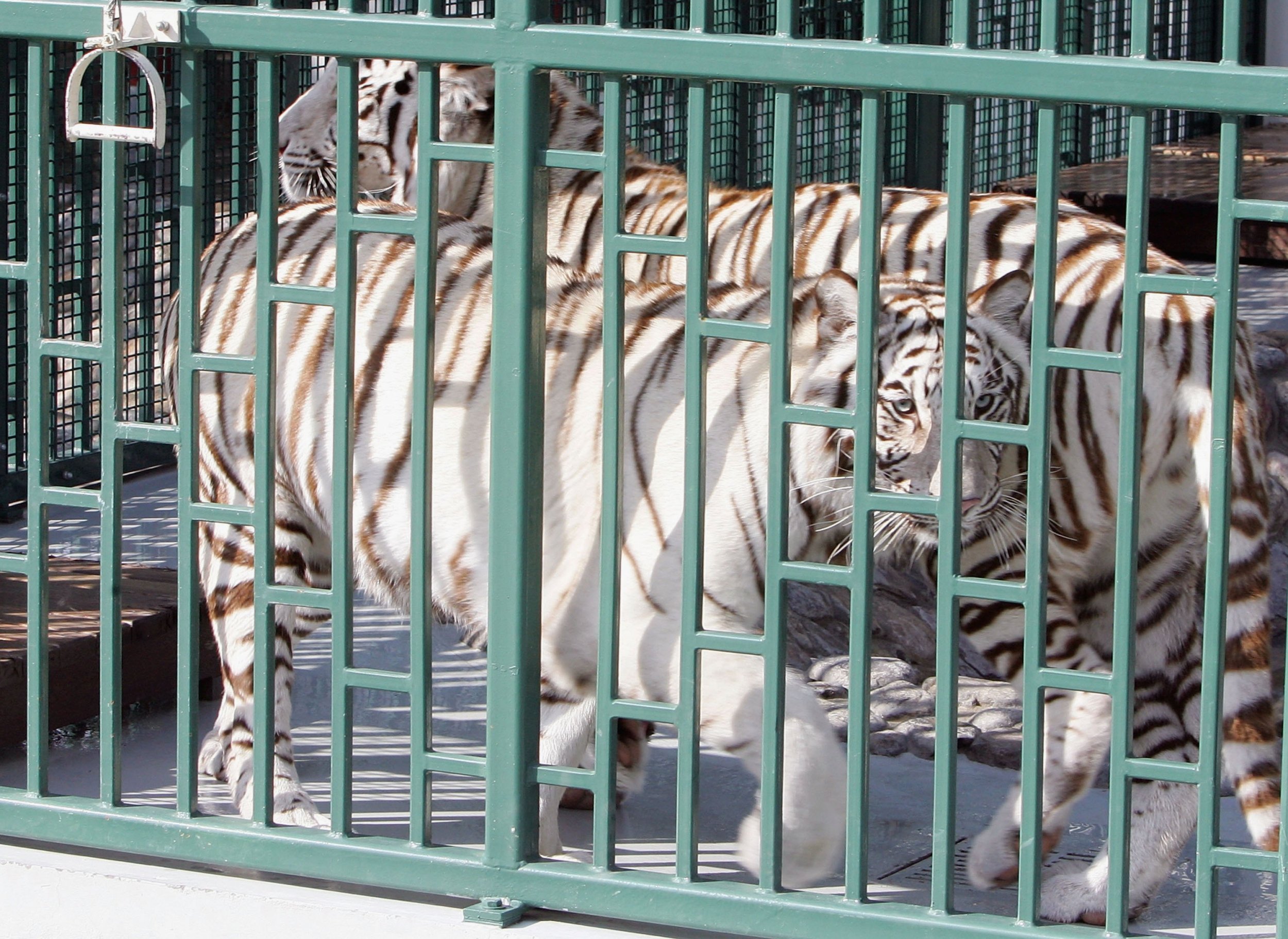 A rare white tiger has mauled a zookeeper to death in his enclosure at a zoo in Japan.
Akira Furosho, 40, was found by his colleague bleeding from the neck at an enclosure in Hirakawa Zoological Park in the southern Japanese city of Kagoshima.
Furosho was in charge of looking after a five-year-old male tiger called Riku. He was cleaning Riku's enclosure at the time of the incident.
The attack happened just after 5 p.m. on Monday when the zoo was closed for the day. The tiger, which is about six-feet-long and weighs about 370 pounds, had to be sedated by other zoo workers with a tranquilizer gun after the attack.
The zoo forbids humans and tigers to be in the same space. When the enclosure is cleaned, the tiger is moved to a separate den.
Akinori Ishido, director of the zoo, said: "For some reason, Furusho and the tiger were not separated. We can only speculate as to the cause," the Asahi Shinbun reported.
The white tiger is a rare version of the orange Bengal species. They are only bred in captivity to maintain their distinctive fur color, which is due to a recessive gene. They are often born with congenital disabilities such as joint problems due to inbreeding, and tend to have a shorter life.
Ishido said that the tiger would still be kept at the zoo, according to the wishes of the victim's family.
Police are now investigating how the zoo looks after its four white tigers, Japan's Kyodo news agency said.
Yukihiro Kawabata, who visited the zoo with his family from Miyazaki, said he was surprised to learn about the incident. "I saw that on the news. We had been looking forward to seeing white tigers, so it is too bad," the Japan Times reported.
In 2014, a white tiger attacked and killed a man who leapt into the tiger enclosure at Delhi Zoo. Last year, a British zookeeper was killed by a tiger in its enclosure in a Cambridgeshire zoo, the BBC reported.
Last year, a keeper managed to survive a tiger attack at a zoo in Kaliningrad, Russia, after she was mauled in front of shocked visitors. Another lucky escape in a zoo took place last month, when a man jumped into an elephant enclosure at a Danish zoo but ended up being escorted to safety by other animals.