Rashida Tlaib Calls for $2K Checks for All Americans and Noncitizens, Funded by U.S. Mint
Legislation reintroduced by Democratic Representative Rashida Tlaib of Michigan would provide payments of $2,000 to every American as a coronavirus relief measure.
"In the last year of this global pandemic, we have seen corporations and CEOs reap the benefits of payouts and soaring profits while everyday workers, low-income people and families across the country have been left to scrape by without any recurring, aggressive, and inclusive financial assistance from our federal government," Tlaib said in a press release. She was announcing the Automatic Boost to Communities (ABC) Act, which she has reintroduced along with Democratic Representative Pramila Jayapal of Washington.
If the ABC Act were passed, the Treasury Department would cut every American a $2,000 check, followed by a monthly unconditional basic income (UBI) payment of $1,000 for one year after the end of the pandemic. The lawmakers argue that unlike a tax cut, the ABC Act puts "real money" into the pockets of all Americans.
The proposal calls for the U.S. Mint to create two $1 trillion coins, which would be purchased by the Federal Reserve and then moved into the U.S. Treasury to cover the payments, The Detroit Free Press reported. More coins may be minted if necessary.
"Our legislation acknowledges that a one-time survival check isn't enough to get people through this crisis. Instead, we send out recurring checks every month during the crisis and for a year after it ends. That is money in people's pockets, and certainty in their lives," Jayapal said in Tuesday's announcement.
The lawmakers' proposed bill comes on the heels of President Joe Biden's $1.9 trillion American Rescue Plan, which is giving Americans $1,400 stimulus checks. But there's a demand for more relief, Jayapal and Tlaib argue. According to polling gathered last year by the Data for Progress and the Justice Collaborative Institute, 66 percent of respondents preferred to receive recurring $2,000 payments until the president ends the federal state of emergency.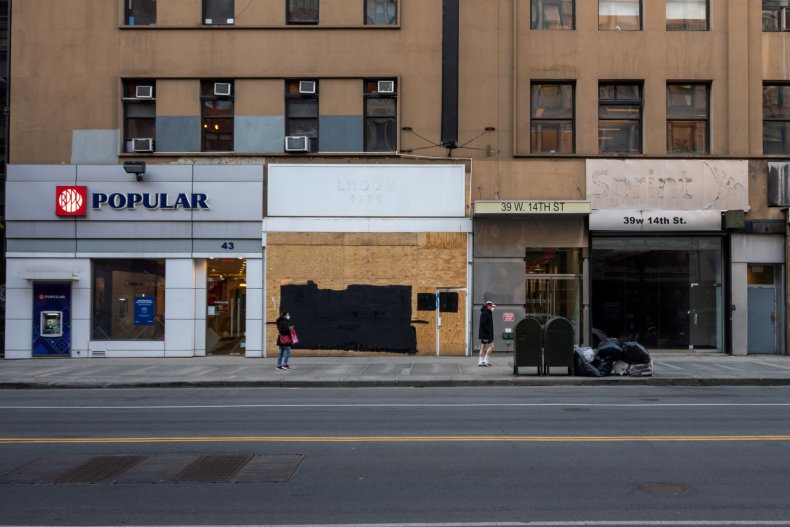 Advocates representing working families, immigrants and small businesses support Tlaib's and Jayapal's measure as necessary help for Americans who can't survive without continued economic support. Economic Security Project Co-Chair Natalie Foster said the ABC Act was a "critical lifeline for those the recovery is leaving behind."
If passed, the legislation would make the $1,000 checks go to everyone, no matter their income level, according an article for The Swamp by UBI expert Scott Santeens. The universality and unconditionality of the UBI payments improves the immediacy, error reduction and social cohesion of the payment program, Santeens wrote.
"The fastest possible way to get money to people is to decide on a number and just send them to everyone without any means test," Santeens wrote. He added that wealthier Americans who receive the UBI payment would get taxed a greater amount in the following year.
But as with any major spending plan, critics have raised concerns that cutting more government checks will lead to a spike in inflation. Vox reported that the combination of government-funded payouts and economic recovery funding could cause prices to surpass the true value of goods.
"The most significant risk we face is a workforce that is scarred by a long period of unemployment. People being out of work, not able to find jobs, can have a permanent effect on their well-being. I think that's the most significant risk," Treasury Secretary Janet Yellen said in an interview with ABC News' This Week. "Is there a risk of inflation? I think there's a small risk. And I think it's manageable."
Consistently low inflation rates have made it more difficult for economic experts to estimate what will happen when the economy bounces back after the pandemic, according to Vox. Some experts have warned that streaming cash into the economy may cause prices and wages to increase, weakening the country as the economy bounces back.
In response to inflation concerns, Tlaib cited Federal Reserve Chairman Jerome Powell's comments to a Senate panel last month that inflation is "not a problem" to fear amid federal relief spending. Powell said a "burst" of government spending that doesn't last for multiple years likely won't change long-term inflation patterns.
The two lawmakers said the ABC Act would curb economic uncertainty rather than exacerbate it. In a Twitter post, Jayapal said the ABC Act would be more than "immediate relief" and provide "stability, certainty and predictability" to all Americans.
Newsweek reached out to Tlaib for further comment but did not hear back before publication.