Rashida Tlaib Calls Out GOP for Taking 'Credit' After Passage of Stimulus Plan
Democratic Representative Rashida Tlaib of Michigan took aim at Republican lawmakers for taking "credit" for President Joe Biden's $1.9 trillion stimulus plan on Sunday.
"You know how in a group project there is always a handful of students who didn't contribute, but they still take credit at the end," Tlaib tweeted. "That's the GOP after the passage of the American Rescue Plan."
Attached to the Michigan Representative's tweet was a story from The Hill, which stated that the Treasury Department and the Internal Revenue Service (IRS) have started the process of sending out the $1,400 direct payments as part of Biden's stimulus package.
The House of Representatives passed an amended version of Biden's American Rescue Plan on Wednesday, and the president signed the legislation on Thursday.
The plan includes $1,400 stimulus payments for individuals making less than $75,000 a year, an increase in the child tax credit, and direct funding to state and local governments—as well as hundreds of billions of dollars for school reopenings, aid to small businesses, and coronavirus vaccine rollouts.
States and cities are set to receive a collective $350 billion from the package. This was a point of contention for Republicans, who opposed such funding, suggesting the move was a "bailout" for Democrats-run areas that they claimed had been run poorly amid the coronavirus pandemic.
Some Republicans, however, appeared to have claimed credit for the package, although it passed with no GOP support in either the House of Representatives or the Senate.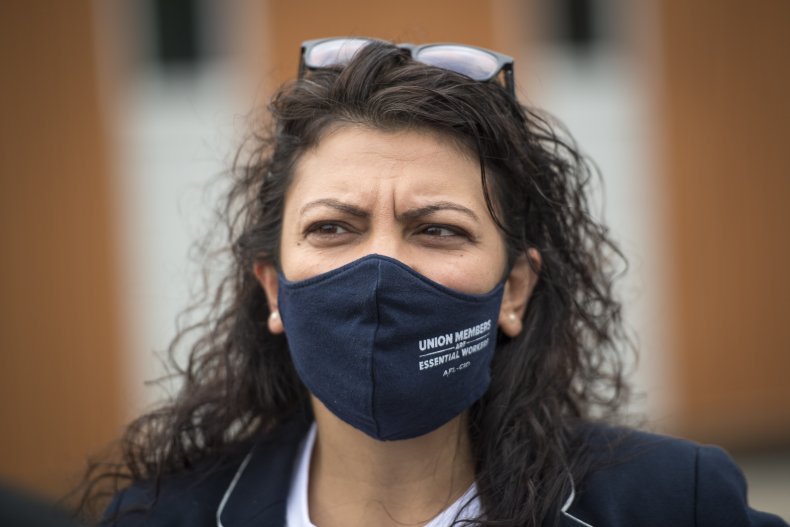 Democratic Representative Ted Lieu of California pointed to this discrepancy in a Sunday tweet responding to Republican Representative María Elvira Salazar of Florida.
"So proud to announce that the Biden Administration has just implemented my bipartisan COVID relief bill as part of U.S. Small Business Administration policy," Salazar tweeted on Friday.
Lieu since responded to Salazar's, saying: "You voted against it. You voted NO on your own legislation. But thanks for highlighting some of the great small business provisions in the American Rescue Plan, which every Republican member of Congress opposed."
In a follow-up tweet, Tlaib called on Republicans to support the Automatic Boost to Communities (ABC) Act.
"They can still grab their pens and paper and support the ABC Act for recurring payments of $2,000/ month and the creation of an emergency resources corp," Tlaib tweeted.
The legislation was introduced by Tlaib and Democratic Representative Pramila Jayapal of Washington in April 2020. It would provide $2,000 per month payments to each eligible individual and establish an emergency first responders corps—a group dedicated to aiding the most vulnerable amid the pandemic, such as the elderly and physically disabled.
Newsweek reached out to Tlaib's office, but didn't hear back in time for publication.