What Is in the $1.9 Trillion Stimulus Bill?
The House of Representatives passed an amended version of President Joe Biden's COVID-19 relief bill on Wednesday, with the commander-in-chief expected to sign it on Friday.
After several weeks of discussions over the points, some aspects have been tweaked from the president's original desires.
For example, a move to boost the federal minimum wage to $15 an hour was no longer included due to the Senate parliamentarian ruling it should not be passed through reconciliation.
There have also been some changes to stimulus checks and unemployment benefits.
Below, Newsweek outlines some of the key aspects of the bill.
Stimulus Checks
Another round of Economic Impact Payments, commonly referred to as stimulus checks, will be distributed.
These will be worth up to $1,400 per recipient.
Individuals earning up to $75,000 and couples earning up to $150,000 will receive the full amounts.
However, the eligibility criteria are tighter than initially proposed with regard to when they cut out.
Individuals earning $80,000 or more and couples $160,000 or more will not receive any form of payment. The payments will phase out between $75,000 and $80,000 for individuals, $150,000 and $160,000 for couples.
It had previously been proposed the payments would phase out between $75,000 and $100,000 for individuals.
As well as these direct payments, there are also increased tax credits. The Child Tax Credit and the Earned Income Tax Credit will both be expanded.
Unemployment Benefits
Expanded federal unemployment payments of $300 per week will be extended through to September 6.
This had been proposed to be at $400 per week, though negotiations on the matter saw $300 settled upon. Senator Joe Manchin (D-WV), for example, expressed reservations on the $400 figure.
The bill also includes $30 billion to assist the unemployed and low-income households with living costs such as rent and mortgage payments.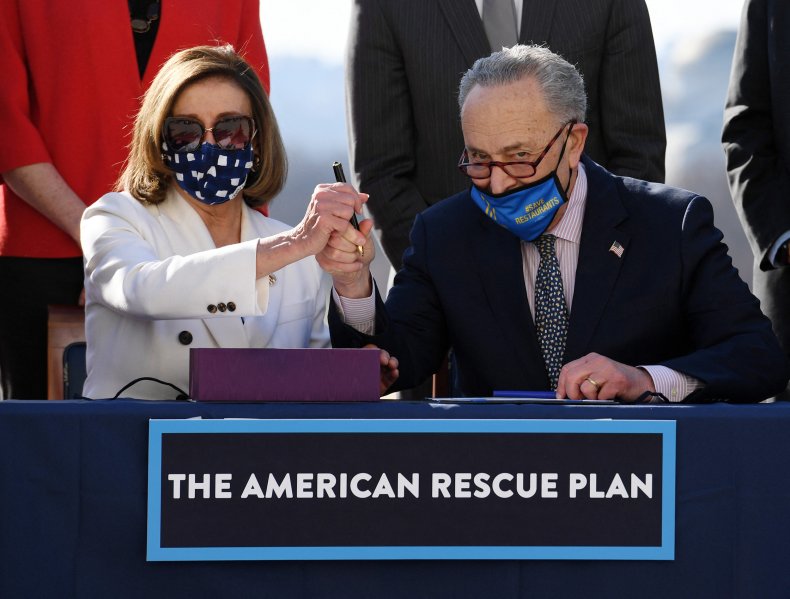 Vaccine Boost
There will be $46 billion available to expand testing and to expand tracing capabilities.
As well as this, $14 billion will be used to speed the distribution of vaccines and their administration across the nation.
This comes with Biden having outlined his desire to speed up the vaccine process, detailing desires for there to be enough doses for every adult in America by the end of May.
State and Local Government Aid
There will be $350 billion in funding for state, local and tribal governments, assisting them with costs incurred up until 2024.
This was a major point of contention for Republicans, who opposed such funding, suggesting the move accounted to a bailout of certain Democratic-run areas they deemed to have been run poorly in the pandemic.
School Funding
There will be around $130 billion in funding to K–12 schools. This will be used to help make changes to account for safety amid the pandemic, including actions to increase social distancing and installing social distancing. It will also assist in measures to account for issues the pandemic has posed, such as funding summer schools to address "learning loss."
There will also be roughly $40 billion for universities, to assist them with expenses posed by the pandemic and also to aid students with funding to cover costs such as food and housing.
Support For Businesses
The bill includes a new program worth $25 billion named the "Restaurant Revitalization Fund" to assist restaurants been hit with issues posed by the pandemic.
There will also be around $7.25 billion for the Paycheck Protection Program.
The graphic below, from Statista, shows the breakdown of spending in the package.