Fox News Host Compares Rashida Tlaib to Terrorist Organization: 'She Has a Hamas Agenda'
Rep. Rashida Tlaib, a Palestinian-American who is one of only two Muslim women in Congress, raised the ire of Fox News host Pete Hegseth, who accused her of pandering to the agenda of the terrorist organization Hamas.
Hegseth made the comment while he was appearing on the show Hannity in a discussion about how the discourse about the Democrats was now only focused on the policies of the group known as "the squad."
Hegseth said that the group of prominent progressives, comprising of Tlaib, Ilhan Omar, Alexandria Ocasio-Cortez and Ayanna Pressley, "exposed the real agenda of today's modern left."
"I mean, if you look at how Rashida Tlaib talked about President Trump having a hate agenda," Hegseth said, referring to the Michigan Democrat's recent comments on CNN, "I could, therefore, look at her and say that she has a Hamas agenda."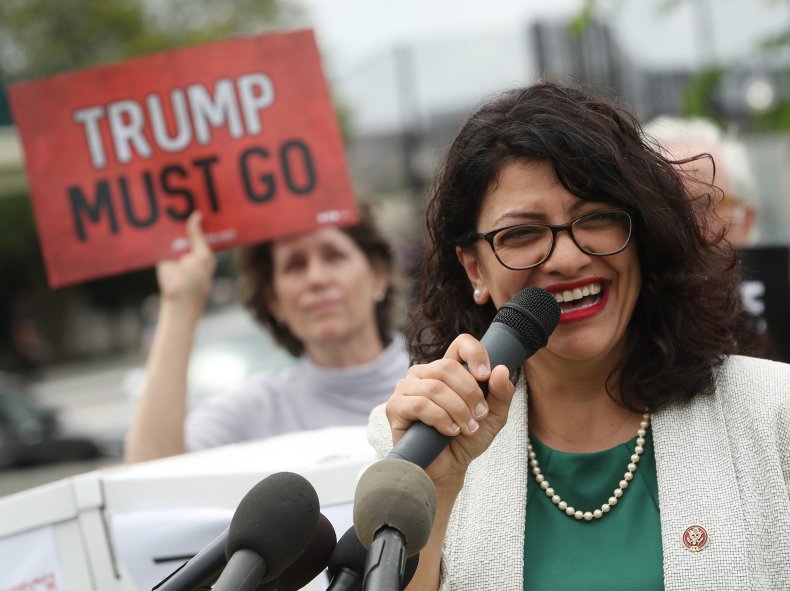 As evidence, he cited her criticism in June of The New York Times for its coverage of Hamas launching rockets from the Gaza Strip.
Hegseth said she thought the coverage "didn't reflect well enough on the Palestinians in the Gaza Strip and we know it's controlled by Hamas." He added: "If she wants to throw around labels, we can too.
"The reality is that this partnership between Kamala Harris and 'Comrade' Cortez is a reflection of the fact Cortez, like Bernie Sanders, is the modern soul of the Democratic party."
He went to outline the main problems for the Democrats, saying, "Bernie Sanders' problem in 2020 is that everyone's Bernie. In 2016, the system was rigged against him by the establishment, now you have got Elizabeth Warren, himself and Cortez, (who are) the soul of what the modern left represents."
Hegseth has been a prominent champion of Trump and an opponent of "the squad," and has defended the president's "go back" tweet aimed at them.
While on air earlier this month, he argued with Fox correspondent Geraldo Rivera, who told him that Trump's attack "was un-American" and was a "nativist, xenophobic, racist attack."
But Hegseth countered with, "You, like many, have accused [Trump] of racism, but if you go back and look at that tweet, he's not talking about race. He's talking about whether or not you love this country and appreciate it and if you don't appreciate it and don't love it and don't want to work to make it better, then maybe you could consider going somewhere else," he said, via The Wrap.
But Rivero, who is of Puerto Rican heritage, fired back, visibly angry, telling Hegseth, "What the hell? Come on, Pete!"