Rashida Tlaib Ignores Plea to Not Jeer Hillary Clinton at Bernie Sanders Event Ahead of Iowa Caucuses: 'Haters Will Shut Up…When We Win'
During an event supporting her ally, Bernie Sanders (D-Vermont), Rep. Rashida Tlaib (D-Michigan) rejected a request not to jeer the former secretary of state Hillary Clinton, highlighting tension among top Democrat figures only days ahead of the crucial Iowa caucuses.
Clinton has been critical of Sanders recently, with The Hollywood Reporter quoting her as saying in an upcoming documentary, "Nobody likes him, nobody wants to work with him, he got nothing done."
In a New York Times podcast, she said the behavior of his supporters during the bitter 2016 Democratic Party presidential primaries in which she eventually triumphed, was "distressing."
During a rally event in Clive, Iowa, on Friday night, the issue of Clinton's feelings toward Sanders came up during a discussion between his supporters Tlaib and fellow Democrat congresswomen, Pramila Jayapal (D-Washington) and Ilhan Omar (D-Minnesota).
Detecting antipathy toward Clinton from the audience, moderator Dionna Langford said, "We're not gonna boo, we're not gonna boo. We're classy here."
But Tlaib said: "No, I'll boo. Boo!"
"You all know, I can't be quiet. No, we're going to boo. That's all right. The haters will shut up on Monday when we win," she added, while her fellow panellists laughed.
Newsweek has contacted Clinton's media team for comment.
Tlaib appeared to row back from that sentiment on Saturday in a series of tweets in which she said she "allowed my disappointment with Secretary Clinton's latest comments about Senator Sanders and his supporters get the best of me."
"You all, my sisters-in-service on stage, and our movement deserve better," she added.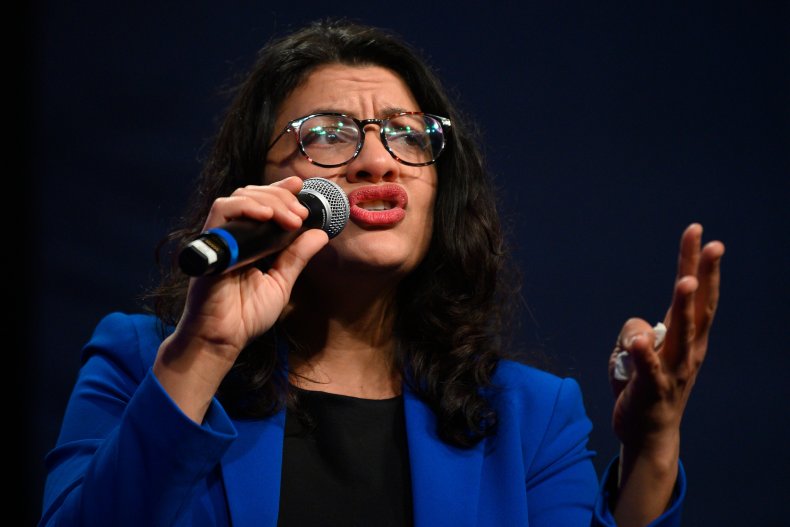 Although one of the frontrunners for the Democrats, Sanders has critics within the party. He sparked headlines following a tense exchange with Elizabeth Warren (D-Massachusetts) after the Democratic primary debate in Des Moines in which she said that he had accused her of being a liar, in audio picked up by CNN.
She had earlier said that he had told her in private in 2018 that a woman could not win the presidency. Sanders denies this claim.
The Iowa Democratic caucuses are a key indicator as to who will make the Democratic ticket for the presidential race. In 2016, Clinton won Iowa and went on to win the nomination over Sanders and in 2008, Barack Obama won the state before going on to become president.
Ahead of Monday's caucuses, Sanders is the frontrunner in the Hawkeye State, according to the latest figures from RealClearPolitics, which put him at 23.8 percent support, more than three percent ahead of former vice president Joe Biden. Former mayor of South Bend, Indiana, Pete Buttigieg holds the third spot with 15 percent support.
Sanders has also gained considerable traction on Twitter, according to a recent analysis by audience intelligence company Pulsar, which said that its data showed criticism from Clinton is helping his profile.
Between January 13-26, it found 2.6 million posts mentioned Sanders, more than Warren and Biden combined, who had 1.2 million each, the company said.
Marc Geffen, VP of Research and US Strategy at Pulsar, said in a statement to Newsweek, "Our index shows Sanders riding a big wave of buzz, which is consistent with movements in the polls and prediction markets.
"In the last two weeks, the endorsement from Joe Rogan and provocative comments from Hillary Clinton have clearly activated the Sanders audience, driving both high velocity and relatively low volatility compared to the other candidates," Geffen said.