Raskin Says 1/6 Committee 'Able to Get Work Done' Thanks to McCarthy Gamble
Representative Jamie Raskin, a Democrat from Maryland, said that House Minority Leader Kevin McCarthy's decision to pull Republicans from the January 6 committee last summer has allowed the panel "to get work done."
McCarthy moved to boycott the committee investigating the U.S. Capitol riot that happened on January 6, 2021 after House Speaker Nancy Pelosi rejected two of his five appointees to the panel in July.
"Institutionally, I think it was a terrible decision," Raskin, a member of the committee, said of the move in an interview published by NBC News on Sunday. "Politically, I think it was a great decision, because we're able to get work done."
However, McCarthy told NBC News he has no regrets about his decision to boycott the panel.
"This is nothing but a political show," he said last week of the panel's January 6 probe. "They already have the report written and they're trying to create a narrative for it instead of trying to get to the truth."
After conducting its probe on the Capitol riot for months, the panel is expected to begin public hearings this spring, and in March, it floated the possibility of charges against former President Donald Trump.
In its article on Sunday, NBC noted that since McCarthy didn't appoint any Republicans to the committee Trump allies may not know what's in store as the panel moves its work into the public eye more. It also could mean the GOP won't have as much ability to push back during the hearings.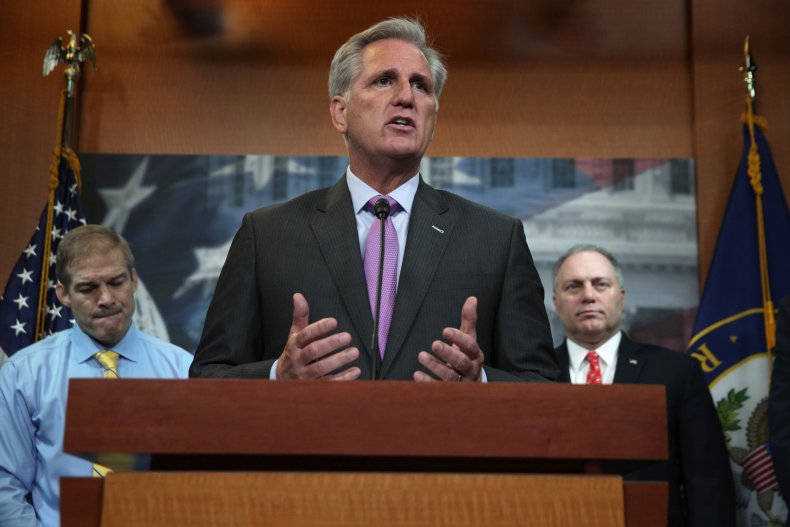 While McCarthy didn't appoint any Republican members to the panel, Pelosi appointed two—Representatives Liz Cheney, of Wyoming, and Adam Kinzinger, of Illinois, who are frequent Trump critics.
In July, Pelosi objected to two of McCarthy's appointments to the panel—Representatives Jim Jordan of Ohio and Jim Banks of Indiana. Both legislators are allies of Trump, and in a statement at the time, Pelosi said that "with an insistence on the truth and with concern about statements made and actions taken by these Members," she had to reject their nominations.
After her decision, McCarthy said the committee had "lost all legitimacy and credibility."
Speaking with NBC, McCarthy noted that Republicans are conducting their own investigation into security issues on January 6.
"The speaker wants control of who the minority leader could put on the committee. Is she concerned about what we find out?" he asked, and also added that GOP investigators will produce a report that will address "the truth of why we were so ill-prepared that day, what were the decisions made to make us ill-prepared, and what can we do to make sure that that never happens again."
Newsweek has reached out to McCarthy's office for comment.