'Ratchet and Clank' Trailer Teases Crossover With 'Horizon Forbidden West'
Developed by Insomniac Games, of Marvel's Spider-Man fame, Ratchet and Clank: Rift Apart will be arriving exclusively on the PS5 this Friday. Given the imminent release date, it is hardly surprising to see that fresh details are gradually filtering through about the next-gen title, including how it takes advantage of the PS5's DualSense controller and its suite of performance mode options.
While those features were expected, what fans did not anticipate was the promise of Rift Apart crossing over with other Sony properties. The news comes from a trailer that was uploaded to Insomniac's Twitter page, showcasing the overhauled RYNO 8 gun.
This weapon has been a staple of the franchise since its debut back in 2002 and over the years it has taken many different forms. It has evolved from a simple rocket launcher in the first instalment to a disintegration ray in the third game, and later even a musical instrument of death that blasts orchestral score whenever it is fired.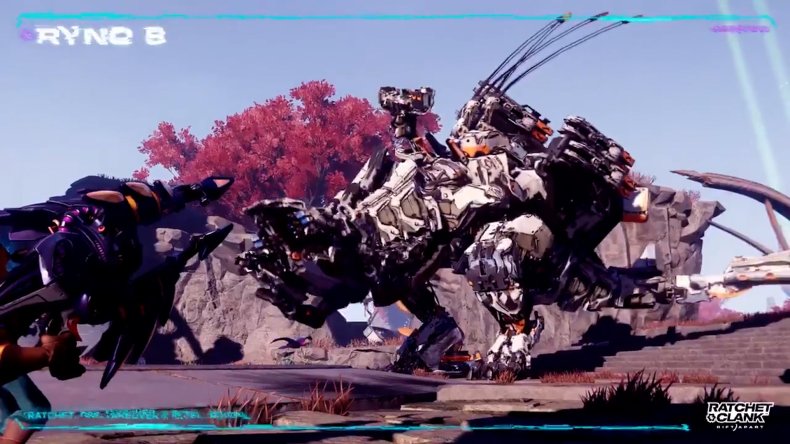 The RYNO's latest upgrade looks to be its biggest yet, as the trailer demonstrates the weapon's new interdimensional capabilities. With a simple pull of the trigger, the gun can now rip open a tear in the space-time continuum, pulling in objects from other worlds in order to damage enemies.
While that would normally be an exciting enough mechanic in its own right, what has really captured gamers' attention here is a snippet towards the end of the video, in which the RYNO summons a Thunderjaw from the upcoming Horizon Forbidden West.
Judging by a series of images tweeted by the developer yesterday, this will not be the only game to cross over with the Ratchet and Clank's outing, as rifts also seem to invite cameos from the likes ofSly Cooper, Uncharted 4's infamous jeep, and various Sunset Overdrive characters. Of course, it is worth noting that these could just be fun promotional images and might not actually be indicative of any real gameplay.
Nevertheless, if Rift Apart is able to integrate mechanised dinosaurs from the Horizon universe, then it stands to reason it could also work in some fellow platformers and adventures. Maybe Insomniac could even get their own popular versions of Peter Parker or Miles Morales to swing by as well.
With the massive success of Fortnite and Astro's Playroom, both of which have experimented with similar crossovers, gamers should probably expect to see more of these tie-ins in the future. Even Call of Duty has hopped aboard the trend with its recent Die Hard and Rambo updates, so it's becoming quite prevalent.
As for Ratchet and Clank: Rift Apart, Insomniac has been steadily drip-feeding new details over the past few days. Most notably, they revealed that the game will be capable of running at 60 frames per second with ray tracing enabled, thanks to its Performance RT setting.