Raw 25: Jim Johnston, the Man Behind WWE's Most Popular Music, on Composing Theme Songs for The Undertaker and Dwayne 'The Rock' Johnson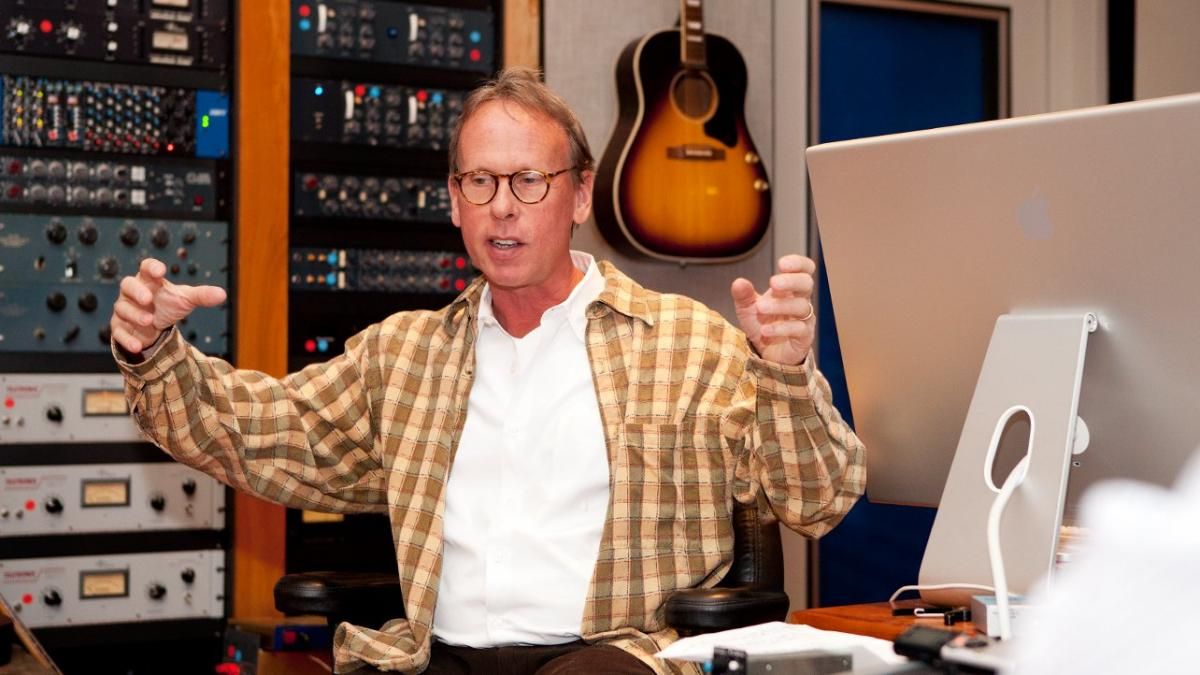 For over 30 years, Jim Johnston was the man behind the signature sounds of World Wrestling Entertainment. Johnston's compositions have served as the title music for WWE's flagship shows and pay-per-view broadcasts. His entrance music—tailored to each individual WWE wrestler—has only enhanced the over-the-top pageantry of WWE's roster of characters.
Even the most casual of wrestling fans are likely to recognize the eerie funeral parlor theme that marks the arrival of The Undertaker, one of WWE's most feted characters. Or "Stone Cold" Steve Austin's frenetic entry music, notable for its use of the sound of shattered glass. In his 32-year career with WWE, Johnston also produced theme music for stars including Dwayne "The Rock" Johnson, Triple H, Chris Jericho, Shawn Michaels and WWE chairman Vince McMahon. His signature music has become as legendary as the WWE stars themselves.
Johnston's career with WWE came to an end in November. In recent years, WWE has been leaning more on the musical services of John Paul Alicastro and Michael Conrad Lauri, who make up production duo CFO$. Johnston's final theme was for the SmackDown Live wrestler Baron Corbin and premiered on WWE television shortly before his departure.
Ahead of the 25th anniversary of WWE's long-running USA Network series Monday Night Raw Monday night, Newsweek spoke to Johnston about his 30-plus years of scoring the hard-and-fast, smash-mouth wrestling company and helping define its superstars, his WWE departure and what's next for him.
How did your career with WWE start?
There was one sushi bar in my town. I'd always been a sushi fan. I met this guy there—it was like going to a bar, you saw the same people. One night he came in and said, "My boss asked me to do a video. Didn't you say you were a composer?" I said, "Sure." It turned out to be the first video that Vince [McMahon] had ever put together to go to the NATPE convention [for cable TV executives]. Through that I met Vince and he asked what other stuff I could do. It built from there. At the time, there was no music. Two guys would come out to the ring, mix it up, they'd leave and two more guys would come into the ring.
What was it like working with Vince McMahon on the musical side of WWE?
It's an interesting thing. It was two extremes with very little in the middle. Very little conversation in general about the music needed. He'd tell me just a few headline notes about a talent that needed music and then he'd always have final approval on it. There were no circumstances ever where I could say: "This is what we're going with because I really like it." Fortunately, I developed a good track record of giving him stuff he was happy with.
How important is music to the production aspect of WWE as a televised show, in your opinion?
In all media, music is the item that tells you what you're supposed to feel. In a movie, if there's a scene with a man and woman locked in an embrace, based on the music I write I can make that feel like these two people have found the love of their lives. I could write different music that makes you think one of them is about to die. There have been so few writers through all of literature that have had reputations of being such good writers that they can put you in a place just with their words alone—make you feel scared, make you feel sad. Music has a magical way of transforming people instantly. That's what we used in WWE. With every person that came out, there was this quick opening bit that really fit instantly—The Undertaker, "Stone Cold" Steve Austin. It's such a powerful tool. I always considered what I did at WWE like scoring this gigantic, live film all the time with all these different characters and storylines. It's not so much writing music—it's writing a score.
The Undertaker's theme is so famous that even rapper Meek Mill sampled it on a Drake diss track. How did that theme come to fruition?
The Undertaker was different—he was presented to me as, "He's a dead guy." I didn't know what that meant. He's literally a dead guy? We're never gonna see him? I pondered it over a day or so and it finally landed on me that his theme was, from the perspective of the audience, something funereal and that's what I wrote. I wrote it on piano in a delicate, high register, and once I had that, I figured, OK, it has to have a monstrous church organ, a huge choir, and then I thought about the bell tolls. I knew I needed the biggest bell in the world so I used three different bells and a few other noises to make it feel like it was the bell from the center of the earth. [That theme] has stood the test of time.
The "Stone Cold" theme with the shattered glass sound effect is beloved, too. How did you decide upon that music?
[Austin] is such a presence, such a no-BS kind of guy. He's not going to show up and calmly discuss an issue with you: "Gee, I was a little upset the other day when you were talking about me." He's the kind of guy who's going to bust open the door and come after you. What I had in my mind was someone bursting through a door, crashing the door, and a car crash. I mixed three different glass breaks with the sound of two car crashes.
You also wrote Dwayne "The Rock" Johnson's theme music when he was best known for being a WWE star. How do you reflect on that piece now?
Part of it is that The Rock is so spectacularly entertaining and charismatic that a ton of credit has to go to him. I enjoy that that theme somewhat defies a genre. It's not a rock song, it's not orchestral, it's not world music, it's not urban. There's an element to Rock that he's a mix of a bunch of different vibes and cultures, and I thought that was an interesting, fortuitous, utterly unplanned but happy accident.
How much input do the wrestlers get in their music?
It is quite rare. And probably a good thing. Most of the talent aren't musicians, composers or TV producers. So when you ask their opinion they're going to tell you the music they like to listen to, which is a natural reaction. That has nothing to do with [scoring the production]. When Ron Howard's directing a film, what he likes to listen to in his car has nothing to do with what would be the appropriate score for the film.
Raw is celebrating its 25th anniversary. What do you remember about writing title music for that show?
I've written many themes for Raw over the years but there's been many other themes, like popular songs. The whole Raw Is War era, that started with the sirens and went down into this hellish basement where cataclysmic events are happening. That was like scoring a film trailer. I worked with the producers of the video on that, so they were showing me stuff or telling me, "Austin's going to come in here, the place is going to be on fire, things blowing up." I just respond to what I'm being fed. It's an amazing phenomenon that Raw [is turning 25].
What aspect of the job did you not enjoy?
One thing I really dislike is if I'm being asked, "Hey, can you do a song in this style." It's sort of a nice way of saying, we can't use this song so can we do something very similar. I tried very hard not to do similar stuff but capture the general vibe of the piece. That always made me uncomfortable. It shut me down creatively.
How did your relationship with WWE end?
My last few years with WWE were sadly filled with a lot of politics. It was disappointing because I didn't think I could contribute in the way I would have preferred. It was probably best I'm no longer there.
Did your relationship with Vince McMahon change in those final years?
Well, certainly, we didn't spend time together like we used to years ago. In different ways, both of us regretted that but both of us understood the phenomenal growth of the company just prevented that from being a possibility.
We got to a point where it was time to move on. I'm good with that, because I was not happy with where things were going musically in the company and I wasn't contributing in the way I wanted to. So when Vince gave me the leaving orders, that was probably the best thing for us both.
You said the last few years of your tenure was when things took a turn for the worse. That seems to correlate with WWE hiring the production duo CFO$ to create some of their new music. Is that fair to say?
Yes, it's fair to say. I'm not working with them so I don't know what their directives are. All I can react to is what I'm hearing. I'm sure they're talented guys. But what's being produced just feels too homogenous. It's just music that plays—it doesn't feel like each guy is really themed. All the women have a dance music kind of thing. And it's lots and lots of loud sound effects.
What makes me the worst is not anything that happened to me, or any negativity towards those composers...I feel bad for the talent trying to build careers for themselves when I just don't feel they're being served well enough to become stars. Before "Stone Cold" was "Stone Cold" he was The Ringmaster. The Ringmaster's theme was something I wrote for him. The music can make such a difference in the person and how they perform. That same guy who was dead-in-the-water as The Ringmaster, a couple of tweaks, different music, different attitude, and he becomes one of the most popular people in the history of the genre.
I'm wondering who is working currently at WWE who is an absolute superstar but, who, because they're wrapped in a homogenous piece of clothing, they're stuck and can't break out? I would hope they would try to really brand each guy and each woman as an individual.
What is next for you personally?
I've done scoring of cold-opens, longer form videos, as well as films for WWE Studios. That's what I most want to do next. I love scoring films and it's the thing I think I do best. I also have a huge backlog of songs I've written over the years that I've started to record and get out to people to record.