Former Minneapolis police officer Derek Chauvin publicly addressed the death of George Floyd for the first time on Friday ahead of his sentencing.
Chauvin was found guilty of killing Floyd in April, nearly a year after a video of the officer kneeling on his neck as he complained about an inability to breathe went viral. It sparked nationwide protests and the guilty verdict in Chauvin's case was seen as a step forward in holding officers accountable for their actions.
Chauvin, who was the first of four officers charged in Floyd's death to face a judge, opted not to testify at his own trial. However, he broke his silence on Friday, offering condolences to the Floyd family.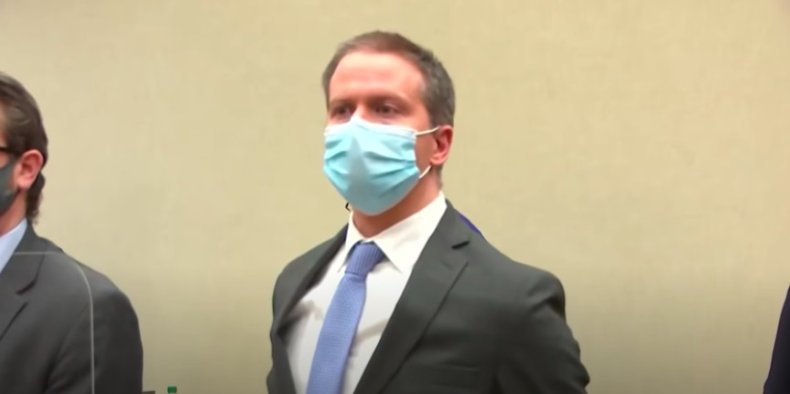 Read Derek Chauvin's full remarks below:
"At this time due to some additional legal matters at hand, I'm not able to give a full formal statement at this time but very briefly I do want to give my condolences to the Floyd family.

There's going to be some other information in the future that would be of interest and I hope things will give you some peace of mind, thank you."
Chauvin was charged with federal civil rights charges in May, weeks after he was convicted of murdering Floyd. The indictment accuses Chauvin, of depriving Floyd of his civil rights while acting in his capacity as a police officer.
According to the indictment, Floyd's rights were deprived when Chauvin pinned him to the ground with his knee. Chauvin was also charged with depriving a 14-year-old boy of his civil rights when, in 2017, he allegedly hit him in the head with a flashlight and knelt on his neck and back during an arrest.
The government appealed to the judge to keep Chauvin detained ahead of the trial on the civil rights charges and Nelson, who is also representing him in that case, didn't contest it. Although Chauvin hadn't spoken to his attorney about his right to contest pre-trial detention, he said, "in light of my current circumstances I believe it would be a moot point."
He has been held in a maximum-security prison in Oak Park Heights, Minn.
During Friday's sentencing hearing, Chauvin's mother, Carolyn Polenty, spoke on behalf of her son. She told Judge Peter Cahill that it's been difficult seeing how the media and the trial portrayed her son as a "heartless" man because it's not the person she knows. She denied that he's racist and called him a "good man" with a "big heart."
Although she hadn't spoken publicly, Polenty said her son has had her full support and "always will." Polenty asked the judge for a lenient sentence for Chauvin, noting that when he's released from prison it is likely she and her husband will no longer be alive.
The judge also heard from members of Floyd's family, including his 7-year-old daughter. They highlighted the trauma they endured because of Chauvin's actions and asked Cahill to hand down the maximum sentence.