'Read Two Sentences Down': Jackson Clarifies COVID Prison Release Ruling
Judge Ketanji Brown Jackson, President Joe Biden's nominee for the Supreme Court, clarified to North Carolina Republican Senator Thom Tillis about her position on releasing prisoners during the COVID-19 pandemic.
During the latest round of questioning at Jackson's confirmation hearing Wednesday, Tillis read one line from an opinion that Jackson wrote as a federal judge in Washington D.C. in the case of United States v. Wiggins.
"The obvious increased risk of harm that the COVID-19 pandemic poses to individuals who've been detained in the District's correctional facilities reasonably suggests that each and every defendant that is currently in the D.C. Department of Corrections custody and thus cannot take individual measures to control their own hygiene and distance themselves from others should be released," Tillis read from the document.
"Do I read that statement to say that you felt given the circumstances of the time they should all be released?" he asked the judge.
"No senator, you don't read it correctly," Jackson replied.
Jackson noted the quote was taken out of context, as she proceeded in the opinion to argue against the blanket release of all inmates.
"Senator, if you read two more sentences down, that is precisely what I focus on," the Supreme Court nominee said.
Tillis later told reporters that he was concerned about Jackson's "empathy" in her sentencing.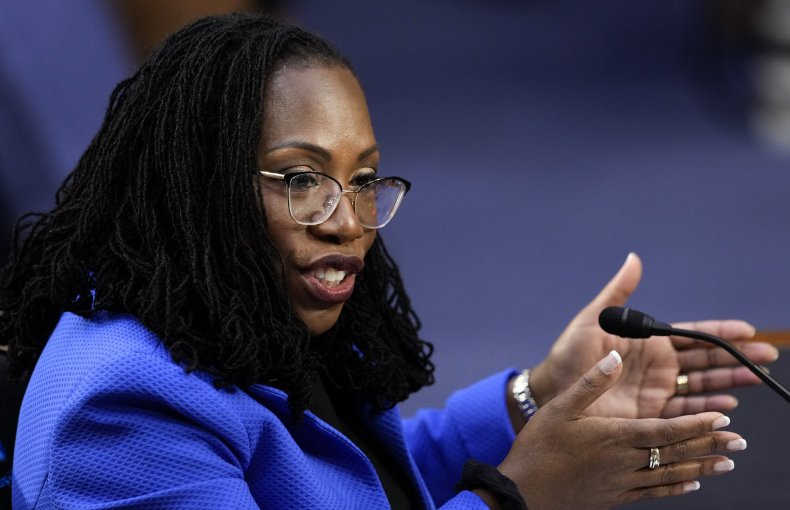 Jackson's confirmation hearings in the Senate Judiciary began on Monday. If confirmed, Jackson will be the first Black woman to ever serve on the Supreme Court in its history.
The judge on Tuesday defended her record as she faced 13 hours of questioning from the panel's 22 lawmakers.
Jackson refuted assertions from Missouri Senator Josh Hawley and other GOP members that she had a pattern of leniency on sentencing in sex offense cases involving minors.
"As a mother and a judge who has had to deal with these cases, I was thinking that nothing could be further from the truth," Jackson said.
In her defense, she noted limitations in sentencing guidelines and orders for judges to hand down a sentence that's "sufficient but not greater than necessary to promote the purposes of punishment."
Jackson also defended her work representing detainees at Guantánamo Bay, reminding lawmakers that federal public defenders "don't get to pick their clients" and that she viewed it as an opportunity to stand up for the "constitutional value of representation."
Update 03/23/22, 12:10 p.m. ET: This story was updated with more information and background.