Real Madrid Transfer News: Spanish Giants Must Sell Gareth Bale to Launch Bid for Paul Pogba
Real Madrid's pursuit of Paul Pogba has cooled down, but could be reignited if the Spanish giants manage to get Gareth Bale off their books.
Earlier this month, Pogba's agent Mino Raiola revealed the Premier League's worst-kept secret when he publicly admitted that his client was determined to leave Manchester United.
Signed for a then-world record fee of $110 million in the summer of 2016, Pogba has never quite managed to live up to the lofty standards he set at Juventus.
Zinedine Zidane is a big admirer of Pogba and should the Frenchman leave Old Trafford for a second time, Madrid looks the most logical destination.
The problem for Real is two-fold. First and foremost, United is determined to hold onto the Frenchman, with Ole Gunnar Solskjaer reiterating earlier this week he aims to build his team around the World Cup-winner.
Secondly, even if United was to agree to Pogba's demands, it would seek to recoup the amount it forked out three years ago.
The midfielder is expected to cost north of $110 million and, according to Spanish newspaper AS, the 20-time champions England could demand as much as twice that amount for Pogba.
Real, however, is understood to be not prepared to pay more than $165 million.
The Spanish giants have already spent $340 million on players this summer and must sell to fund new signings.
To do so, the 13-time European Cup winners were planning to sell Gareth Bale and James Rodriguez in the hope of raising around $110 million.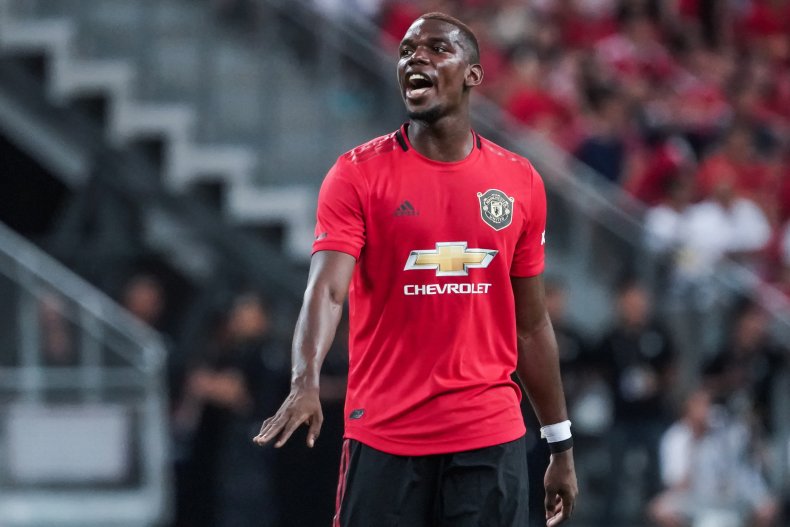 While the latter could still leave the Spanish capital, Bale's future is a lot more complicated.
Over the weekend, Zidane effectively ended the Welshman's six-year spell in Madrid when he said he hoped Bale would find himself a new club by the end of the week.
On Monday, the Real Madrid coach doubled down on his comments, explaining the club was dealing with the player's departure.
"[His] situation is known by everyone and will not change," he said at a press conference in Washington, ahead of Real's match against Arsenal.
"The club is going to do what they have to do with him."
Unsurprisingly, Zidane's comments did not go down well with Bale's camp. The 30-year-old's agent, Jonathan Barnett, branded the Frenchman "a disgrace" at the weekend and on Tuesday reiterated that Bale will leave Madrid on his own terms.
"There will be no makeshift deals to get him out of the club," Barnett was quoted as saying by Sky Sports.
"Gareth is one of the best players on the planet. I can guarantee you he will not be going on loan to any club."
Solving the Bale conundrum is crucial for Real as it would allow the club to offload his $18.7 million-a-year after-tax contract, which runs until 2022.
Getting the forward's contract off the books is key to Real's hopes of signing Pogba, who currently earns $13.4 million-a-year after tax.
However, with Bale seemingly unwilling to budge, Real could face a race against the clock to put together a bid for Pogba. The English transfer window shuts on August 8 and it's almost inconceivable to imagine United would allow him to leave without being able to secure a replacement.
All the same, according to AS, both Real and Pogba's camp are happy to play the long game, as Spanish clubs have until September 2 to sign players.