Emma and Her Two Moms: The Real Soldiers Behind U.S. Army's Diversity-Inspired Recruitment Video
The U.S. Army has revealed the true stories behind a new animated recruitment video that showcases previously underrepresented groups including LGBT+ families, women and people of color.
The film released by the U.S. Army profiles five soldiers with diverse backgrounds in a bid to address a "widening military-civilian divide."
The Army said the animation, titled "The Calling," aimed to promote the "emotional" and "relatable" stories of five service personnel and the decisions that led them to enrol.
"Research tells us that young people today see the Army as a 'distant star'—a place requiring a nearly superhuman level of discipline with little relevance to their daily lives," said Maj. Gen. Alex Fink, head of Army Enterprise Marketing.
"Similarly, youth don't necessarily connect with those who serve or see common ground in terms of interests, abilities, and goals. 'The Calling' shatters these misperceptions by showing that Soldiers are all of us: real people with hopes, dreams, fears, aspirations, families, friends, and obstacles to overcome."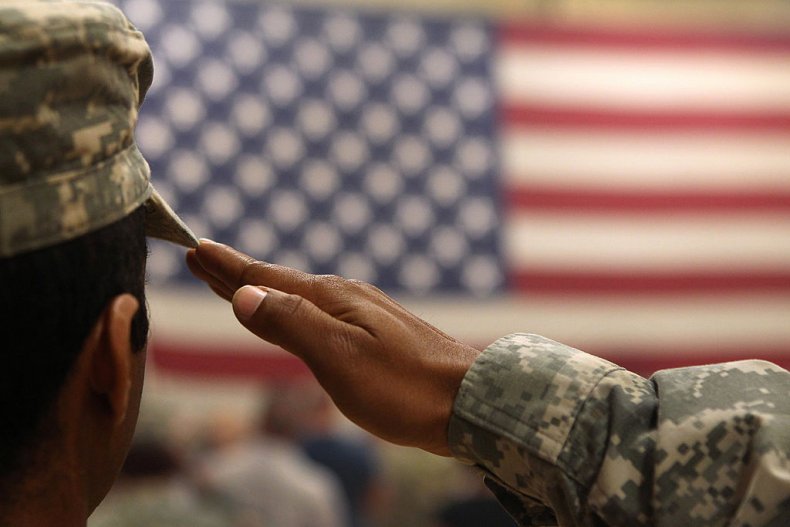 Among the five soldiers is Emma, real name Emma Malonelord, a corporal in the U.S. Army, who has two mothers, one of whom was involved in an accident that nearly left her paralyzed.
The film reveals how Malonelord benefited from having two strong female role models, which inspired her to break down the male-only stereotype associated with the armed forces and pursue a career as a soldier.
Her parents were said to be initially wary of their daughter joining the Army, but they understood her "desire to chart her own path" and are now active supporters of the Army community through letter writing and care package campaigns.
Also featured in the new campaign is Rickie, otherwise known as 1st Lt. RudSheld Plaisir, who moved from Haiti to Tampa, Florida, aged seven.
He attended Florida A&M University, where he was commissioned as an Army Signal Corps officer.
Another animated character in the film with her own true story to tell is Jennifer Liriano, of the U.S. Army Reserve, who was born to first-generation immigrants from the Dominican Republic.
Aged 23, she met an Army recruiter and she is now a platoon sergeant with the U.S. Army Reserve 865th Combat Support Hospital. When not in uniform, she works in a cardiothoracic surgical ICU and is pursuing a nursing bachelor's degree.
Also featured is Janeen Phelps, a 1st lieutenant in the U.S. Army Reserve, who went from singing gigs on the Vegas Strip to performing on cruise ships.
With the support of her father, a Vietnam-era veteran, she enlisted in the Army and later became a public affairs officer in the Army Reserve.
David Toguchi, a 1st lieutenant in the U.S. Army, struggled in school and lost his mother at an early age but followed his dream to become a helicopter pilot having been inspired watching the aircraft at an Army base near his home in Hawaii.
He now flies Chinooks and has volunteered at an orphanage in Honduras.
"'The Calling' showcases how five Soldiers answered their call to selfless service," said Command Sgt. Maj. Charles K. Masters II of Army Enterprise Marketing.
"Soldiers across the Army stepped up to share their personal stories with America to breakdown the stereotypes associated with those who serve.
"Their inspiring stories highlight the diversity in the Army as we continue to be a Team made up of great people.
"One common thread you will see throughout this campaign is our soldiers all believe in something bigger than themselves and strive to make a difference in the world."