Reality TV's Nine Worst Stock Characters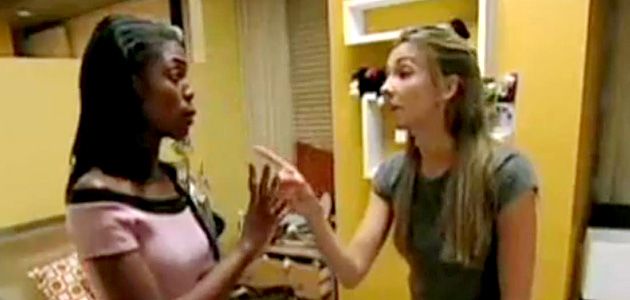 For more than two decades now, Americans have devoted hours each week to seeing inside the lives of total strangers, as they compete for the perfect man, showcase their talent (or lack of it), live together, work together, survive together, all in the name of reality TV. But these shows also follow a formula of stock characters who often make us squirm, from the desperate bachelorette to the angry black woman. Here are the genre's most overused, egregious, and clichéd stock characters.
We first met this matrimonially obsessed stock character in 2000 on Who Wants to Marry a Multi-Millionaire?, Fox's mail-order bride meets Miss America parade. One woman, Darva Conger, beat out a gaggle of gold diggers and Barbie clones to "win" a legal, on-air wedding to a supposedly rich stranger. (Hidden from new bride Darva Conger and viewers? The fact that groom Rick Rockwell had a restraining order in his past filed by his former girlfriend, who alleged that he was violent.) Multi-Millionaire's coproducer Mike Fleiss reframed the show's "love = fat wallet + skinny chick" premise under a pretty princess gloss and sold it as the perfect fairy tale to ABC as The Bachelor in 2002. By now, 14 seasons of The Bachelor (and numerous copycat dating series such as NBC's Age of Love, Fox's Joe Millionaire, and VH1's Flavor of Love) have portrayed women as pathetic, catty, weepy losers who can never possibly be happy or successful without husbands. Why? Because "It's a lot of fun to watch girls crying," Fleiss has said. "Never underestimate the value of that." Echoing that famous NEWSWEEK cover story that claimed that women older than 40 were "more likely to be killed by a terrorist" than to get married, reality TV's desperate bachelorettes moan, "I don't want to die alone!" and "You always hear those horror stories! Forty and single!"
The despicable dude pops up in numerous reality TV genres, from "rehabilitation" shows to dating series and competitions. He's into macho posturing, binge drinking, and frat-boy antics on VH1's Tool Academy and MTV's From G's to Gents. He's a scheming, backstabbing jerk on CBS's Survivor and Big Brother. And while he may reign supreme as the head of network-approved harems, we also see this Mr. Wrong lying, manipulating women for sex, and emotionally abusing his dates on series such as ABC's The Bachelor, NBC's For Love or Money, and VH1's Real Chance of Love.
For a genre overflowing with easy sex, reality TV is surprisingly opposed to women's desire. Looking the part of femme fatale is expected; acting the part by pursuing sex on her own terms just because she wants it will earn a woman a scarlet S for slut on shows like The Bad Girls Club, Charm School, and Bachelor Pad. (The letters may rotate among the many synonymous insults for this stock character: "whore" and "skank" are thrown around like any other noun, while "hootchie" and "ho" are hurled especially at women of color.) On the flip side of that reality TV coin is the slut's nemesis, the good girl. Women can be good girls if they are reluctantly seduced after copious amounts of booze, or coerced into making out because they fear rejection if they don't go along with it, or if they use sex either as a bargaining chip to trap a man or as an act of desperation to prove their love.
From frenemies on lifestyle series such as MTV's The Hills and Bravo's The Real Housewives of Orange County (and New York, Atlanta, New Jersey, D.C., and Beverly Hills) to flat-out enemies on dating and modeling shows, reality television presents women as being in constant competition for romantic love, professional success, and personal fulfillment. Like the crabby villains in those old Scooby-Doo cartoons, everything a woman is supposed to want could be available to her, if not for some meddling bitch. "Women tend to be jealous and catty and bitchy," one of Joe Millionaire's so-called gold diggers sneers. Angry at such smack talk, a Bachelor babe explains that "girls can be conniving, deceiving, and just vicious!" The men they fight over hardly hold their harems in higher esteem: "All they wanna do right now is fight. But you know what? There's nothing like a good catfight," Flavor Flav smirked during Flavor of Love. "The backstabbing begins!" dating show narrators promise in promo commercials. During a hunting lesson on Fox's Farmer Wants a Wife, a city girl aims her rifle at some tin cans and talks of preemptive war: "I fight for men the way they do in the Middle East. Before somebody blows me up, I blow them up." So if you don't want to get stabbed in the back, reality TV producers want us to believe, know better than to trust women.
The angry black woman (ABW)--also known in the reality TV universe as an entitled diva with attitude--made her network debut on America's Next Top Model, which has cast one "black bitch" (in the words of series host and producer Tyra Banks) after another. But this stock character reinforces regressive racial stereotypes in many reality genres, from relationship and lifestyle series to competitions. On Wife Swap the first thing we learn about "pampered" African-American hairdresser D'eva Robinson is that "I consider myself a diva so much that I am legally changing my name to D'eva." This bitchy bogeywoman takes up permanent residence on The Real Housewives of Atlanta, where black women's backstabbing, verbal sparring, and physical fights draw boffo ratings for Bravo. We met reality TV's most polarizing ABW in 2004, when The Apprentice's Omarosa Manigault-Stallworth became the most famous nonwhite personality ever to emerge from network reality television: "the most reviled person in reality TV history," according to TV Guide. A Mahogany magazine cover-story headline attributed her supposedly diabolical behavior to genetics: NATURAL BORN VILLAIN. Print, broadcast, and online journalists--not to mention bloggers and TV fans--described her as an "evil sistah," a "moral cretin," and a "she-devil."
Reality TV tells women that beauty is the most important--perhaps the only important--thing they have to offer. On relationship competitions, the beauty-obsessed waif (the only type of woman allowed on network dating shows) appraises her competitors and worries, "They're beautiful, gorgeous, and skinny! Everything you would never want to go up against ¬ that's intimidating to me ... Am I going to measure up to these girls?" The fear of not measuring up is literal on America's Next Top Model, where girls have been weighed on scales like cattle at a 4-H fair, their measurements plastered on the screen for the world to see. Frighteningly underweight models are praised for gangly physiques and jutting bones. In the above clip, a tall, slender teenager named Cassie Grisham admitted that she practiced self-induced vomiting after eating because she believed it was the only way she could have her dream career. "An obsession with my weight" propels her to throw up "sometimes," she acknowledged, noting that she worries about food "24/7." After playing her eating disorder for melodrama over several episodes, Top Model sent her to meet with fashion-industry insiders and cherry-picked their most cutting criticisms for maximum humiliation. As she walked for Nanette Lepore, the designer's snide critiques ("She's not exactly a size 2!") were plastered in on-screen captions. Designer Marc Bouwer pronounced her hips and thighs too big for his clothes, then whipped a measuring tape around her rear and pronounced her unacceptable, while she stood mortified, an experience that almost definitely reinforced her eating disorder. Then she was promptly eliminated, supposedly because she didn't "want it" enough.
Bravo would have us believe that "real" American wives are elitist and snobby, and that they love shopping for name-brand clothes, cars, cosmetics, and jewelry more than they care about their kids, their husbands, their friends, or their communities. Watching their bad behavior plays on Americans' twin desires to hate the rich for having what most of us don't, and ultimately to be them. But there's nothing real about these carefully crafted lifestyle series, where women show up when and where producers tell them, and where advertisers position their logos and goods at the center of storylines.
On network TV dating shows, Mr. Right must be white. Not one black, Latino, Asian, Native American, or Middle Eastern man has starred on any of the 14 seasons of The Bachelor between 2002 and 2010. And in other network reality shows, men of color tend to be quickly eliminated tokens. Cable reality programming offers far more diversity--and, along with it, a revival of minstrel-era stereotypes of black men as buffoons and clowns (as on VH1's Flavor of Love) and thuggish criminals. On From G's to Gents, black and Latino (and sporadic Asian, Middle Eastern, and white) men are portrayed as unrepentant drug dealers, child-support shirkers, violent offenders, and pimps who can only be rehabilitated through the benevolent guidance of MTV. On the premiere, a Latino "thug" framed the G lifestyle for the audience: "Of course I've been arrested! Who hasn't been arrested? I'm from the hood!"
Plastic surgery series such as ABC's Extreme Makeover, Fox's The Swan, and E!'s upcoming Bridalplasty! prey on emotionally insecure women with body dysmorphia and sometimes even histories of domestic violence, telling them that the only way they can improve their self-esteem is through a battery of more than a dozen medically risky surgeries--virtually always including breast implants and liposuction--within a limited number of weeks. Once they've gotten the fat sucked out of their butts and pumped into their lips, and their hips, thighs, breasts, noses, and cheeks sculpted and rearranged, they say things like, "Now, I can achieve anything I want"--as though looking pretty were a vocation.
Pozner is author of Reality Bites Back: The Troubling Truth About Guilty Pleasure TV and the founder and executive director of Women In Media & News. She is also the producer of the satirical Web series Reality Rehab With Dr. Jenn, where she attempts to deprogram these favorite stock TV characters.