Reality Winner, a former National Security Agency (NSA) contract worker who was given the longest federal prison sentence imposed for leaks to the news media back in August 2018, was released from prison to home confinement this year in June.
Winner sent The Intercept, an online news publication, an NSA document that detailed information about Russian interference in the 2016 presidential election.
According to the NSA report published by The Intercept, Russian military officials "executed cyber espionage operations against a named U.S. company in August 2016, evidently to obtain information on elections-related software and hardware solutions."
She was sentenced to five years and three months in prison for "removing classified national defense material from a government facility and mailing it to a news outlet," according to an August 2018 statement from the U.S. Department of Justice.
Back in June 2017, in an interview with the U.S. Federal Bureau of Investigation (FBI), Winner "admitted knowing at the time she stole and transmitted the intelligence report that it contained information about intelligence sources and methods," which she knew was valuable to adversaries of the U.S., the statement said.
At the time of her sentencing in 2018, Winner, who pleaded guilty to the one-count indictment charging her with "unlawful retention and transmission of national defense information," told the judge: "My actions were a cruel betrayal of my nation's trust in me," the Associated Press reported in June.
In an interview that aired Sunday, Winner spoke to CBS' 60 Minutes following her time in prison and explained: "I am not a traitor. I am not a spy. I am somebody who only acted out of love for what this country stands for."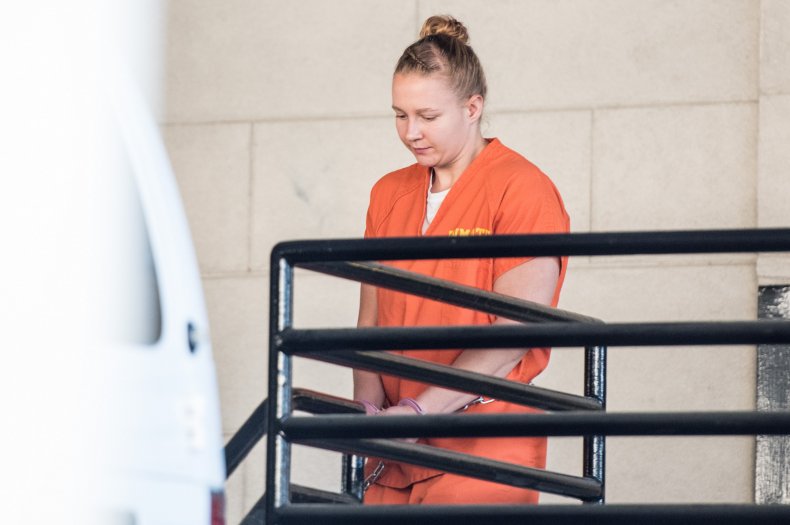 Who Is Reality Winner?
The 30-year-old served in the U.S. Air Force from 2010 to 2016, where she held a "TOP SECRET//Sensitive Compartmented (SCI) security clearance" position, according to the August 2018 statement from the Department of Justice.
According to 60 Minutes, Winner, who speaks Farsi, Dari, and Pashto (popular languages in Afghanistan), was previously stationed in Maryland at Fort Meade, where linguists listened in on communications in Afghanistan to identify targets for armed drones.
Back in 2016, she was awarded the Air Force Commendation Medal for "aiding in 650 enemy captures, 600 enemies killed in action and identifying 900 high-value targets."
Winner was working as a linguist for government contractor Pluribus International Corp. in Augusta, Georgia, when she was charged in June 2017.
Winner had been employed at the Georgia facility since around mid-February in 2017, and also had "a TOP SECRET//SCI clearance" during that time, the Department of Justice said.
Special Agent in Charge J.C. Hacker of the FBI's Atlanta Field Office said in the justice department's 2018 statement: "When obtaining Top Secret clearance as a government employee or contractor, the handling of top secret information is clearly spelled out along with the ramifications of mishandling such information.
"Revealing sources and methods to the advantage of our adversaries and to the detriment of our country will never be acceptable and the FBI and Department of Justice will spare no effort to prosecute and punish anyone who would do so," Hacker noted at the time.
Winner also previously made her feelings about former president Donald Trump known on Twitter.
"[T]he most dangerous entry to this country was the orange fascist we let into the white house," she appeared to tweet after Trump said refugees posed a danger to the U.S.
Winner mocked Trump on social media as a "soulless ginger orangutan," according to the AP.
She later attempted to shorten her prison sentence by seeking a pardon from Trump, claiming she had health conditions that made her more vulnerable to COVID-19 infection. Winner's sister said last July that the former NSA worker tested positive for COVID-19 but didn't show symptoms, AP reported in June.
Her story formed the subject of a play that opened on Broadway in New York City in early October this year. Titled Is This A Room, the play stages the verbatim transcript of the initial FBI interrogation of Winner.
She is currently in home confinement in Texas and remains in the custody of the U.S. Federal Bureau of Prisons.
According to her interview with 60 Minutes, Winner suffered from depression and bulimia during her prison sentence and had thoughts of taking her own life.
"There would just be times when it almost wasn't worth it to see the end of this," she recalled.
Why Did Winner Leak the NSA Document?
When 60 Minutes' Scott Pelley highlighted on Sunday that Winner knew the aforementioned NSA report was stamped as "top secret" and she "knew what that meant," Winner said: "I knew that. I knew it was secret.
"But I also knew that I had pledged service to the American people. And at that point in time, it felt like they were being led astray," she added.
Winner reportedly saw proof of Russia's alleged interference in the election in an in-house newsfeed.
She told 60 Minutes: "I just kept thinking, 'My God, somebody needs to step forward and put this right. Somebody.'"
When Pelley asked Winner what she would have told the judge in court had she been allowed to speak about the information she leaked and why she leaked it, she said: "That I thought this was the truth. But also, did not betray our sources and methods. Did not cause damage. Did not put lives on the line.
"It only filled in a question mark that was tearing our country in half in May 2017. And that I meant no harm," she told 60 Minutes.
Newsweek has contacted the NSA and Winner's lawyer for further comment.
If you have thoughts of suicide, confidential help is available for free at the National Suicide Prevention Lifeline. Call 1-800-273-8255. The line is available 24 hours every day.