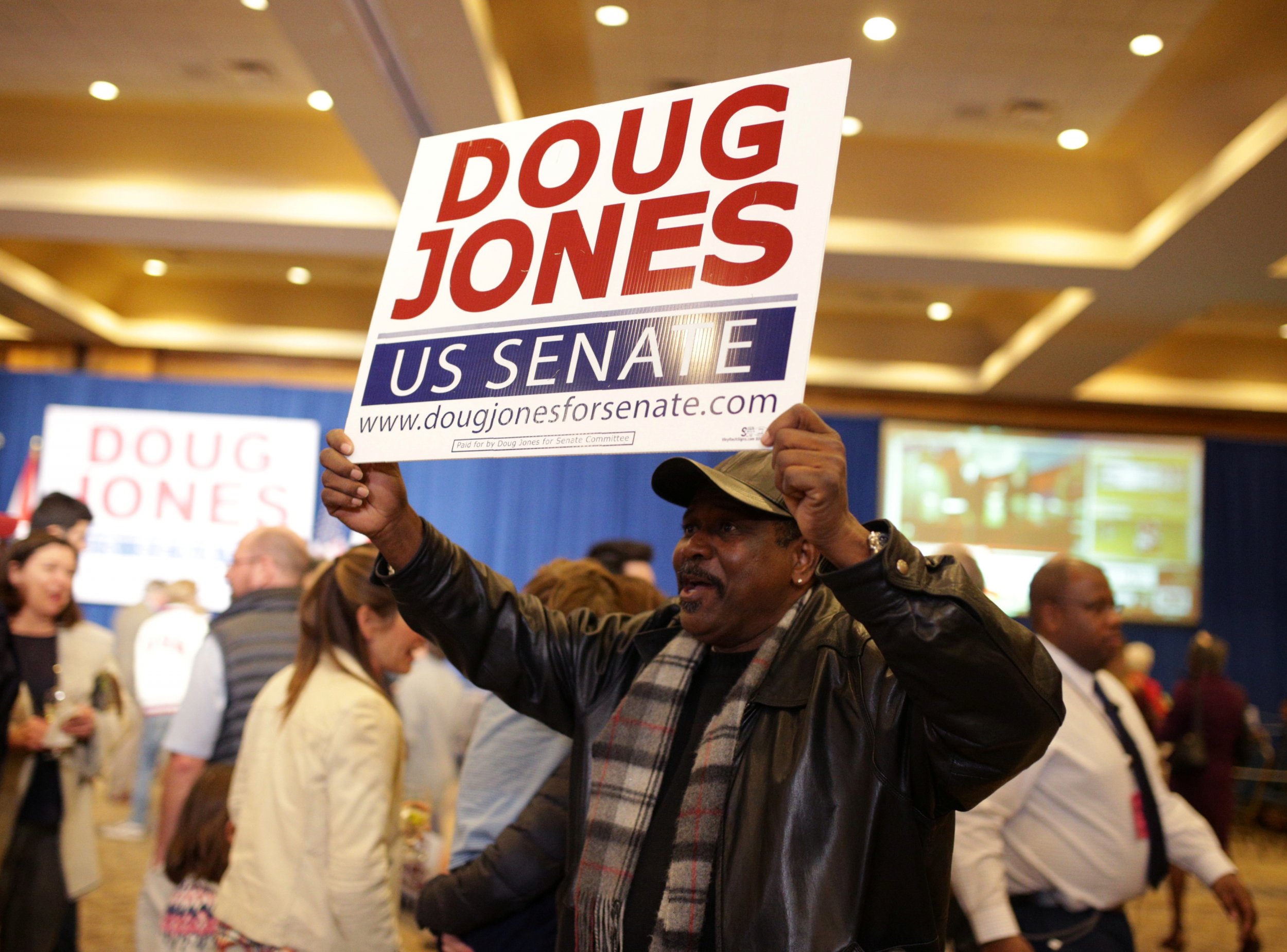 It's hard—very hard—for Republicans to lose Senate races in ruby-red Alabama, but Roy Moore pulled it off Tuesday night. Here are some of the reasons Democrat Doug Jones, not Moore, is going to Washington after a stunning victory.
1. Moore had a scandal problem
Moore was dogged by allegations of sexual improprieties with young women—charges that would have been a death knell for almost any campaign. The judge repeatedly denied having dated or molested teenaged girls, and while exit polls showed he did pull support from even some voters who didn't believe his denials, he simply could not shake the whiff of scandal that his foes were happy to play up.
"The kookiness and unsavory nature of Roy Moore," the University of Virginia's Larry Sabato told Newsweek, ultimately did his campaign in, aided by "the failure of Donald Trump — who struck out twice in Alabama this year, in a state he won by 28%."
2. Black voters showed up for the Democrat
Alabama may be one of the reddest places in the nation, but elections come down to turnout — and in a state known as "the Heart of Dixie," African-American voters made their voices heard. When they did, they voted with Jones, who, as the Washington Post noted, is "a former U.S. attorney best known for prosecuting two Ku Klux Klan members for the 1963 bombing of a Birmingham Baptist church, which killed four girls."
"In a special election that everyone thought would have low turnout, African American voters made sure their voices were heard loud and clear," said Page Gardner, president of Women's Voices Women Vote Action Fund, in a post-vote statement. "Alabamians rejected the race-baiting politics of divisiveness spread by Donald Trump and his followers."
3. The Moore campaign may have overgambled on the evangelical vote
Moore made a name for himself on the bench and as a Senate hopeful as not just an enthusiastic and vocal Christian, but a man so convinced that homosexuality should be illegal that he got kicked off Alabama's Supreme Court for refusing to accept same-sex marriage. Professions of religious conviction, however, did not enable Moore to overcome the crushing waves of questions about his character.
Luke Thompson, a Republican political consultant with the firm Applecart, put it this way in an email to Newsweek: "As in North Carolina and Louisiana, Democrats can win statewide in the South when Republicans nominate morally or politically unacceptable candidates. The South is conservative, but that doesn't mean that Republicans can run just anyone — let alone a credibly accused pederast — and just expect to win."
4. Former Trump consigliere Steve Bannon may have miscalculated
Trump's ex-campaign strategist and White House adviser jumped into the race to campaign for Moore despite the massive hurdles to his election (and pulled in the president himself) and it apparently backfired.
While Bannon alone can't be blamed for the upset, he was a highly prominent figure in the Moore-Jones showdown — and Republicans weren't shy about slamming him as Alabama voters handed Bannon's candidate a defeat.
"Once again, Steve Bannon has been an incredible ally to Democrats. He went out of his way to promote a fringe candidate who could not win a general election," said New York GOP strategist and longtime Trump critic Evan Siegfried.
"[Bannon's] obsession with 'sending a message' to [Senate Majority Leader] Mitch McConnell has given [Jones] a major win in the 5th-most conservative state in the nation. Pathetic."
5. Many national Republicans viewed the race as radioactive
Even in the throes of the endless battle to retain primacy in the Senate, many in the GOP simply couldn't stomach putting their support behind Moore given the controversy over his alleged personal conduct with women.
"Tonight's results are clear — the people of Alabama deemed Roy Moore unfit to serve in the U.S. Senate," said National Republican Senate Committee Chairman and Colorado Senator Cory Gardner in a Tuesday night statement that made no excuses for the GOP candidate. "I hope Senator-elect Doug Jones will do the right thing and truly represent Alabama by choosing to vote with the Senate Republican majority."
Republican strategist and Trump re-election campaign adviser Harlan Hill, asked by Newsweek to enumerate reasons for the Jones win, offered five of his own.
Number one, Hill said of Team Jones: "Joe Trippi is one of the most brilliant political consultants in the country."
Numbers two through five were all the same: "Roy Moore is an accused pedophile."