Rebel Wilson Raves Over 'Iconic' Alicia Silverstone Cameo in 'Senior Year'
Rebel Wilson was so delighted to have Clueless star Alicia Silverstone in her new Netflix comedy Senior Year she couldn't help but ask her countless questions about her iconic film and what her life has been like since making it.
Senior Year sees Wilson portray Stephanie Conway, a cheerleader whose hope of becoming prom queen is thwarted when a stunt goes wrong and she ends up in a coma for 20 years. But after waking up she decides—at 37—to return to high school to fulfill her girlhood dream.
Silverstone takes on the role of Deanna Russo, an alumni of Stephanie's school who Stephanie aspires to be but who doesn't actually live the perfect life she imagined she did.
While the Clueless actor only appears in one scene, Wilson raved about having her on set, and she told Newsweek that she was "so excited" they cast her because the classic chick flick was an important part of her own youth.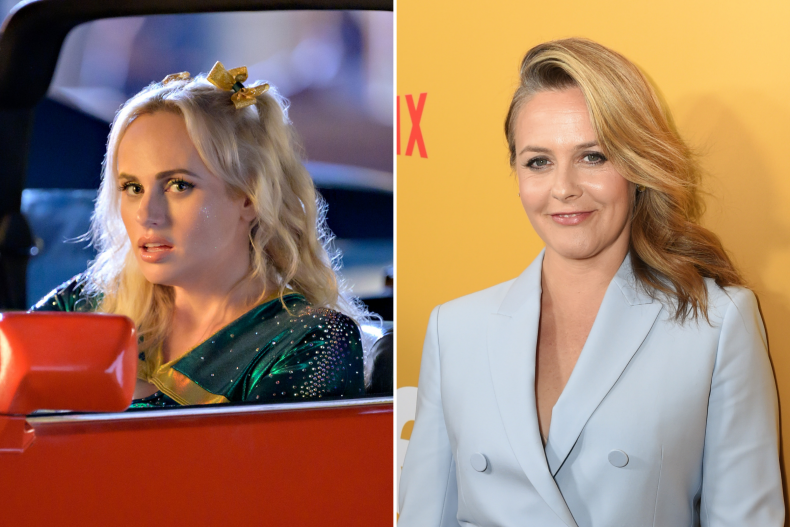 "I was so excited, we had her only for one day on the shoot and I was just so excited. I was like 'When's the day that Alicia Silverstone is coming?' because Clueless was just such an amazing movie, it's such an iconic film," Wilson said.
"We knew we wanted somebody really iconic for that cameo and to get her, I mean, it was weird. In every single break I was filming with her I was just asking her questions like, 'What was it like in Clueless when you did this or when you did that? And what was your life like at the time?'
"She could not have been more generous, she was so giving and, you know, we've chatted a lot, and we've been texting ever since."
Wilson went on: "It's just cool because, of course, when I was a teenager watching Clueless I just, like God, I couldn't imagine being a girl who's so pretty and so popular, and all this stuff.
"And then it was really interesting to hear from her what was going on in her life at that time when she looked like the perfect teenager, and then to hear some of her real-life stories from that time was really, really interesting and it just really humanized her to me, just looking at [her] just as an iconic actress.
"I just loved that whole day. We were just chatting, chatting, chatting, we almost didn't really focus on the scene as much because we were just having such a good time. chatting about life."
Rebel Wilson on Her 'Senior Year' Character
Wilson went on to discuss how she felt about starring in the Netflix comedy, which was released on Friday May 13, saying she found it amusing to try and act how a 17-year-old would.
The Pitch Perfect star explained: "I felt like it's really funny comedically to play someone who's 37 but she believes in her mind she's 17 because when she was last [awake] she was 17.
"So, it's really funny to just pretend you're like that little 17-year-old poncing around, and that mentality, because a lot has changed culturally and in society in the last 20 years. It's really fun to play with what she thought was okay, and then what's okay now and what kids are like now , it was really interesting."
Wilson added that she was the one who made Stephanie a cheerleader because originally the character was meant to be a field hockey player: "I really liked movies like Bring It On, the cheerleading elements, [so] I added the cheerleading into the film."
Justin Hartley on Working with Rebel Wilson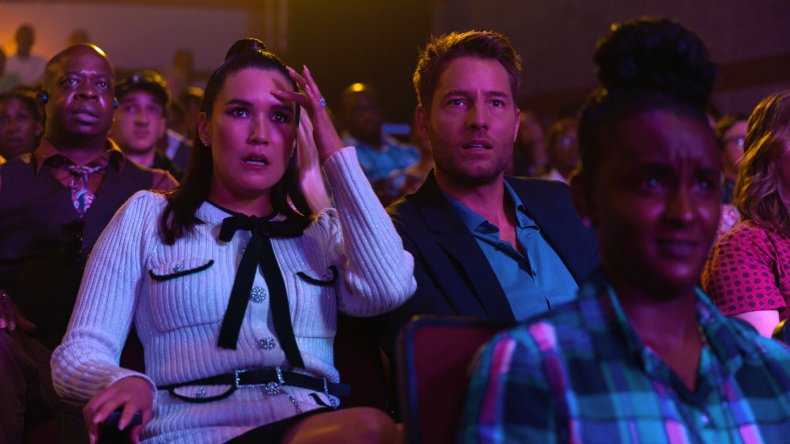 Justin Hartley also spoke to Newsweek about appearing in Senior Year, in which he takes on the role of Stephanie's ex-boyfriend Blaine, who is now married to her arch-nemesis Tiffany (Zoë Chao).
For the This is Us star the appeal of being in the project was Wilson herself, because of what a great comedic actor she is.
"She's pretty smart when it comes to comedy and very formidable," Hartley said of taking on the role. "And I thought, well, I could probably learn some things from her, or at least have a good time working with her.
"I thought the script was outrageously funny, but at the same time, had a really good message, and it's interesting, because a lot of the film takes place in the early 2000s and then you jump ahead 20 years but the things that are toxic and probably shouldn't be important to people —status, what people think about you, how many followers you have— before Instagram and Twitter it was the same thing, it was just different.
"We didn't have Instagram and Twitter, but there was still those feelings and the sentiments about, you know, being included and all that stuff. So I really loved the message that the film has... this idea that it's okay to be your own person and you don't have to conform and be kind be nice."
Hartley also shared how much he loved working on the Senior Year set, explaining that the crew's willingness to collaborate made it one of his favorite experiences ever.
He explained: "We played around quite a bit during the shoot and we had writers and producers and our director that were very open to not only letting us improvise, but also sort of throwing out things to us right before the take, great ideas, comedic ideas which I love.
"They're paying attention, they're watching and they say, 'Oh my God, what if we did this? That can be really funny' and sometimes it works, and sometimes it doesn't, but it's always worth trying.
"I would say every take with [Rebel] is a bit different, and it's not a bit different for any other reasons other than by design. She really does have the ability to be funny with a line of dialogue, the same line of dialogue, in probably 30, or 40, or 50 different ways and they're all equally funny."
He added: "As far as movies go, it was the most fun I've had. I did a movie a few years back, Bad Mom's Christmas, I had a blast on that one. The character was outrageous, he was a stripper and it was outrageous but it was a lot of fun.
"And this movie was the same way, you come in and the way Alex [Hardcastle, the director] runs his set is very much like what I'm used to on This is Us, it's just very pleasant, very kind, very giving, very open, and you actually look forward to going to work, to going to set and being with these people and every day is wonderful."
Senior Year is out on Netflix now.