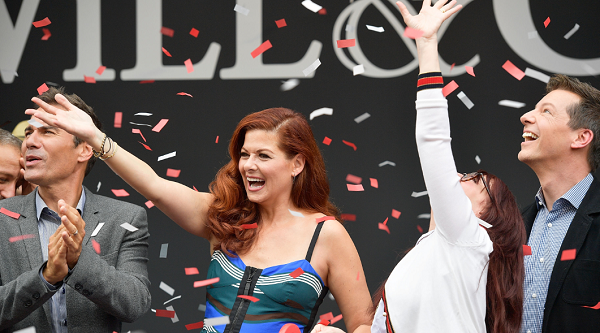 It's 2017, but it may feel more like 1997 with the way every aspect of popular culture is drenched in '90s nostalgia.
The '90s are having a big comeback right now, particularly in the wonderful world of television. There are a number of shows that were household names in the 1990s and early 2000s that are making their way back to the small screen, with several of them set to debut on major broadcast networks during the 2017-18 TV season.
But the boob tube isn't the only aspect of pop culture that's having a real love affair with '90s nostalgia. Plenty of musicians and artists who saw the height of their fame in the '90s have been blessing stages with reunion tours all around the country, including the Bad Boy Family, Hanson and Third Eye Blind. Not to mention the bands that have spent the last few years sitting in the shadows, only to re-emerge with music for listeners likely too young to have bought CDs in their heyday. Yes, we're talking about you Fall Out Boy, Phoenix and LCD Soundsystem.
Even TRL—MTV's beloved Total Request Live music video countdown that ran from 1998 to 2008—is having a renaissance and returning to the network in October with a fresh ensemble of VJs, aka video jockeys. The reboot of the live show may be the ultimate signifier that the '90s are officially back in 2017.
New films like Landline and Sandy Wexler have tapped into '90s nostalgia too with their retro set designs, while in the world of fashion and design, artists like Lisa Frank—who was the reigning queen of stickers, markers and Trapper Keepers in the '90s—are even having a major moment as designers revive a '90s aesthetic. Frank's colorful and psychedelic artistry can be found on a number of things from pajama sets to prepaid debit cards, and even the new design of Rebook's Classic Leather sneaker.
Check out a list of all the oldies-but-goodies making a big comeback in 2017 and 2018 below:
Will & Grace: The series originally ran on NBC from 1998 to 2006. The reboot will see besties Will, Grace, Karen and Jack running amok in New York City, just as they used to before the series finale, in which Will and Grace were happily married to their respective partners and with children. Showrunners are simply going to pretend like those marriages never happened when the show returns.
Roseanne: The family sitcom, which ran from 1988 to 1997, will return to ABC in 2018 with the exact same cast, including John Goodman's character Dan, who died from a heart attack on the final episode of the series. However, the series will pick up as if Dan's heart attack never occurred.
King of the Hill: While there is no exact return for the former Fox cartoon series, which ran on the network from 1997 to 2010, there has at least been some talk about bringing King of the Hill back. Fox chairman Dana Walden told Deadline recently that there has been a "preliminary conversation," regarding plotlines for a King of the Hill revival. "Given what's going on in the country," Walden said, "[show creators Mike Judge and Greg Daniels] had a point of view about how these characters would respond."
The Munsters: Although the show aired on CBS from 1965 to 1966, the black-and-white family series may have had its biggest run back in the 1990s, when it was a part of Nickelodeon's Nick at Nite lineup. NBC recently announced plans to revive the half-hour comedy series, which will be produced by Seth Meyers.
Star Trek: Discovery: To be honest, the space series has never quite gone out of style. Although the original series initially debuted back in 1966 on NBC, TV syndication and movie deals have led it to maintain its position in pop culture right along with the (never-ending) Star Wars movie series. The reboot is set to debut on CBS All Access on September 24.
Curb Your Enthusiasm: The last we saw of HBO's fictionalized Larry David in 2011, he was trying to cope with a painful childhood memory that was brought to the forefront of his mind following an ice cream truck incident. When the show, which first premiered on the cable network in 2000, returns in October, fans should expect to see more of David going about his life in Los Angeles the same old ornery, random and hilarious way.
Dynasty: From 1981 to 1989, Dynasty reigned supreme on ABC, receiving Golden Globe nominations for Best TV Drama series every single year that it was on the air. The super-dramatic soap opera, of which reruns have appeared on Soapnet continuously for years since its end, has been revived in a number of ways from spin-offs to made-for-TV movies and even a reality special, Dynasty Reunion: Catfights & Caviar. And in October, viewers will be reintroduced to the ultrarich and incredibly petty Carrington family all over again when the reboot premieres on the CW.
S.W.A.T.: Airing on ABC from 1975 to 1976, and later as a movie starring Samuel L. Jackson and Colin Farrell, Los Angeles' most elite team of officers, headed by Shemar Moore's character, will return to ABC for a reboot in November.
The L. Word: The Showtime series, which ran from 2004 to 2009, is set to return with a whole new troupe of actresses. However, the original cast members, Jennifer Beals, Kate Moennig and Leisha Hailey will still play a role in production of the modern-day reboot.
The X-Files: It was 1993 when audiences were first introduced to extraterrestrial investigators Fox Mulder and Dana Scully. Although the duo, played by David Duchovny and Gillian Anderson respectively, closed their final alien case back in 2002, the series was rebooted on the Fox network in 2016. The first season of the updated series has already come and gone, but it's got the green light to return with yet another season in 2018.
The Lion King: Disney has a number of animated films set to return as a live-action films, as they did with The Beauty & The Beast, which premiered earlier this year. However, the most anticipated may be the modern-day version of the 1994 classic, The Lion King, which is set to hit theaters sometime in 2019. The studio also has a live-action Aladdin in the works.