Recall Candidates Push Back on Gavin Newsom's COVID-19 Vaccine Mandate for Teachers
Candidates running to replace California Governor Gavin Newsom in next month's recall election voiced their opposition to a new statewide vaccine mandate announced Wednesday for school teachers and staff.
Newsom announced the new mandate Wednesday morning at a school in Oakland alongside local leaders and school officials. The governor said teachers and school staff members will be required to either provide proof of their vaccination against COVID-19 or be tested weekly as the fall semester begins amid the ongoing coronavirus pandemic.
The mandate was officially ordered Wednesday by the California Department of Public Health. It covers public and private schools where children are enrolled in transitional kindergarten through high school, according to the department's order. It does not apply to home school environments, higher educational institutions or child care facilities.
John Cox, a Republican who lost an earlier bid to become governor in 2018 to Newsom and is one of the 46 candidates running to replace the Democrat, suggested Newsom was "threatening people's employment" with the latest vaccine mandate—which Cox added he "strongly opposed."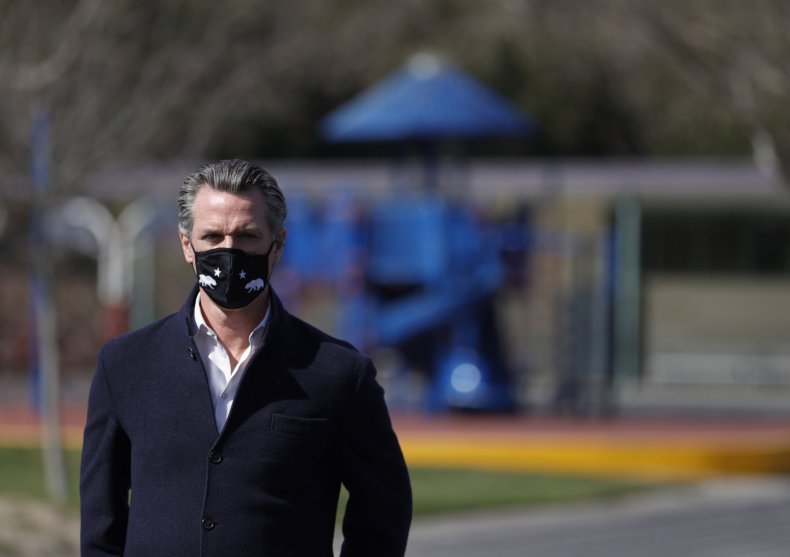 "Gavin Newsom is a power hungry politician who wants to control every aspect of people's lives," Cox said in a statement posted on Twitter. "Now he is effectively threatening people's employment if they don't do what he tells them to."
Republican state lawmaker Kevin Kiley also spoke out about the mandate ahead of Newsom's official announcement.
"Gavin Newsom needs to stop using teachers and nurses as political pawns," Kiley tweeted. "No other state has these mandates. A vote for the Recall is a vote for basic decency."
During a phone conversation with Newsweek Wednesday afternoon, Kiley reiterated his opposition to the vaccine mandate for school teachers and staff.
"I have from the beginning done everything I can as an elected member of the legislature to make the vaccine available to my constituents and to provide information, and to make sure there's every opportunity," he said. "But I am 100 percent against making it mandatory."
Kiley noted California is the only state that has taken the step of mandating vaccines for teachers thus far and said Newsom "is now going down this road in a way that no other state is."
The state lawmaker mentioned criticism Newsom's administration received for lags in making COVID-19 shots available to California residents early during the state's vaccine rollout and said his plan to manage the ongoing pandemic would be "sort of a 180" from Newsom's strategy.
"I would try and make it exactly the opposite—that we'd have a government whose role is limited but does the basic things government is actually supposed to do, and does them well," Kiley said.
Larry Elder, a conservative radio personality whom recent polls suggest is leading among the candidates campaigning for Newsom's seat, said Wednesday morning he intends to reverse the mandate if he were to win the recall election.
"Gov. Elder will reverse this order," Elder tweeted. "Encouraging vaccination is fine. Government mandating it is not."
In additional comments shared with Newsweek, Elder said he is vaccinated against COVID-19 but added he believes getting that protection from the virus "is a matter of choice."
"It seems to me it is a contradiction to urge people to be vaccinated to provide protection well [sic] telling unvaccinated state employees to wear a mask to protect other state unvaccinated workers who chose to accept the risk," Elder's comments said in part. "And keep in mind why we imposed all of these measures in the first place. The goal was to ensure our healthcare system did not get overtaxed. It is not overtaxed, and while cases have gone up, they are but a fraction of the cases and deaths that occurred during the peak of the pandemic."
Elder continued by saying vaccines are readily available for those who seek them out. "We're at the point where anybody who wants to be vaccinated can be vaccinated, and if he or she cannot afford it, the state can provide it," he added.
In a statement shared with Newsweek, former San Diego Mayor Kevin Faulconer, a Republican who announced his gubernatorial bid in February, said mandates like the one Newsom introduced Wednesday "are not the solution."
"With vaccines readily available to teachers and staff, there is absolutely no excuse for our public schools not to be fully reopened after a year of unscientific shutdowns thanks to Gavin Newsom," Faulconer said.
"I have consistently urged my fellow Californians to join me in getting vaccinated, but mandates are not the solution," the former mayor's statement continued. "Sacramento politicians should not be pushing uniform statewide orders on every school district across the state. Those decisions are best made at the local level in consultation with parents."
During a Wednesday news conference announcing the vaccine mandate, Newsom referenced other recent measures the state has taken to combat the spread of the Delta variant, which is believed to be more easily transmissible than other virus variants. Those measures have included requiring proof of vaccination or frequent testing for state employees and health care workers.
"We're now following up today to align our school strategy to the state strategy, becoming the first state in the country to require that all of our staff—not just teachers, credentialed staff, parent educators, custodial staff, the bus drivers, folks that are critical to supporting the entire school ecosystem—also submit a verification of vaccination and/or submit to weekly testing," Newsom said.
Newsom added he believes the new vaccine mandate will help address the concerns of parents as their children head back to the classrooms for in-person instruction.
"We think this is the right thing to do, and we think this is a sustainable way to keeping our schools open and to address the number-one anxiety that parents like myself have for young children, and that is knowing that the schools are doing everything in their power to keep our kids safe, to keep our kids healthy," Newsom said.
Updated 5:36 p.m. ET: This article has been updated to include comments from California recall candidate Kevin Kiley.
Updated 5:01 p.m. ET: This article has been updated to include comments from California recall candidates Larry Elder and Kevin Faulconer.