Recall Gavin Newsom Campaign Breaks 2 Million Signatures As Vote Looms
The campaign to recall California Governor Gavin Newsom claimed to have gathered more than two million signatures as of Wednesday night—taking the petition over the finish line with a week left until deadline day.
The Recall Gavin Newsom group said it had gathered more than 2,060,000 signatures as of yesterday evening, and had turned over roughly 1.8 million signatures to county officers for verification.
A little under 1.5 million valid signatures are required for recall to be put on the California ballot. The campaign claims it has internally "pre-verified" more than 1.8 million signatures.
"The People of California are speaking loud and clear. We have cleared another milestone," Recall Gavin Newsom committee chair Orrin Heatlie said in a statement. "Politics as usual in California are over as we know it to be."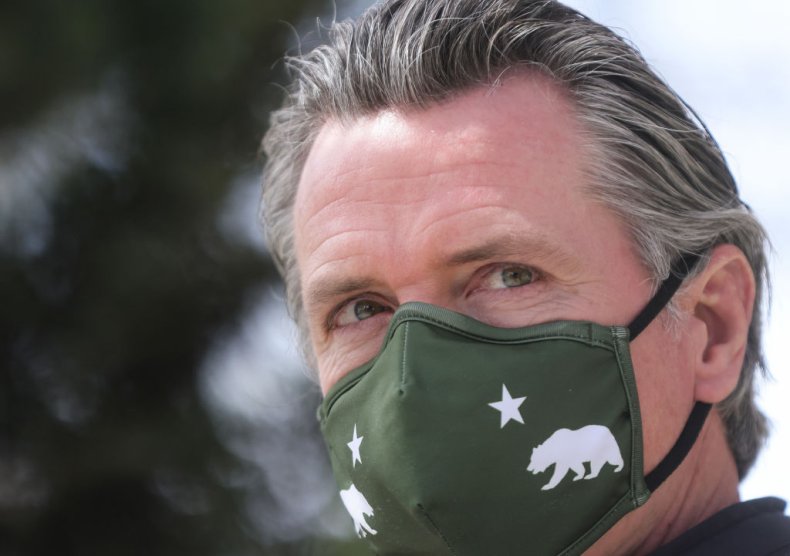 "The People are in charge of California, not political operatives," senior campaign advisor Randy Economy tweeted. "The People are changing California."
Previewing campaign lines as a possible recall contest loomed, the campaign website updated its messaging to focus on Newsom's record on "unaffordable housing," crime and education policy. Newsweek has contacted Gov. Newsom's office for comment on the mounting recall campaign.
Protestors gathered outside the California State Capitol in Sacramento on Sunday as the campaign said it was nearing the 2 million signature mark. Toward the end of the rally, they chanted "goodbye Newsom."
However, polls indicate that campaigners hoping to unseat Newsom could have an uphill battle, as the governor holds a decent approval rating with local voters. According to one Public Policy Institute of California poll released last month, 52 percent of likely voters in the state approved of Newsom's performance in office.
Former California Governor Gray Davis' approval rating was 28 points lower prior to his recall in 2003, according to a PPIC poll from the time.
Another survey released by the UC Berkeley Institute of Governmental Studies in February found that less than half of California voters were happy with Newsom's performance (46 percent), but also found little appetite for a recall.
Thirty-six percent of voters told pollsters they would vote to oust the incumbent, while 45 percent said they wouldn't vote to ditch Newsom. More than 10,000 registered voters were surveyed for the online poll, which has a 2 percentage point margin of error.
Speaking at an empty stadium earlier this week, Newsom admitted to making mistakes, but also took aim at critics seeking his ouster. "So to the California critics who are promoting partisan power grabs and outdated prejudices and rejecting everything that makes California great, we say this: We will not be distracted from getting shots in arms and our economy booming again," he said.