California Governor Gavin Newsom's Approval Rating Down 14 Points, Poll Shows 36% Would Recall
California Governor Gavin Newsom's approval rating has dropped 14 points over the last four months as he faces growing petitions to be recalled from office, according to a new poll.
The survey, conducted by the UC Berkeley Institute of Governmental Studies, found that less than half of California voters, or 46 percent, now approve of Newsom's job performance.
That number is down from 60 percent just four months ago, marking a dramatic decline for a Democratic governor previously regarded as one of the state's most popular leaders.
Newsom's 60 percent rating had been among the highest of any California governor in the last five decades, according to the Los Angeles Times. Now the governor faces increasing blowback over the state's coronavirus response, while a Republican-led petition to have him recalled from office has picked up steam.
According to the poll, 36 percent of voters said they would vote to oust Newsom if a recall measure makes it on the ballot, while 45 percent said they would not.
The poll was conducted online last week and included more than 10,000 registered voters, with the estimated margin of error at plus or minus 2 percentage points.
"People are re-evaluating how well Newsom is doing handling the pandemic," said Mark DiCamillo, director of the poll, according to the Los Angeles Times.
"Once your job performance rating starts to decline, it's more difficult to put it back in the right direction. You kind of accumulate negatives over time," he added.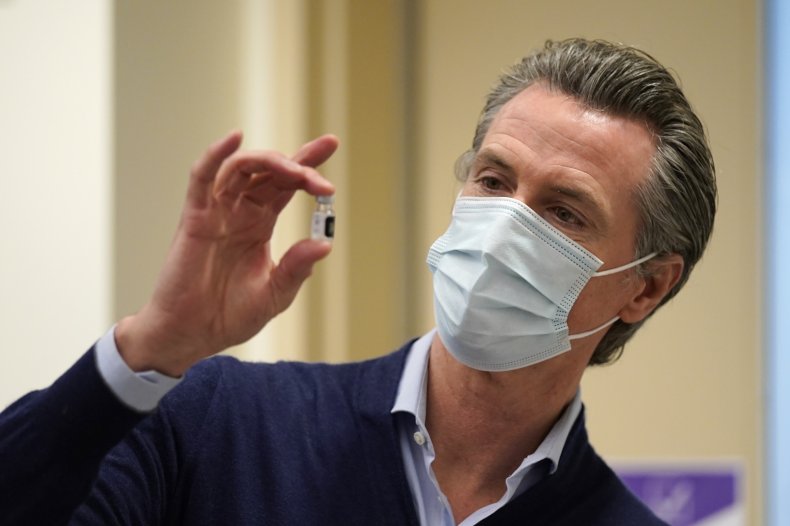 Newsom has faced pushback in recent months for numerous efforts to implement large-scale lockdowns to curb the spread of the coronavirus.
While some have criticized the governor for going too far with lockdowns, others have complained that his restrictions have not done enough to prevent the virus from spreading throughout the state.
Despite no significant improvement for the state's overwhelmed intensive care units, public health officials announced recently that regional coronavirus stay-at-home orders across the state would be lifted, drawing criticism from some health experts.
According to the survey, more than half of California voters found the COVID-19 restrictions and rules put in place confusing, inconsistent and ineffective. However, roughly the same amount believed the actions were necessary, science-based and decisive.
Newsom's public image has also taken a hit since he was seen at a birthday party dinner after pleading with Californians to stay home and avoid public gatherings in November.
His administration has also faced criticism for the state's bungled unemployment system, which has paid billions of dollars to fraudulent claims while millions of unemployed Californians await their payments.
A petition for Newsom to be recalled first began in July of last year. Supporters of the largely Republican-led movement have criticized the governor's handling of the coronavirus pandemic, tax increases, abolishing capital punishment, rising crime and lack of affordable housing.
In order for a recall vote to take place, petitioners would have to get 1.5 million signatures by March 17. So far, at least 1.3 million people have joined the movement.
As of Monday, two challengers—conservative commentator Mike Cernovich and billionaire venture capitalist Chamath Palihapitiy—have suggested they would run against Newsom if a recall takes place.
However, former recalled California Governor Gray Davis previously told Newsweek that Newsom has "managed to weather the bad times" and predicted he would win re-election in 2022.
Newsweek reached out to Newsom's office for additional comment but did not hear back in time for publication.