Joe Biden's COVID Adviser Admonishes Gavin Newsom for Loosening California's Restrictions
A top COVID-19 adviser to President Joe Biden chastised California Governor Gavin Newsom's recent move to lift the state's regional stay-at-home order on Thursday.
"Why are we so good at pumping the brakes after we wrap the car around the tree?" Dr. Michael Osterholm, director of the Center for Infectious Disease Research and Policy at the University of Minnesota, said on CNN Thursday morning.
Osterholm serves on Biden's coronavirus advisory board. He has praised the new administration's goal of getting at least 100 million vaccines administered within 100 days, according to Boston NPR station WBUR.
But Osterholm told CNN with "professional certainty" that the next six to 14 weeks "is going to be the darkest of days" of the epidemic in the U.S. thus far.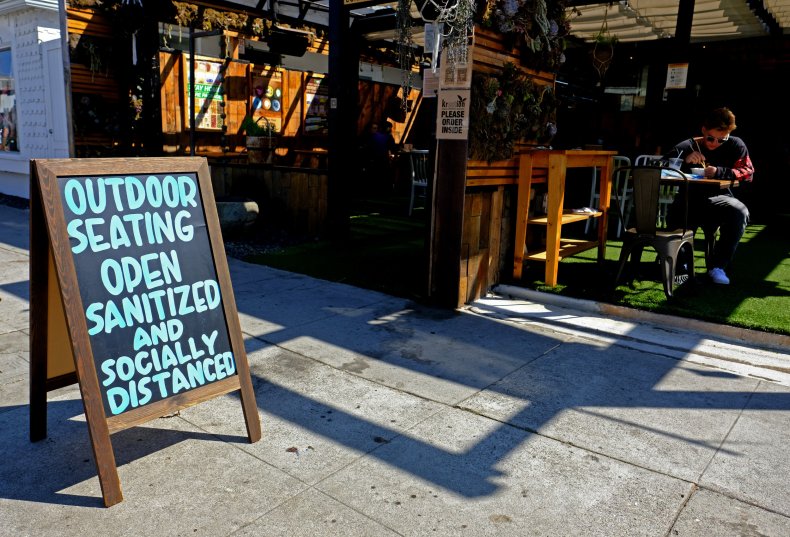 Amidst these "dark days," Newsom announced Monday that California's regional stay-at-home orders would end. The parameter for reopening—intensive care unit (ICU) capacity at 15 percent, according to four-week projections—was met by all five of the state's designated regions, the state's health department said.
"We have to help our political leaders understand now is the time not to roll out, now is not the time to ease up," Osterholm told CNN. "I fear that that's what will happen, only when our hospitals are overrun, and that seems to be the benchmark right now."
From now on, the state's 58 counties will be coded according to a four-tier system based on the number of coronavirus cases and positive tests. The state's hospital surge order and travel advisory are also still in effect, and because most counties will score under stricter tiers, a number of indoor businesses will remain closed, a spokesperson for the California Department of Public Health confirmed.
"The lifting of the regional stay-at-home orders is not the governor saying that we should go back to life before we had COVID," Dr. Robert Kim-Farley, a professor at the UCLA Fielding School of Public Health, told Newsweek. He said that the hardest-hit counties will be tiered to prevent worsening conditions and that each county's local health department will be responsible for implementing further safety restrictions, if deemed necessary.
Kim-Farley confirmed that over the past 14 days there's been a 47 percent decrease in the number of coronavirus cases in California and a 17 percent decrease in hospitalizations, as well as a drop in positive tests to 9.6 percent. These trends were taken into account by the state to determine the path of the state's outbreak and to make the decision to relax restrictions, Kim-Farley said. But he added that the state won't know the true impact of the relaxations for weeks to come.
"It's like trying to steer a large supertanker ship," Kim-Farley said. "You turn the rudder, and it can take a long time before the ship starts to turn. With COVID-19 restrictions, as you tighten it down, it may take a number of weeks to see a change in the number of cases."
Osterholm contrasted the situation in California with that in states like Minnesota, where Hennepin County, one of the largest counties, has only 6,192 confirmed deaths, according to Johns Hopkins. "Is their science better than ours? No. They've been willing to do the tough things to keep the case numbers down, and it shows. And their economy has benefited from it, and most of all, the health and lives of their citizens have," he said.
Kim-Farley said California's COVID-19 response has actually been ahead of that in other states.
"Having a national strategy [now means] trying to bring the nation in line with what California has been doing in [terms of] being responsive to the data and being scientifically based," he said, citing the popular usage of masks and the state's vaccine rollout plan.
One problem, he added, is the lag in vaccine distribution in California. The state's administration strategy has been set, but he confirmed that the supply of doses from the federal government is falling behind.
The stark difference between expectations of recovery and the reality in California has raised speculation the Newsom's abrupt move to reopen the state is a political response to the backlash over his administration's COVID-19 response and a growing campaign demanding for his recall.
There have been accusations of a lack of transparency from the governor's team, with health officials being kept in the dark about how many vaccines are available in the state.
"He's fighting for his political life right now," Randy Economy, a senior adviser for Recall Gavin 2020, told Newsweek on Monday. "If it wasn't for the campaign, he wouldn't have acted this way. He would have kept everything locked down."
Osterholm told CNN that within the next six to 14 weeks, officials will need to prepare for the worst of the pandemic: "If we don't [prepare], I can tell you the measure will be how many hospitals will be overrun."
Los Angeles County leads in the U.S. in terms of number of deaths, with 15,897 deaths reported Tuesday, according to Johns Hopkins University. More than 1 million cases have been confirmed in the county, while over 30,800 cases were reported in San Francisco County.