What America's Biggest CEOs Say About Chances of U.S. Recession
Some of America's biggest CEOs have voiced concerns that an economic recession is right around the corner for the U.S.
Goldman Sachs CEO David Solomon told CNBC that there is a good chance of a recession and that a downturn in the economy could make investing and business decisions more difficult.
"I think it's a time to be cautious, and I think that if you're running a risk-based business, it's a time to think more cautiously about your risk box, your risk appetite," Solomon said during a live interview.
He added: "I think you have to expect that there's more volatility on the horizon now. That doesn't mean for sure that we have a really difficult economic scenario. But on the distribution of outcomes, there's a good chance that we have a recession in the United States."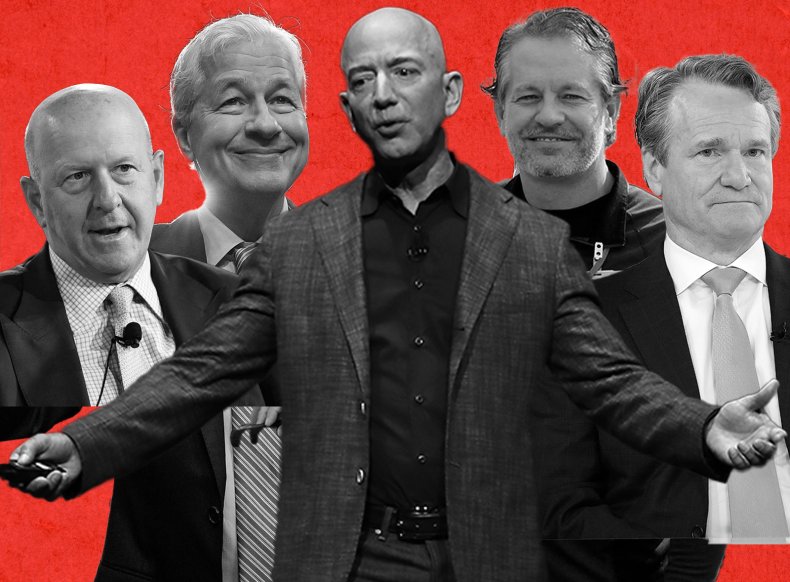 Amazon founder Jeff Bezos followed up the live interview with Solomon on Twitter, cautioning that rougher times are likely ahead: "Yep, the probabilities in this economy tell you to batten down the hatches."
This comes after Jamie Dimon of JPMorgan Chase told CNBC that the U.S. economy was "still doing well" at present, and that consumers were likely in better shape compared with the previous global financial crisis in 2008.
However, the JPMorgan CEO warned in the interview on Monday that a combination of "very, very serious" factors was likely to push both the U.S. and global economy into recession by the middle of 2023.
"These are very, very serious things which I think are likely to push the U.S. and the world—I mean, Europe is already in recession—and they're likely to put the U.S. in some kind of recession six to nine months from now," Dimon said.
Chicago Federal Reserve Bank President Charles Evans told CNBC in September that he was feeling apprehensive about the U.S. central bank going too far in its attempts to halt rising inflation rates.
The Fed raised its interest rates by three-quarters of a percentage point in September to a range between 3 and 3.25 percent—the third consecutive increase of that size—indicating that it would continue to raise rates if necessary.
"That environment heading into 2023 is one that you've got to be cautious and prepared for," Solomon said.
Like Dimon, Solomon said investors should be conscious of the challenges ahead: "In an environment where inflation is more embedded and growth is slower, you know, asset appreciation will be tougher. Are we going to get rooted in that kind of a decade-long scenario? I don't know."
Walmart U.S. CEO John Furner, declined to predict whether the U.S. would see a recession, in an interview with NBC, while Bank of America CEO Brian Moynihan told CNBC on Monday that consumer spending remained strong.
Moynihan acknowledged the Fed's efforts could slow the economy, but added that credit card data and related information showed consumer spending had held up despite the growing concerns.
"In the current environment, the consumer is quite good and strong," he said. "The consumer's hanging in there"