Record Number of COVID Hospitalizations Prompts NH Gov. to Order Setup of 'Surge Centers'
Following increased hospitalizations and positive tests in recent weeks, including a new all-time high number of hospitalizations Tuesday, New Hampshire Gov. Chris Sununu introduced a new executive order to ease pressure on local hospitals.
The state has averaged around 1,000 new positive tests per day in recent weeks, with 350 people hospitalized Tuesday, contributing to high wait times in hospital emergency rooms, and delays in other treatments, according to The Associated Press.
The new executive order will establish "surge centers" in space not typically used for inpatient care, like ambulatory surgical centers and outpatient clinics. It also makes it easier to add beds in rehabilitation facilities and will simplify licensing procedures to boost the state healthcare workforce.
"Our healthcare system is resilient, there's no doubt about it," Sununu said. "But it is being tested."
Lori Shibinette, the commissioner of New Hampshire's Department of Health and Human Services, described the struggle being faced by many of the state's hospitals as a "back door" issue.
"At any given time they may have 15 or 20 patients waiting for a nursing home bed or a rehab bed that they can't discharge because those facilities are either not taking new admissions because of an outbreak or because they don't have the staff," she said. "We have to open capacity behind the hospital."
The executive order, rising cases, and hospitalizations come as several states are experiencing similar spikes in cases while temperatures drop and citizens are forced inside.
Denver's mayor announced a new mask mandate Tuesday, Detroit's mayor called the rising cases in the state with the highest positivity rate in the nation a "serious problem."
Though, a new poll showed 74 percent of Americans surveyed said they felt their lives were mostly "back to normal."
For more reporting from The Associated Press, see below.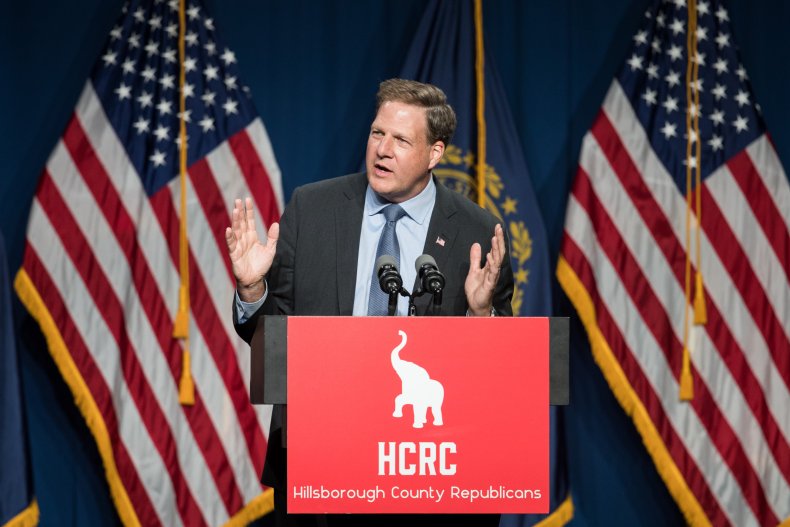 Last year, the state temporarily set up 14 "flex facilities" in college gymnasiums and other facilities with about 1,600 beds to handle hospital overflow for coronavirus cases.
Sununu also announced a "booster blitz" initiative now that all adults are eligible for the follow-up shots. On Dec. 11, the state will operate 20 sites to offer booster shots to those seeking the protection in time for Christmas gatherings.
The state also is partnering with several organizations and companies to expand at-home coronavirus testing, Sununu said.
Through the "Say Yes! COVID Test" program administered by the National Institutes of Health, 1 million free rapid tests will be available in New Hampshire. Meanwhile, a company called Vault will provide the state with 100,000 PCR tests next month. The first allotments of both tests will be offered to schools, Sununu said.