Red Fox That 'Bit or Nipped' Several at Capitol Tests Positive for Rabies
An elusive red fox that was wandering Capitol Hill on Tuesday and reportedly nipping and biting several people had rabies, the Humane Rescue Alliance reported.
The D.C. public health lab said in a statement that the red fox "that was captured yesterday tested positive for the rabies virus." Health officials said that the fox was "humanely euthanized" so more rabies testing could be done.
There were reportedly nine confirmed bites by the fox over the last few days, including California Representative Ami Bera. The congressman was given several treatments for tetanus and rabies after the bite, according to a spokesperson. The fox became something of an internet sensation on Tuesday as well, and a Twitter account called Capitol Fox now has over 4,000 followers.
DC Health said in a statement to Newsweek that it was "contacting all human victims who were bitten by the fox. Animal control will post informational flyers around Capitol Hill advising of the fox's positive rabies status and encouraging people who might have been exposed to call DC Health."
A tweet from Capitol Police on Tuesday afternoon showed the fox being captured by two animal control officers. The fox's babies, known as kits, were also found and captured on Wednesday morning.
On Thursday, DC Health told Newsweek that three kits were found, and "[s]ince the mother tested positive for the rabies virus and the kits could have been exposed during grooming or other means, they were no longer able to be safely rehabilitated and were humanely euthanized."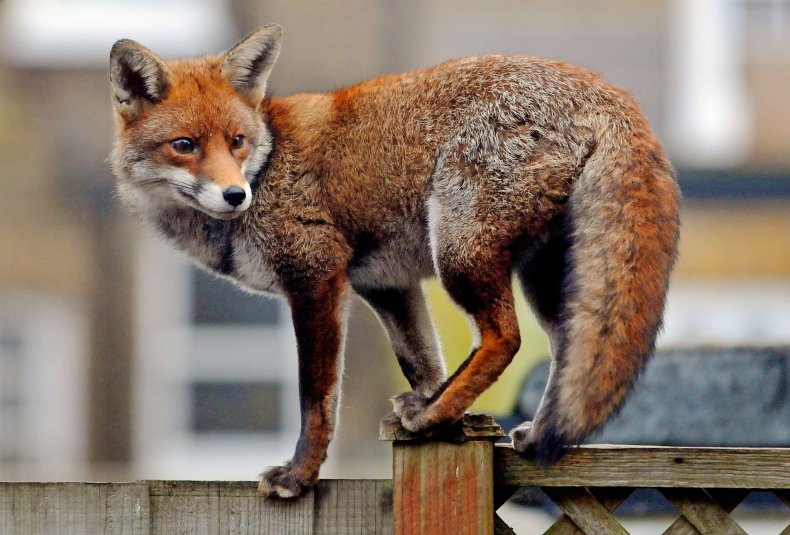 Several reported fox sightings on Capitol grounds showed that the fox was far more aggressive than usual, and it was "traveling blocks to attack people," Lauren Crossed, a wildlife program manager at the Humane Rescue Alliance, told The Washington Post.
A police spokesperson told NPR that the fox had been spotted around the Dirksen Senate Office Building, the Russell Senate Office Building, and on the House side of the U.S. Capitol.
Bera called the attack "unprovoked," while speaking with Punchbowl News, saying that he felt the fox "lunge" at the back of his leg. "Capitol police came out and then fox ran away. It was the most bizarre day in Congress," he said, adding, "I expect to get attacked if I go on Fox News, I don't expect to get attacked by a fox."
Ximena Bustillo, a writer for Politico, also reported being bitten on Tuesday afternoon and posted on Twitter, "That feel when you get bit by a fox leaving Capitol cause that's of course something I expect in THE MIDDLE OF DC."
On Tuesday, Representative Andy Levin of Michigan tweeted, "My heart leapt w/joy to hear about Capitol fox families. We need more wild creatures around here & less wild conspiracies. Maybe these foxes protecting their kits can inspire us to protect our children from gun violence. The possibilities are endless! I stand with @thecapitolfox!"
The Capitol Fox tweeted on Wednesday, "Gone but not forgotten. May you remember me fondly."
D.C. Health urged anyone who came into physical contact with a fox or its kits to contact them at 202-442-9143.
Rabid animal attacks are not altogether common, although several have occurred recently. Last month in Las Vegas, an incident occurred when a six-year-old girl was attacked by a "really mean" dog. While the dog's vaccination status was unknown, the girl underwent rabies treatments as a precaution.
The six-year-old girl had several injuries but told local news station KLAS that she was "really tough." In Florida, an animal rescue center worker was not so fortunate. The woman was killed by a dog that "suddenly snapped" and began biting her. A coworker attempted to come to her aid but was injured in the process.
The U.S. Centers for Disease Control and Prevention warned in February that there was an increase in human rabies cases linked to bats when a family in Pennsylvania found a bat in their basement that had the disease.
Update 4/7/22, 12:30 p.m. ET: This story was updated with comment from DC Health.
Newsweek reached out to the Humane Rescue Alliance for further comment.