'Red Table Talk': Explosive Details From Jada Pinkett Smith's Chat With Gwyneth Paltrow
On the Facebook Watch show Red Table Talk, Jada Pinkett Smith interviews a host of celebrity guests, delving into their lives along with her mother, Adrienne Banfield-Norris, and her daughter, Willow Smith.
In the latest edition on October 27, the host welcomed actress Gwyneth Paltrow to talk about sex after the release of her show Sex, Love and Goop—and, boy, did they go deep.
The conversation began with a discussion of the two women's sexual awakenings and how they taught their children about sex.
When sex educator Jaiya arrived, however the heat was turned up as she talked about "erotic blueprints" and brought some toys for the women to look at.
Newsweek breaks down some of the most interesting details from their discussion
Both Jada Pinkett Smith and Gwyneth Paltrow Couldn't Talk Sex with Their Mothers
Both actresses admitted they struggled to talk about sex with their mothers, even though Pinkett Smith's mother was sitting right next to her.
Paltrow said she and her mother, actress Blythe Danner, didn't talk about sex at all, while Pinkett Smith said Banfield-Norris had merely warned her not to get pregnant.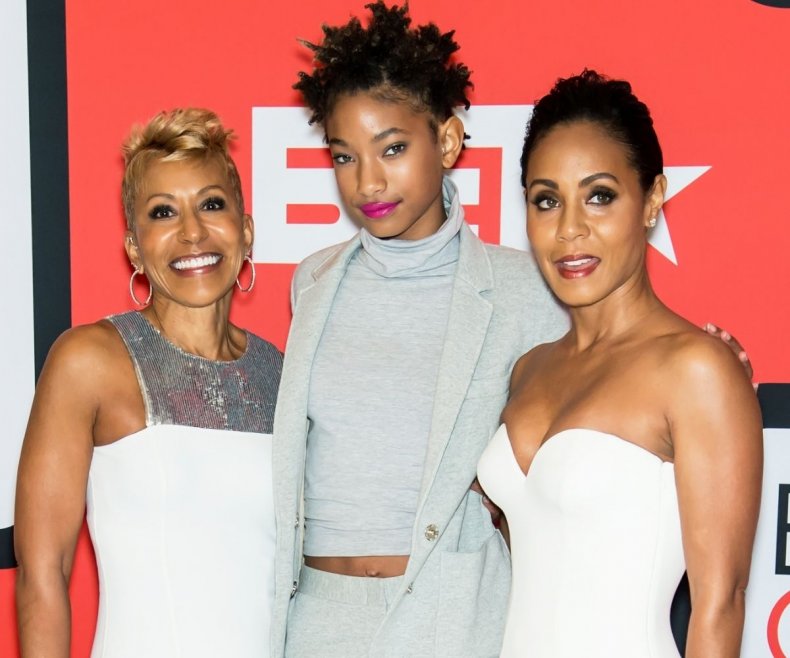 Pinkett Smith added, however, that she and her mother had talked very deeply and specifically about sex after watching Paltrow's new docu-series, Sex, Love and Goop.
Gwyneth Paltrow Is Having the 'Best Sex' at 49
Paltrow turned 49 in September and is apparently having the best sex of her life.
Pinkett Smith said: "So, we read that you're having some of the best sex these days, which yay! And you're 49."
Paltrow giggled and agreed, but conceded: "Yes, but I'm a newlywed, so it's like I'm cheating maybe a little bit. You know?"
Paltrow and producer Brad Falchuk married in 2018, after meeting on the set of Glee eight years earlier.
Banfield-Norris, who remarried five years ago, said she was having the same experience in her own sex life.
Willow Smith Asked About Sex When She Was Five
Talking about their children, Pinkett Smith said Willow was curious about sex from a young age.
The mother-of-two began comically pointing to different areas of her body, saying: "Mommy, what is this?".
Paltrow, on the other hand, said her children's school took care of much of their sex education, and that they had a sixth-grade class where they discussed "absolutely everything."
Gwyneth Paltrow Says Porn Teaches Girls Bad Messages
Paltrow also blamed porn for many issues thatpeople are struggling with around sex, particularly girls.
She said she felt porn had "taught young girls they have to be f***able," leading them to pose in certain ways on Instagram as a currency.
Jada Pinkett Smith Opened Up About Her Marriage to Will Smith
Pinkett Smith also spoke about how she tries to keep the spark alive with her husband, actor Will Smith.
The pair have been married since 1997 and now have an open relationship. They have two children, Willow and son Jaden. Smith also has a son, Trey, from his first marriage.
She told the other women around the table: "It's hard. The thing Will and I talk about a lot is the journey. We started in this at a very young age, you know, 22 years old. That's why the accountability part really hit for me because I think you expect your partner to know [what you need], especially when it comes to sex.
"It's like, 'Well, if you love me, you should know. If you love me, you should read my mind.' That's a huge pitfall."
Paltrow agreed, saying we feel "crushed" if our partners are not able to read our minds.
The women said they were now more specific in their needs and tried to communicate better with their partners.
The Five Erotic Blueprints
When Jaiya arrived, the conversation went from general to specific, starting with a discussion of the five different "erotic blueprints," which help you work out what turns you on.
The five types are energetic, sensual, sexual, kinky and shapeshifter, the last of which suggests you enjoy many or all of the types.
Pinkett Smith happily exclaimed that the shapeshifter type was definitely her, before Paltrow doubled over in fits of giggles.
The Ladies Talk Orgasms
Jaiya explained there were multiple types of orgasms as well, from clitoral to vaginal, and many don't understand how these work.
To demonstrate, Jaiya used a vagina puppet to show the different glands that can bring about an orgasm, and said communication is key to working out how to give pleasure to a partner.
Pinkett Smith grabbed the puppet and said, "Who can read this?" when discussing how hard it is for partners to be sexual mind readers, which had Paltrow in stitches.
Jada Pinkett Smith Eyes Up a Table Tennis Paddle
The sexpert then brought out some household items that can be used as toys in the bedroom.
After looking at everything from electric toothbrushes to wooden forks, Pinkett Smith picked up a table tennis paddle and exclaimed: "A tap on the fanny never hurt nobody!"
Paltrow laughed, having already giggled after Jaiya used the wooden fork on her arm.
At this, Paltrow said: "You can use it for salads too, then nobody will judge you."
Banfield-Norris also discussed using a blindfold or ropes to relinquish control, which Jaiya said could help release people from shame.
Update 10/28/21, 10:45 a.m. ET: This article was updated to add extra comments from Jada Pinkett Smith.