Redesigned Toyota Prius Is a Stylish, Fuel-Sipping Eco Car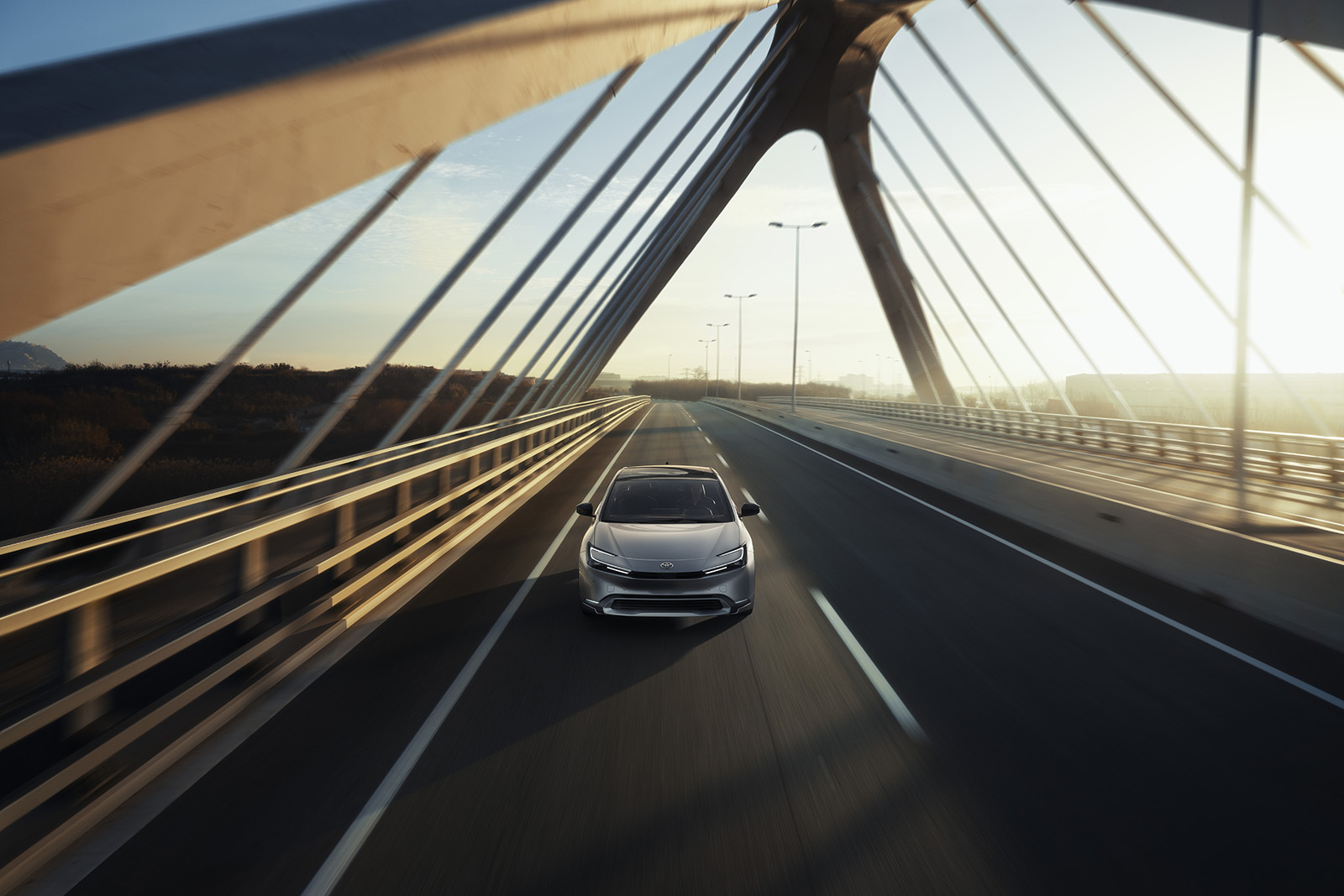 It's been 22 years since the first-generation Toyota Prius made a splash as the world's first production hybrid car. The 2023 Toyota Prius and its plug-in hybrid version the 2023 Toyota Prius Prime, go further, faster, pushing the limits of what the public expects out of the little car that could.
"As a company, we set our sights on developing a new Prius for the future, and our design and engineering teams really delivered," said Toyota group vice president and general manager Dave Christ. "The weight of the Prius name is heavy – it carries with it the identity of an entire category of vehicle powertrain. We're confident the all-new 2023 Prius and Prius Prime will continue this important legacy."
Even after two decades on the market, the Toyota Prius has little traditional competition. Few automakers have created a specific fuel sipping auto, instead opting to deliver hybrid and plug-in hybrid electric vehicle (PHEV) versions of their internal combustion engine cars.
Notable exceptions are those models that have run on battery power only since day one, like the Ford Mustang Mach-E, Hyundai Ioniq 5, Kia EV6 and Audi E-Tron GT.
"Hybrids remain the easiest, most affordable, and headache-free way for consumers to go green and scale back on their carbon footprint, which is really the end goal the industry needs to be focusing on," Robby DeGraff, an industry analyst at AutoPacific told Newsweek.
2023 Toyota Prius
Toyota's given the new Prius its second-generation TNGA-C platform, allowing it to have a low center of gravity and reduced weight and rigidity compared to the previous generation. Its wider stance and lower driving position allow the car to feel "nimble, yet comfortable".
This generation Prius is 2 inches shorter and 1 inch wider than its predecessor. The new dimensions and styling have the Prius looking more like a Tesla or Lucid model than the Prius of yesteryear.
PODCAST LINK - Lucid Air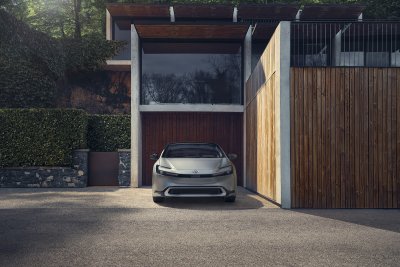 Prius comes standard with 17-inch wheels. Nineteen-inch wheels are available.
The Prius is powered by a 2.0-liter four-cylinder engine that is paired with a newly developed lithium-ion battery, which is housed below the rear seat. The battery is smaller and lighter than the previous generation's Nickel Metal battery, but offers 15 percent better performance.
The model is offered in front- or all-wheel drive configurations. Front-wheel drive (FWD) models have 194 horsepower while all-wheel drive (AWD) versions have 196.
Toyota says that the Prius FWD moves from zero to 60 miles per hour (mph) in a conservative 7.2 seconds, a 26 percent improvement over the last generation's 9.8 seconds. Prius AWD takes less time, completing the feat in 7.0 seconds.
Prius has three drive modes: Normal, Eco and Sport. All drive models effect throttle responsiveness.
Toyota will sell the 2023 Prius in LE, XLE and Limited grades.
The Prius LE base model comes with an 8-inch infotainment touch screen. Toyota's 12.3-inch screen is available. Additional available features include a heated steering wheel, auto-dimming rearview mirror, a wireless charger, wireless Apple CarPlay and Android Auto, six USB ports and digital key technology.
Blind spot monitoring, pre-collision system with pedestrian detection, lane departure alert with steering assist, adaptive cruise control, lane tracing assist, road sign assist, automatic high beams, rear cross-traffic alert safety and driver assist technology come standard on the Prius. Front and rear park assist with automatic braking and advanced camera technology are available.
New Proactive Driving Assist technology is standard and new to Toyota vehicles for the 2023 model year. It provides gentle braking or steering support when certain operating conditions are met.
Pricing for the new Prius, and its on-sale date will be announced later this year.
2023 Toyota Prius Prime
The new Toyota Prius Prime is a near carbon copy of the Prius on the outside, but it has a port for plugging in and a solar roof. This Prius Prime is the third generation of the nameplate.
Like the Prius, it is built on the new Toyota architecture. It is 2 inches lower, 1 inch wider and 1 inch longer than the second-generation Prius Prime.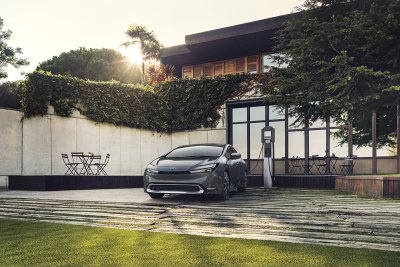 Like the Prius, it has 17-inch wheels as standard and 19-inch wheels as available.
A solar roof is not a new concept - Hyundai offered it on the current generation Sonata. Like that employment, the Prius Prime's roof uses solar panels to recharge the Prius Prime when parked and can deliver supplemental power to accessory functions while the car is running to help extend its range.
Toyota has upped the range of the model thanks to a new lithium-ion battery, located below the rear seat, that gives it 50 percent more all-electric range than its predecessor. This is while it delivers a sportier drive than the Prius, in the same vein as the Toyota RAV4 Prime offers increased sportiness over the traditional Toyota RAV4.
Its 2.0-liter four-cylinder engine is paired with the battery to deliver 220 horsepower allowing for a zero to 60 mph time of 6.6 seconds.
Toyota will sell the Prius Prime in grades that the Prius does not come in: SE, XSE and XSE Premium.
The safety, infotianment and driver assist features and equipment lineup for the Prius Prime is nearly identical to the Prius, despite the different trim level names.
The Prius and Prius Prime will not go on sale at the same time or cost the same. Pricing for the 2023 Toyota Prius Prime and its on-sale date will be announced in the first half of 2023.