Reese Witherspoon, Jennifer Lawrence Remind Us Harvey Weinstein Isn't the Only One Who Abused Women in Hollywood
Elle's annual Women in Hollywood event came at a highly charged moment in the aftermath of sexual harassment and assault allegations against Harvey Weinstein coming out. Or more accurately, being revealed in a big way to the general public, because in Hollywood it was already an open secret.
Participants at the event, held in Los Angeles on Monday night, less than two weeks after The New York Times's investigation of the producer was published, addressed the elephant in the room with gusto. The elephant is bigger than Weinstein, they said loudly. He may be in all the headlines at the moment, but he's certainly not the only one who has inflicted misogyny and abuse of various kinds on women in Hollywood.
"I just want to express how thankful I am to hear what is typically a sort of, like, murmured pseudo-conversation, because we've all been talking about this forever—not to make it specific, but it is, about this motherfucker," Kristen Stewart said in a speech before introducing Riley Keough as this year's spotlight honoree.
The actress—who has been criticized for working with Woody Allen despite accusations that he molested his adopted daughter Dylan Farrow when she was 7—went on to talk about harassment she's frequently seen directed at makeup artists and camera assistants. "I can tell you that those girls are as duct-taped as one could possibly be, because they're in fear of getting their next job."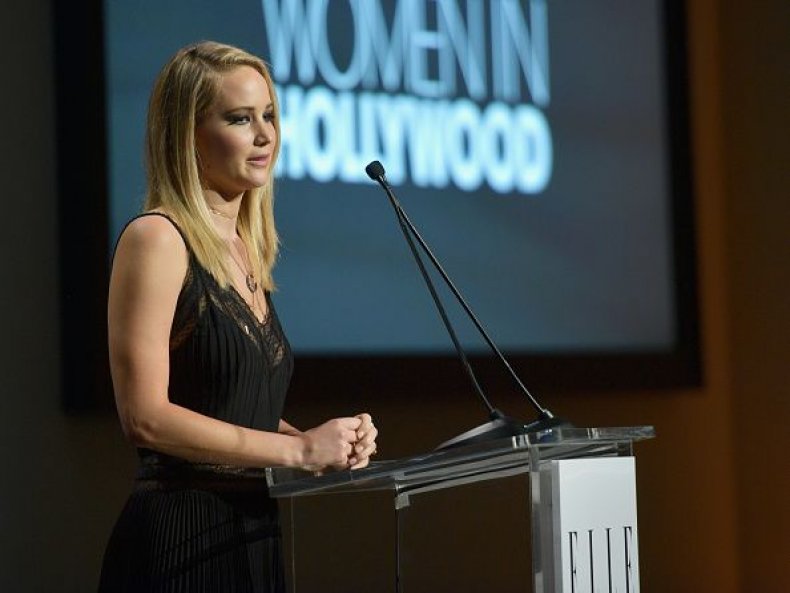 Stars including Margot Robbie, Jennifer Lawrence and Reese Witherspoon reminded everyone that harassment is a systemic problem that goes far beyond Weinstein, though he was one of the most powerful men in the industry.
Robbie read aloud a letter she'd written to Hollywood from what she dubbed "the Girls Club," in the vein of the "who you think you are" essay assignment in the movie The Breakfast Club. "Being a woman in Hollywood means you will probably have to fight through degrading situations and will be offered chauvinistic roles by men who think that that's all anybody wants to see us play," she said. "But even those of us lucky enough to have established a career in the hallowed grounds of show business are still in the shadows of the big trees, constantly reminded that we only grow in the sunshine they allow us."
Lawrence spoke about "degrading and humiliating" experiences early in her career, including when she was once asked to lose weight for a role.
"A female producer had me do a nude lineup with about five women who were much, much thinner than me. And we all stood side by side with only paste-ons covering our privates," she said. "The female producer told me I should use the naked photos of myself as inspiration for my diet."
When she took her concerns about an "unrealistic diet regime" to a producer, he told her he "didn't know why everyone thought I was so fat, he thought I was perfectly 'fuckable.'"
She went on, "I couldn't have gotten a producer or a director or a studio head fired. I let myself be treated a certain way because I felt like I had to for my career. I didn't want to be a whistleblower. I didn't want these embarrassing stories talked about in a magazine. I just wanted a career."
When it was Witherspoon's turn, she preceded her introduction of Laura Dern by noting that it had been a difficult week for women in Hollywood and outside of it. Witherspoon then spoke about her own experience of assault.
Related: 'Me too': A long but incomplete list of people who've experienced sexual harassment or assault
"I have my own experiences that have come back to me very vividly, and I found it really hard to sleep, hard to think, hard to communicate," Witherspoon said. "A lot of the feelings I've been having about anxiety, about being honest, the guilt for not speaking up earlier or taking action. True disgust at the director who assaulted me when I was 16 years old, and anger that I felt at the agents and the producers who made me feel that silence was a condition of my employment." She added, "I wish I could tell you that that was an isolated incident in my career, but sadly, it wasn't. I've had multiple experiences of harassment and sexual assault."
The outpouring of stories of sexual harassment and assault in recent weeks has led to a sense of kinship and support, Witherspoon and others emphasized. "In a dream world, everyone is treated with the exact same level of respect. But, until we reach that goal, I will lend my ear. I will lend my voice to any boy, girl, man or woman who does not feel like they can protect themselves," Lawrence promised.
The evening also provided the "perfect platform" for Kathleen Kennedy—an eight-time Oscar nominee, president of Lucasfilm and producer of films including Jurassic Park, The Sixth Sense, Rogue One and The Girl on the Train—to propose one very concrete solution.
"Increased awareness of the belittlement, objectification and predation long endured by women who work in film will certainly be one result of the exposure of what Harvey Weinstein did and was permitted to do," Kennedy said. "Predators must come to feel that they can't count on power or wealth or fame to shield them from the consequences of their actions."
But misogyny, sexual harassment, sexual assault and predation will continue unless the hope for change is coupled with action, she explained. She suggested that studios, unions, guilds and talent agencies immediately create an industry-funded "commission charged with the task of developing new, industry-wide protections against sexual harassment and abuse."
"Because of course, this kind of abuse is epidemic," she said. "People in our industry know that we have our own complicity, hypocrisy, and avoidance of this issue to examine and to answer for, but we cannot let that necessary work prevent us from immediately doing what needs to be done to build a better and safer industry," she added. "We should have acted long ago. We must act now."