Regina Hall on the Latest 'Nine Perfect Strangers' Twist and Fighting with Nicole Kidman
Warning: Spoilers for Nine Perfect Strangers Episode 7 ahead.
The season-long mystery of who's been threatening Masha was seemingly revealed in the latest episode of Nine Perfect Strangers on Hulu.
"Wheels on the Bus" proved a pivotal episode for the majority of the perfect strangers at Traquillum House but one of them revealed themselves as Masha's longtime tormentor.
Newsweek spoke to Regina Hall, who plays Carmel Schneider in the Hulu show about the latest episode and to preview what the finale might have in store.
If you haven't watched Episode 7 of Nine Perfect Strangers yet, go watch it on Hulu now before reading on.
Who has been threatening Masha in Nine Perfect Strangers?
The latest episode begins with another violent outburst from Carmel as she attacks Masha, and as we find out at the end of "Wheels on the Bus" we know exactly why she did it.
Episode 6 revealed that fragile Carmel turned up to Tranquillum House to get to know Masha, the woman who slept with her husband. This information is brushed aside by the two but Episode 7's conclusion reveals that it was Carmel (in disguise) who previously shot and nearly killed Masha.
"It's very fun to be able to surprise people and also for them to care about what she's been through," Hall told Newsweek.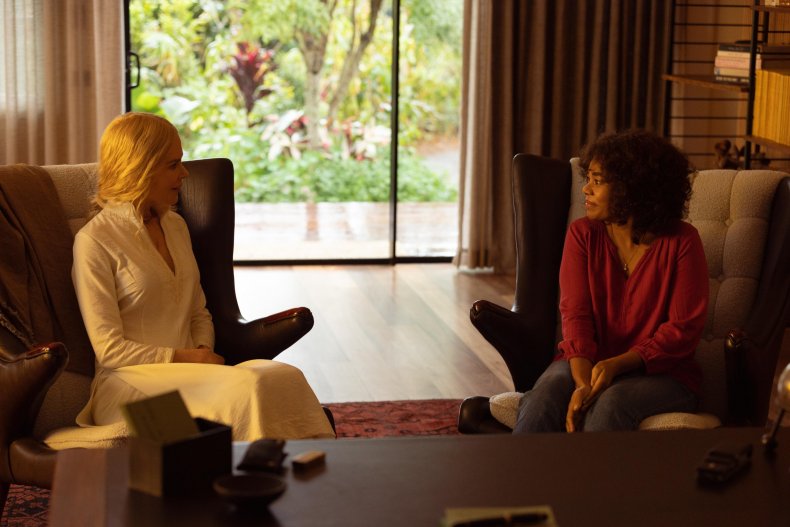 Now that we know Carmel isn't just a regular member of the nine perfect strangers, Hall says the importance of the character makes her whole experience more memorable.
"It makes it very special. I think when reading the script I thought 'oh gosh, if that doesn't work, it affects so many things'."
Fortunately for Hall there have been more than a few clues to Carmel's instability and violence, from a lingering scowl at Jessica, to tackling Lars, to stabbing a table at the sound of a Beatles' song. Hall admits the challenge was not giving away everything about her character at once.
"Carmel has such emotional complexity. I think I read the first two or three episodes when I signed on but I thought but I thought, 'what did I sign on for?'" Hall continued, "I was quite scared to figure out a way to make all the layers that are there and you know, there's a way you have to chart that so that you don't anticipate things about who she is.
"So it was a little scary but a really great opportunity to play that."
Hall jokes that in one of Carmel's more outwardly violent moments diving across the table at Lars, in real life that is where Carmel should have been sent home before things escalated.
Beating up Nicole Kidman
When Hall was asked to tackle Nicole Kidman to the ground, she admits she had reservations about how much she should commit to the moment. "I was like, 'um I don't want to charge Nicole, can we go for the stunt double?' Nicole's like, 'it's okay' and then she's like, 'really grabbed me there'," Hall says while motioning to her neck. "I said 'I don't really want to do this. I'm uncomfortable'. But it was great, you know, as a character."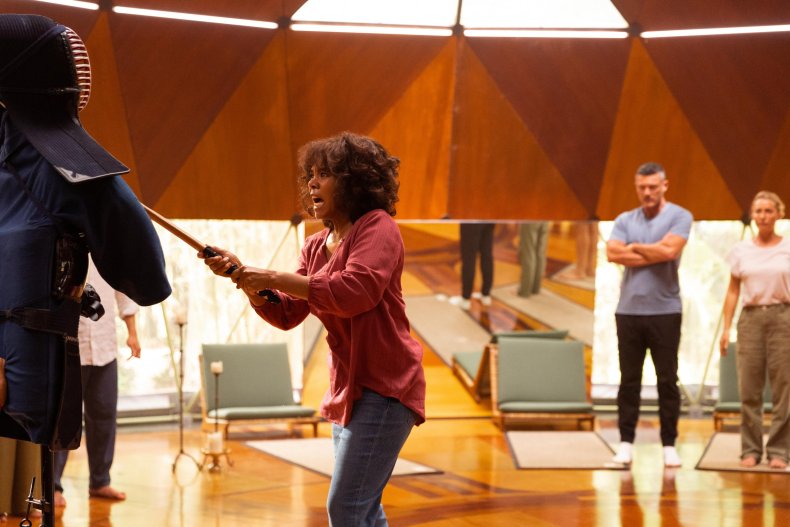 Looking back on the season, she says there were moments where it looked like Carmel might be on the mend but unfortunately it wasn't to be.
"In Episode 5 when she's dancing with with Lars you might think 'oh Carmel is gonna get better' but then once you see why she's there, You're like 'oh I don't think she's gonna get better'."
Will there be a second season of Nine Perfect Strangers?
The writer of the Nine Perfect Strangers novel also wrote Big Little Lies, from which they went past the book and created a second season due to its massive popularity.
Hall said: "Anytime something is a hit they always find a way but I don't think Carmel would be invited back.
"It was a blast to be together with everyone though and to be able to do that again would be wonderful."
Coming up next in Hall's career, she's stepping across the streaming service aisles and developing multiple projects. She's starring in a new Netflix movie called Me Time and another for Amazon Studios called Master which Hall thinks will be a "special movie."
She's also recently appeared in the Showtime series Black Monday alongside Don Cheadle, Andrew Rannells and Casey Wilson.
The final episode of Nine Perfect Strangers, "Ever After," will be available to watch exclusively on Hulu on Wednesday September 22, 2021.