'Let's Reject Him:' Man Gets CC'd Into Company Email After Applying for Job
A job hunter has been left stunned after claiming to have been copied into a company's internal email discussing why his application should be rejected.
Alexander Wood shared a clip to his TikTok page, under the username @noveltygay, where he used a green screen to censor email addresses and other personal information.
One line was clearly legible, which simply read: "Well that's interesting ok so let's reject him."
Wood, whose bio states that he is 19, had added on-screen text saying: "Yeah break-ups hurt and stuff but have ya'll ever been CC'd on HR emails talking about why they don't want to hire you."
The clip, captioned "hate it here," was posted last week and has already racked up more than 4 million views. It can be seen here.
Wood later shared a follow-up video explaining the back story to the email and more about the brand. He did not name it, but said it was a coffee company.
He claimed he'd applied for a job with the company on three separate occasions, in April 2021, December 2021 and a few weeks ago.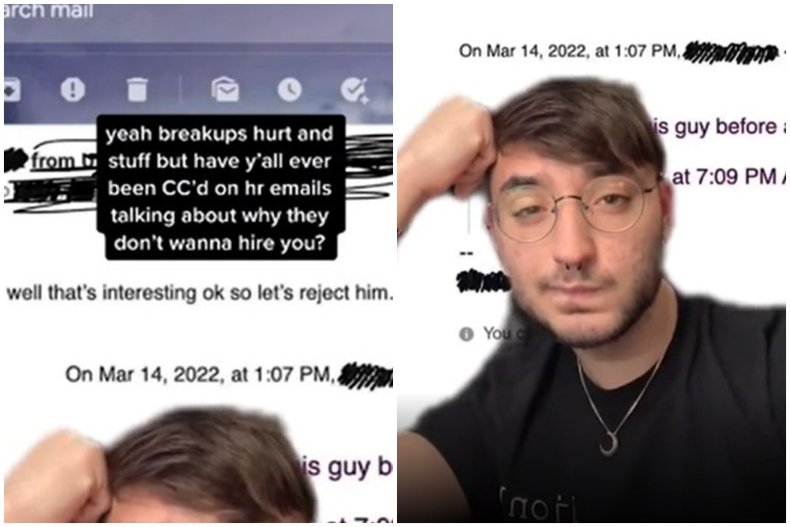 "What the email had said about me is that I didn't show up for an interview in December. However when I applied in December, I'd reached out, got in contact, and they were saying they were going to send me times...
"They'd supposedly sent me an interview time for this company, I'd never gotten it. And I applied again later on, and this email proved to me that they had thought they'd sent me interview times and they had not.
"And it was not my fault I didn't show up for the interview. I would never no call no show to an interview," he said.
Wood claims he did respond to the accidental email, firstly simply saying "ouch." He then sent a second longer reply, explaining about the interview times.
He also sent a follow-up with screenshots, to provide evidence that he had never received information about an interview. Since this last email he claims the company, based in New York, has gone "silent."
He defended himself, saying he was a "good worker" and had trained under "nationally certified baristas," as he called out the "disorganization" that led him to being CC'd on the email.
"I'm not going to be putting up with s***," he said.
Wood told Newsweek: "I did apply again in March and that's when I received the email. Truthfully, when I got the email, I was frustrated as you can imagine. It was a little insulting to witness the company talking about why they weren't going to hire me. Especially because it was for a reason that should not have applied.
"The reason they spoke about was that I didn't show up for an interview they had supposedly scheduled with me back in December. I never received that interview time and I would only assume they would anticipate a confirmation or at least follow up as to why I missed the interview."
Wood claimed he lost his current job over the fall-out from the video, but overall said he was glad he shared it.
"However the main reason this video is a regret of mine is that I was not represented well. In that moment all I felt was the frustration of the situation.
"I can acknowledge my mistake, however I don't relinquish blame from the company for many reasons. Those reasons are not important as I cannot provide tangible proof of the retaliation.
"I can say confidently that I do not hold regret over bringing this situation into the public eye. However I will gladly say, never again. It's opened some doors for me, and I remain hopeful for the future."
Hitting "reply all" is a common mistake. As FlexJobs noted, there are a few steps to take to mitigate the fallout.
They advised people to check and re-check, unsend the email if possible and lastly, apologize.
His stance was backed in the TikTok comments, as people shared their own hiring horror stories. Cespedegg wrote: "I wish I got emails like this bc at least I'll know WHY I WAS GHOSTED."
Wanderlust1389 commented: "This happened to me! their response was 'well idk she seems kind of flakey' I responded with at least I can avoid 'reply all.'"
Bipitty Friends revealed: "I got cc'd into the email where they were planning on firing me."
Freddie said: "I left a job once after I heard the managers mocking an applicant who was waiting downstairs. Toxic and unprofessional environments aren't it."
Di wrote: "I need to know every single detail."
Buck Rogers advised: "That was your chance to send a reply with something clever. Can't hurt your chances. After all, they are already rejecting you."
Madison Owens said: "Once applied for a job, the woman shook my hand, told me to have a nice day, and there was a rejection email in my inbox before I'd left the building."
Cherish Costa added: "Ima be honest with you, if they are this disorganized and seem kind of unprofessional, you don't want the job, it's going to be a nightmare."
The graph below, provided by Statista, shows data on the employment phenomenon known as the Great Resignation. The jobs market has been rocky since the start of the pandemic, with remote working, job losses, business closures and stimulus packages all affecting figures.
Many companies have reported struggling to recruit staff, particularly in the hospitality and healthcare sectors. Some have been turning to incentives and perks to entice workers. According to the U.S. Bureau of Labor Statistics, the "quits rate"—or number of people voluntarily leaving a role—"can serve as a measure of workers' willingness or ability to leave."
The trend doesn't appear to be slowing down, with more than 4 million Americans quitting their jobs each month for the past six months, according to an article published by Fortune in February.
"But Americans aren't just walking away from their jobs, never to return. Although they are leaving their jobs at rapid rates, the overall number of hires continued to outpace quits, with 6.3 million American workers starting new jobs last month [January]," the article added.
Update 03/23/22, 8:45 a.m. ET: This article was updated with video from @noveltygay.
Update 03/25/22, 12:45 p.m. ET: This article was updated with comment from @noveltygay, and FlexJobs advice.