Work can be wonderful and landing the right job can be equally beneficial to employees and employers.
But a job for life is now an outdated idea, a fact made all the starker following a wave of resignations attributed to many reconfiguring their careers once the pandemic altered work-life relationships.
Mandy Watson, Managing Director of Ambitions Personnel, believes while there can be various reasons to resign from a job, the process should be as smooth and painless as possible.
She told Newsweek: "We know people leave jobs for many reasons and whether it's a sad goodbye or 'good riddance', it can be a very emotive time.
"However, whatever your motives are for leaving, aim to maintain your professionalism throughout and exit with your head held high.
"After all, no one knows what lies ahead and when paths may cross again."
Simon Roderick, Managing Director of financial services recruitment firm, Fram Search, appears to agree, adding: "Most industries are small, the firm you're leaving may one day buy the firm you're joining, and so being seen as professional right until the end of your employment is key".
Read on for expert advice on how to resign from your job on the very best possible terms with your boss.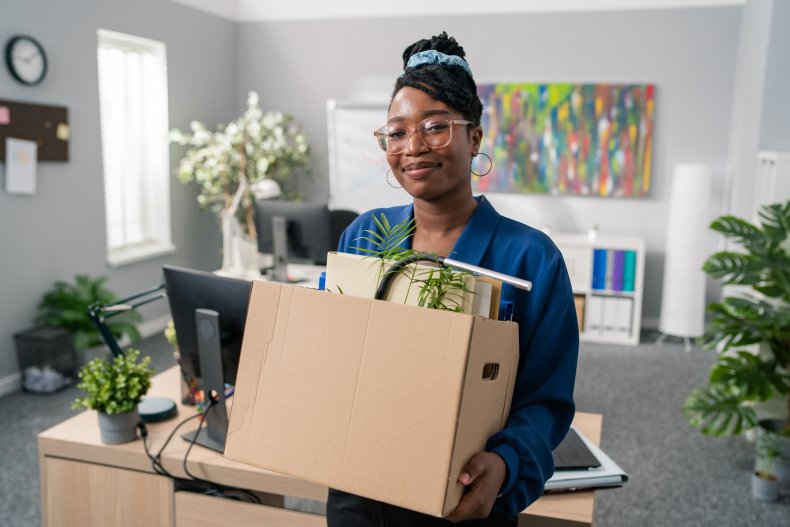 Prepare a Good Resignation Letter
Lee Biggins, Founder and CEO of CV-Library, believes writing a quality letter of resignation is one of the most important moves to make after deciding to leave your job.
He said: "This doesn't have to be long, and you don't have to go into detail about your reasons for leaving.
"You should set your letter out as a formal letter as it's usually a formality for HR and will go on your employment records."
Here is a resignation letter template with examples to help you write your letter for 2022.
Step 1
Biggins believes the letter should start by stating the position you are resigning from and the date of your final day of work.
Example:
Dear [your boss' name],
Please accept this letter of resignation from my position as [your job title] with [company name]. Per the terms of my contract, my last day of work will be [date of your last day].
Step 2
It is also nice to thank your boss for the opportunity to work for them; you want to end things on a good note.
Biggins added: "Remember, you may need a reference from them down the line. So even if you're thrilled to be leaving, you should avoid burning your bridges.
Example:
I have really appreciated my [number of years of employment] years at [company name] and the opportunities that it brought me. I've learned some great skills that I will take with me through my career, and I have really enjoyed having the pleasure of work with some great people.
[email_signup_1]
Step 3
In your sign off, you should state your willingness to make this transaction as smooth as you can and give the company your best wishes.
Example:
I will do what I can to help make my leaving as easy as possible for both the company and me. Let me know what you would like me to do in the way of handing over my responsibilities during my final [month, two weeks... whatever your notice period is].
Best wishes to you and all at [company name] in the future.
Kind regards,
Tell Your Boss in Person
The CV-Library founder and CEO cautions once the letter is ready and you know you are leaving, always avoid telling anyone else until your boss knows.
He said: "Even if you think you can trust your colleagues, office gossip is inevitable and these things always seem to have a way of getting out.
"Your boss will be much happier to hear that you've decided to leave directly from you, rather than hearing it through the grapevine before you've had a chance to tell them.
Be Honest About Resignation
Louise Burns, Company Director at Nineteen Recruitment, suggests the "obvious" but easily overlooked character trait of being "transparent and honest" when resigning is key to protecting the relationship with your employer.
She said: "Given the modern world in which we live, your employer will sharply find out where you've gone, who you're working for, and even how much you're being paid, so there is little point in hiding anything from them.
"Dishonesty will leave a bitter taste in the mouth and will break any trust you've built up with them, so be honest about why you're leaving and who you're going to. They will respect you for it in the long run."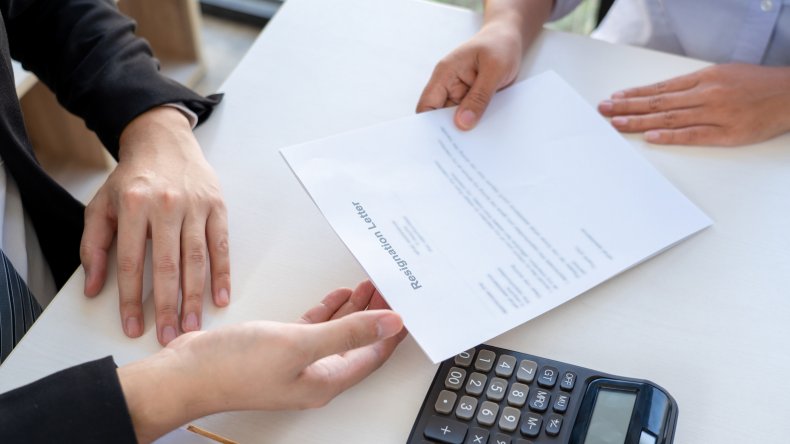 Leave Your Job on a Good Footing
Susy Roberts, an executive coach and founder of people development consultancy Hunter Roberts, suggests handing in your notice is not the time to start detailing the failings of your manager, or issues with the company.
She said: "Though it may feel like your responsibility to point out which bits of an organisation don't work, leading you to resign, my best advice is if you must do this, to do it professionally.
"If you really can't stop yourself from naming names and pointing fingers before you walk out the door, it's essential that you keep emotions out of it: stick to facts and talk calmly about what's really caused you to resign.
"Leave on a good footing as you never know when you might end up working with your line manager again."
Ruth Kudzi, leadership and organisation expert and founder of Optimus Coach Academy, appears to agree and suggests helping managers prepare for the next employee is always the best bet.
She said: "If you are doing a role that no one else is doing and there are specific things that only you know make sure that everything is documented, work with your boss and organization to ensure that they have everything they need from you to ensure that the next person is able to pick up where you have left off.
"People will remember this and equally although it feeds the ego hearing 'no one will ever replace you" it doesn't serve much beyond this; the more you can make the transition smooth the more you will leave a positive taste in the mouth of all and your bridges will stay in tact."
Avoid Slacking Off
Daniel Callaghan, CEO of employee screening and background checking HR tech Veremark, believes once the final day is confirmed, employees should not spend the remaining weeks doing as little work as possible.
He said: "Don't mentally check out until you've actually 'left the building'. An employee counting down the minutes of their notice period with ever-increasing glee is a deadweight on any team.
"Muck in, help smooth the transition and—if you're not overlapping with your replacement—write some useful handover notes. In short, be a team player until you leave."
Keep in Touch
Mandy Watson of recruitment experts Ambitions Personnel, suggests it is "a smart move" to build your network of contacts even after departing from the position.
She said: "You never know where people will end up and when paths may cross again in any capacity —as an employer, colleague or a supplier."