Rejecting the January 6 Attack in Christ's Name | Opinion
When far-right extremists stormed the U.S. Capitol one year ago, some did so with wooden crosses and flags proclaiming "Jesus is my Savior, Trump is my President." The faux-spiritual, far-right messages that undergirded the failed insurrection are powerful examples of "Christian nationalism," the belief that America is an exclusively Christian nation and that one cannot be a good American without being a conservative Christian.
To truly understand what happened last January 6, we first have to understand white Christian nationalism. And to stop another January 6, Christians have to stop the harmful white nationalism spread in our name.
Let's be clear: Christian nationalism is neither Christian nor patriotic. This toxic worldview, on such clear display at the January 6 attack, is a blasphemous and seditionist ideology that is deeply tied to white supremacy and completely abandons the Gospel's values of love, truth, dignity, and justice.
The good news is that most American Christians reject white Christian nationalism. I direct an organization called Faithful America, the largest online community of Christians putting our faith into action for social justice. Together with Faith in Public Life Action, we're mobilizing people of faith to reject Christian nationalism, call for accountability, and pass critical reforms to protect our democracy.
Nearly 10,000 people of faith are demanding the House select committee investigating January 6 to take Attorney General Merrick Garland up on his promise Wednesday to hold those responsible for last year's violence accountable. In our open letter, we're urging the committee to make criminal referrals for insurrection leaders and to endorse pro-democracy bills like the Freedom to Vote Act and the John Lewis Voting Rights Advancement Act.
The bad news is that, despite its minority status, Christian nationalism remains a powerful extremist movement—one encouraged by today's Republican politicians and poised to cause even more damage to the nation and the church if not contained.
During his time in office, Donald Trump relied on white supremacy and Christian nationalism to solidify his base. Countless far-right elected officials then abandoned both the Constitution and the Bible when they joined him in mainstreaming deadly religious rhetoric to spread the Big Lie about the 2020 election and try to overturn its results. Even a year later, most of them still refuse to acknowledge the truth: President Joe Biden won a free and fair election.
And in that year, many of those same politicians—including U.S. Representatives Marjorie Taylor Greene, Lauren Boebert, Madison Cawthorn, and Paul Gosar, all with the tacit support of Republican House Leader Kevin McCarthy—have also bragged about their Christian faith while simultaneously encouraging more violence, supporting efforts to restrict voting rights, and spreading deadly misinformation about democracy, COVID-19, and climate change.
That misinformation is no accident. By linking this all-out attack on truth to voters' deeply-held religious beliefs, these lawmakers have set themselves up as holy prophets, and left their supporters with no one else to trust.
This is not Christianity; it's an authoritarian cult, one that worships power rather than God.
Yet it's not just the politicians who are distorting Jesus's message of love and justice. Far too many conservative evangelical pastors and Catholic clergy are also spreading toxic white Christian nationalism.
In the days leading up to January 6, Catholic Bishop Joseph Strickland and Archbishop Carlo Maria Viganò fueled the insurrection with appearances and blessings at dangerous "Stop the Steal" rallies. After the attack, evangelist Franklin Graham dismissed the facts, saying without evidence, "Most likely it was Antifa."
In November 2021, megachurch Pastor John Hagee hosted an anti-democracy rally for pro-Trump pastors like Greg Locke and Trump confidants like Michael Flynn, who has demanded that America "embrace one religion." And in December, First Baptist Dallas megachurch hosted Trump himself for "Christmas Sunday." The partisan holiday affair couldn't have felt less Christmas-y: Pastor Robert Jeffress compared Trump's presidential pardons to God pardoning sin, the crowd chanted "USA! USA!" and Trump proclaimed "Make America Great Again."
Fueled by the belief that their politics are God-ordained, far-right politicians and pastors are now working to block accountability for the leaders of the January 6 attack. They continue telling the Big Lie about the 2020 election that incited the insurrection. They have even passed legislation in at least 19 states to put up new barriers to voting and give partisan politicians new power to overturn election results that don't go their way.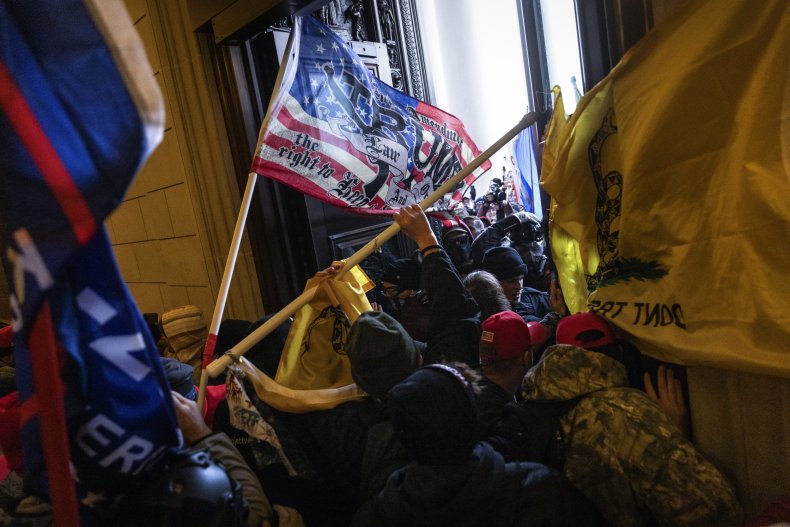 Despite their volume, these vocal, far-right pastors and politicians do not speak for a majority of American Christians. In addition to Faithful America's efforts to hold bad faith actors accountable, more than 20,000 people representing virtually every Christian denomination have rallied together through Christians Against Christian Nationalism. The Baptist Joint Committee for Religious Liberty has also produced helpful webinars and study guides you can use in your own church to oppose Christian nationalism.
Jesus ended his earthly ministry with a new commandment, "That you love one another as I have loved you." We do not love as Christ loved if we spread violence or try to prevent others from taking part in democracy. We love like Jesus when we respect the dignity of every voter, call out the authorities who hijack His name for cynical power grabs, and use our faith to reject, not spread, the deadly Christian nationalism of last January 6.
The Rev. Nathan Empsall is a priest in the Episcopal Church and the executive director of Faithful America.
The views in this article are the writer's own.