Remain in Mexico Was Protecting American Workers. Will Biden Betray Them Again? | Opinion
The chaos at our southern border and the crisis of rule of law in the U.S. is about to get even worse, thanks to a Supreme Court ruling handed down on Thursday. The Court ruled by a 5-4 decision that the Biden administration may put an end to the Migrant Protection Protocols, known as the "Remain in Mexico" policy. Remain in Mexico, a Trump-era holdover, addressed the ongoing flood of migrants arriving at our southern border by requiring asylum seekers to either be detained in the U.S. or sent to Mexico to wait for their asylum claims to be reviewed.
The Court's ruling will mean even more migrants entering the U.S. by the thousands. Remain in Mexico was one of the only remaining safeguards against the Left's fantasy of open borders.
This is not only a national security issue. Our national border protects the economic resources of working-class Americans, including—perhaps especially—descendants of slaves. The economic and employment prospects for all Americans are placed at risk when there is no border control.
And there is no real border control. It's an understatement to say that the capacity of U.S. Customs and Border Patrol (CBP) has been overrun at our border with Mexico. According to CBP data, the U.S. is on pace to exceed 2 million encounters for fiscal year 2022, which ends in September. That's an all-time high from the record of 1.6 million encounters set in 2021, the first year of Biden's presidency. Not all those people are brick layers and hotel maids. Some are highly skilled, ambitious economic migrants who aim to exploit weak immigration policies at cost to our own skilled workers.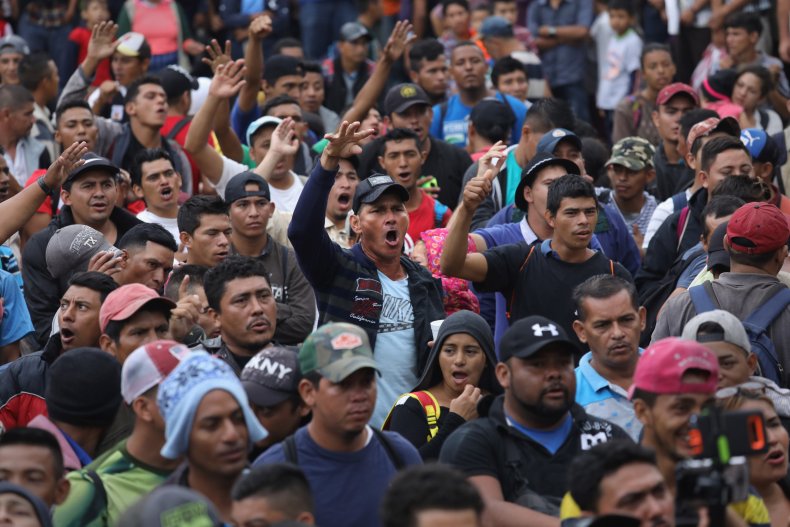 Data from the National Bureau of Economic Research and the National Commission on Civil Rights suggest that today's Supreme Court decision has the potential to devastate the American worker—in particular, the Black worker. Back in 2007, the National Bureau of Economic Research highlighted the toll that mass immigration has taken. Their white paper found that the immigrant influx from 1980-2000 could be tied to a 20-60 percent decline in Black wages, a 25 percent decline in employment, and a 10 percent rise in incarceration for Black Americans with a high school degree or less.
And the issue hasn't been solved. A 2008 briefing from the U.S. Commission on Civil Rights found that illegal immigration in recent decades "has tended to depress both wages and employment rates for low-skilled American citizens, a disproportionate number of whom are black men." And even the ambitions of college-educated Black Americans are being disrupted by immigrants using H-1 B visas.
Judging from the policy they endorse, it appears our representatives and employers would rather incarcerate ambitious descendants of U.S. slaves while employing and training millions of foreigners.
Some may be tempted to think migration only affects Black Americans. But the reality is that the costs of goods and essential services, like housing and education, rise due to demand. The wages of all Americans are depressed by competition with a flood of immigrant labor—both skilled and unskilled. As Roy Beck notes in his book Back of the Hiring Line, when national policy reduced immigration to less than 500,000 per year between 1940-1980, "the real incomes of white males expanded two-and one-half fold. The Black middle class grew from 22 percent of African Americans to 71 percent."
Oh, how times have changed for descendants of slaves.
This SCOTUS decision has returned the question of Remain in Mexico to the Biden administration. We will now see if the executive branch will choose to open the door to all who try to push past it.
The Biden administration has earned an F grade from the descendants of slaves community, and its management of immigration policy is chief among the failures. Americans should pay close attention to who has our backs in our own home.
Pamela Denise Long is CEO of Youthcentrix® Therapy Services, a business focused on helping organizations implement trauma-informed practices and diversity, equity, inclusion, and antiracism (DEIA) at the systems level. Connect with Ms. Long online at www.youthcentrix.com or @PDeniseLong on social media.
The views expressed in this article are the writer's own.