What Is Remdesivir? Dr. Fauci Says the Experimental Coronavirus Drug is Likely to be Approved by FDA for Emergency Use
The U.S. Food and Drug Administration is hoping to "really quickly" give an Emergency Use Authorization to remdesivir, an experimental drug which has shown promise in a clinical trial involving COVID-19 patients, according to Dr. Anthony Fauci.
Fauci, a member of the White House coronavirus task force and director of the National Institute of Allergy and Infectious Diseases, told MSNBC on Thursday he had spoken to the FDA commissioner Dr. Stephen Hahn the day before and approval for emergency use was likely to happen "really quickly." His forecast comes after a clinical trial on the drug involving more than 1,000 people showed those who took it recovered faster than those given a placebo.
"They [the FDA] have not made a final decision yet, they have not announced it, but I would project that we are going to be seeing that reasonably soon," Fauci said.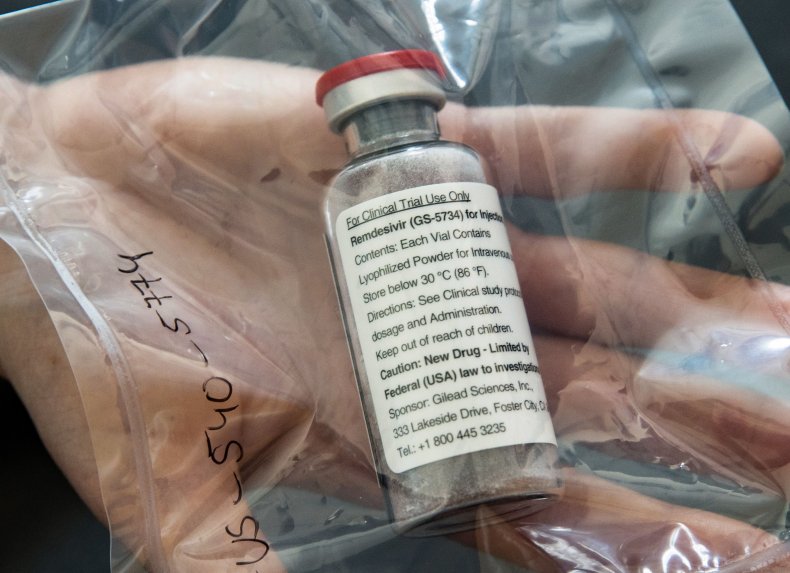 Here is what you need to know about the drug and its potential to help tackle COVID-19, the disease which has killed over 230,000 people, according to Johns Hopkins University, for which there is currently no specific treatment or vaccine.
What is Remdesivir?
Remdesivir is what is known as a nucleotide analog. These types of compounds have been used in the past to create drugs which stop a virus replicating once it has infected cells.
Has it been used before in other conditions?
No. Unlike chloroquine and hydroxchloroquine, the anti-malarial drugs which have also been used on COVID-19 patients, remdesivir has not been approved for any use, anywhere in the world.
The drug has been shown to have antiviral activity against the viruses which cause Ebola, Marburg, Middle East respiratory syndrome (MERS) and severe acute respiratory syndrome (SARS), in lab cultures and animals.
The virus was first found to be effective against SARS-CoV-2, the coronavirus fueling the COVID-19 pandemic, in lab cultures, and scientists are now exploring whether it is safe and useful in patients with COVID-19 in a number of clinical trials.
Professor Babak Javid, principal investigator at China's Tsinghua University School of Medicine and a consultant in infectious diseases at Cambridge University Hospitals who has no link to Gilead, said: "Although it did show some benefit for treatment of Ebola, other treatments (an antibody cocktail) were shown to be superior, so it was never taken further at that time."
Javid said: "It works by targeting an essential enzyme of the virus, needed for it to replicate its genetic material. This enzyme is not present in human cells, making the drug relatively safe. It is not yet licensed as a medicine anywhere in the world."
Robin May, a professor of infectious diseases at the U.K's University of Birmingham who also hasn't worked on the drug, told Newsweek as Ebola and Marburg are also what are known as RNA viruses, which refers to how their genetic material is carried, "it was plausible that remdesivir would work in the same way against COVID-19, and indeed it seems to."
Who makes it? California-based American biopharmaceutical company Gilead makes remdesivir. It also manufactures drugs for other respiratory diseases like the flu and chronic pulmonary infections, as well as HIV/AIDs, liver diseases, cancer, and heart problems.
How much does remdesivir cost?
As the drug has not been approved, it's unclear how much it will cost. In an earnings call with investors on Thursday, Gilead CEO Daniel O'Day said according to MarketWatch.com: "Under the emergency-use authorization [which could be issued by the FDA], one could charge for the product."
O'Day said the company instead decided to donate 1.5 million vials of the drug "which is the entirety of our supply through the early summer."
What have trials shown?
The results have been mixed. The preliminary results of a clinical trial by the U.S. National Institutes of Health showed advanced COVID-19 patients with lung issues who took remdesivir recovered faster than patients in a similar condition who took a placebo.
The study involved 1,063 people, and suggested those who took the drug were able to leave hospital 31 percent faster than those in the placebo group, at 11 versus 15 days. In addition, the mortality rate of the patients who took the drug was 8 percent percent compared with 11.6 percent for the others, but this finding was not considered statistically significant.
Fauci told MSNBC the results are an important proof of concept for the drug, partly because the study was very highly powered, meaning it has a relatively large number of participants. It was also a controlled, randomized trial with a placebo group. This approach "is really the gold standard of how you prove something is safe and either works or doesn't work," said Fauci.
But the immunologist said: "although the results were clearly positive from the statistical significance standpoint, they were modest." The findings are the "first step in what we project will be better and better drugs coming along. Either alone or in combination, drugs of this type and drugs addressing other targets of the virus."
Dr. Andrew Freedman, reader in infectious diseases and honorary consultant physician at Cardiff University School of Medicine, U.K., who did not work on the study, said: "There are currently no drugs with proven efficacy in treating patients with COVID-19, so these preliminary data from a U.S. study of remdesivir in hospitalized patients suffering from the infection are very welcome. They show a clear benefit in relation to time to recovery from the infection and a suggestion of a reduction in mortality.
"We await with interest a more detailed report of the results of this study, as well as those from other ongoing trials of this drug in several other countries including the UK. If these findings are confirmed, they would represent a major advance in the fight against this life threatening infection."
A study published by a Chinese team in The Lancet involving 158 patients taking remdesivir and 79 assigned a placebo, however, found no benefit compared with a placebo.
On Wednesday, Gilead published its results of a clinical trial involving 320 patients, which found those who took the drug for five days had similar improvements to those who took it for 10. The trial did not have a placebo arm which limits the findings. Gilead said it plans to publish its findings in a peer-reviewed journal in the coming weeks.
Andrew Preston, a researcher in microbial pathogenesis at the University of Bath, U.K., who is not involved in the work on the drug, told Newsweek "There are still questions in terms of when is the best time to give the drug (many think it needs to be given quite early), before disease becomes severe.
"And it's not clear if remdesivir can only help to treat those who would recover anyway, but help them to recover more quickly, whether it can help to treat cases of severe disease, or whether it can help to stop a mild disease from progressing to severe disease. The results of other trials will add to our knowledge of its effects."
Stephen Griffin a virologist at the University of Leeds, U.K., told the journal Nature: "There is a lot of focus on remdesivir because it's potentially the best shot we have."
This article has been updated with comment from Professor Robin May.
Centers for Disease Control and Prevention Advice on Using Face Coverings to Slow Spread of COVID-19
CDC recommends wearing a cloth face covering in public where social distancing measures are difficult to maintain.
A simple cloth face covering can help slow the spread of the virus by those infected and by those who do not exhibit symptoms.
Cloth face coverings can be fashioned from household items. Guides are offered by the CDC. (https://www.cdc.gov/coronavirus/2019-ncov/prevent-getting-sick/diy-cloth-face-coverings.html)
Cloth face coverings should be washed regularly. A washing machine will suffice.
Practice safe removal of face coverings by not touching eyes, nose, and mouth, and wash hands immediately after removing the covering.
World Health Organization advice for avoiding spread of coronavirus disease (COVID-19)
Hygiene advice
Clean hands frequently with soap and water, or alcohol-based hand rub.
Wash hands after coughing or sneezing; when caring for the sick; before, during and after food preparation; before eating; after using the toilet; when hands are visibly dirty; and after handling animals or waste.
Maintain at least 1 meter (3 feet) distance from anyone who is coughing or sneezing.
Avoid touching your hands, nose and mouth. Do not spit in public.
Cover your mouth and nose with a tissue or bent elbow when coughing or sneezing. Discard the tissue immediately and clean your hands.
Medical advice
Avoid close contact with others if you have any symptoms.
Stay at home if you feel unwell, even with mild symptoms such as headache and runny nose, to avoid potential spread of the disease to medical facilities and other people.
If you develop serious symptoms (fever, cough, difficulty breathing) seek medical care early and contact local health authorities in advance.
Note any recent contact with others and travel details to provide to authorities who can trace and prevent spread of the disease.
Stay up to date on COVID-19 developments issued by health authorities and follow their guidance.
Mask and glove usage
Healthy individuals only need to wear a mask if taking care of a sick person.
Wear a mask if you are coughing or sneezing.
Masks are effective when used in combination with frequent hand cleaning.
Do not touch the mask while wearing it. Clean hands if you touch the mask.
Learn how to properly put on, remove and dispose of masks. Clean hands after disposing of the mask.
Do not reuse single-use masks.
Regularly washing bare hands is more effective against catching COVID-19 than wearing rubber gloves.
The COVID-19 virus can still be picked up on rubber gloves and transmitted by touching your face.