Remdesivir Shows Promise as Coronavirus Treatment as Nearly All Patients in Trial Released Within a Week
Early results from a clinical trial of the experimental drug remdesivir reportedly show promising results in the treatment of those suffering from severe COVID-19, with most patients receiving the drug significantly improving within a week.
Although official results for multiple trials intended to evaluate the safety and efficacy of the drug have yet to be released, a video from researchers at the University of Chicago suggests that remdesivir could be an effective treatment for the virus, according to a report from health news outlet STAT.
The University of Chicago recruited 125 COVID-19 patients for a clinical trial by the drug's manufacturer Gilead Sciences, including 113 with the severe form of the disease. The video reportedly shows infectious disease specialist Dr. Kathleen Mullane discussing encouraging early results from the trial with colleagues at the university earlier in the week.
"The best news is that most of our patients have already been discharged, which is great. We've only had two patients perish," Mullane said in the video, according to STAT.
The video goes on to describe some very ill patients making rapid improvements after receiving the treatment, which involves patients being given remdesivir infusions for 10 days.
"When we start [the] drug, we see fever curves falling," Mullane reportedly said. "When patients do come in with high fevers, they do [reduce] quite quickly. We have seen people come off ventilators a day after starting therapy."
"Most of our patients are severe and most of them are leaving at six days, so that tells us duration of therapy doesn't have to be 10 days," she added. "We have very few that went out to 10 days, maybe three."
Newsweek was unable to immediately contact Mullane for comment.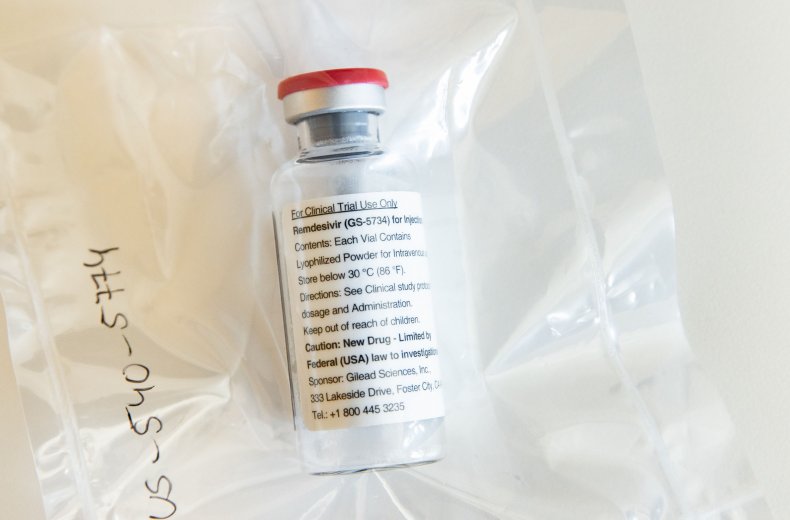 Stock for Gilead Sciences shot up more than 10 percent shortly after the report was published. At least 2,400 patients with severe COVID-19 have been enrolled in the company's remdesivir trials, as well as a further 1,600 patients with moderate cases.
If the results of the trials are similar to those suggested in the video, caution should be exercised in drawing any firm conclusions because the trials are not placebo-controlled, meaning it cannot be definitely said that the patients improved because they were taking the drug. There are no treatments that have yet been shown to be safe and effective for the virus.
An analysis of patients receiving remdesivir under "compassionate use" rules was published last week in the New England Journal of Medicine. It also hinted at the drug's potential for treating COVID-19, with 68 percent of patients showing improvement, including many on mechanical ventilation.
"We understand the urgent need for a COVID-19 treatment and the resulting interest in data on our investigational antiviral drug remdesivir," said Chris Ridley, Senior Director of Media Relations for Gilead Sciences in a statement to Newsweek. "The totality of the data need to be analyzed in order to draw any conclusions from the trial. Anecdotal reports, while encouraging, do not provide the statistical power necessary to determine the safety and efficacy profile of remdesivir as a treatment for COVID-19."
"We expect the data from our Phase 3 study in patients with severe COVID-19 infection to be available at the end of this month, and additional data from other studies to become available in May," he added. "We are grateful for all of the efforts of investigators and patients participating in our studies and look forward to sharing the results from the complete dataset."