Remdesivir Will Cost $780 More If You Have Private Insurance Vs. Medicare
The only drug that has received emergency use authorization from the Food and Drug Administration to treat COVID-19 will cost Americans with private health insurance hundreds of dollars more than those who have insurance through government programs like Medicare and Medicaid.
Gilead Sciences, the pharmaceutical company that created remdesivir, announced its decision on how to price the treatment in a letter published on its website Monday.
"We are aware of the significant responsibility that comes with pricing remdesivir, and the need to be transparent on our decision," the letter said, adding that the company chose a price point "well below" the costs hospitals face in treating the average COVID-19 patient without remdesivir.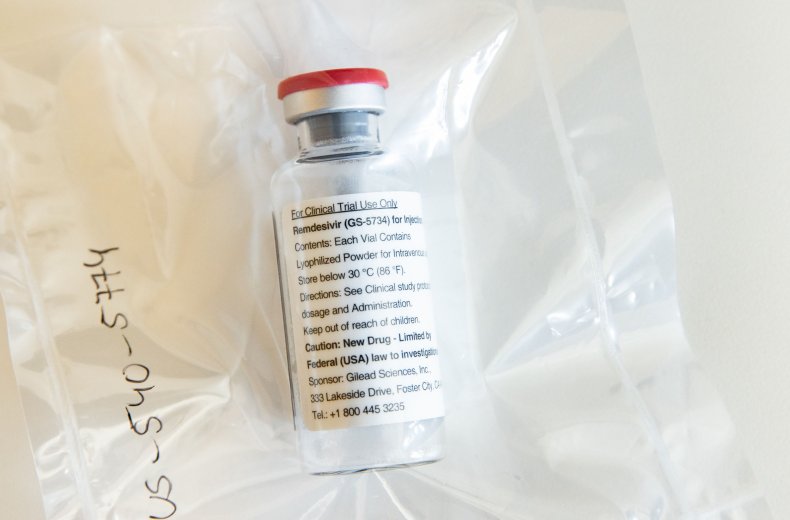 According to Gilead, an average five-day remdesivir treatment for COVID-19 uses six doses, each priced at $390 for the government and $520 for private insurance companies. The $390 cost per dose will be standard for governments in all developed countries, Gilead said. The company said it was working with developing countries to deliver generic treatments at a lower cost.
The prices mean that a five-day treatment will cost $2,340 for patients who have health care through government programs and $3,120 for those with private health insurance, a difference of $780. As with other prescribed treatments, the co-pay for each patient will depend upon the coverage their insurance plan provides.
"Earlier hospital discharge would result in hospital savings of approximately $12,000 per patient," Gilead said, citing research conducted by the National Institute of Allergy and Infectious Diseases. A peer-reviewed study the NIAID published last month found remdesivir helped patients recover an average of four days faster than those who did not receive the treatment.
The FDA authorized remdesivir for emergency use nearly two months ago as most states implemented stay-home orders to prevent further spread of the virus. Though Dr. Anthony Fauci, director of the NIAID and member of President Donald Trump's coronavirus task force, has said it is possible a vaccine will be available by the end of this year, the risk Americans face of catching the virus in the meantime remains high as many states have recently reported single-day records of new cases.
On Monday, the Department of Health and Human Services announced an agreement with Gilead to supply more than 500,000 remdesivir treatment courses for American patients by the end of September.
"To the extent possible, we want to ensure that any American patient who needs remdesivir can get it," HHS Secretary Alex Azar said in a news release. The treatments will be dispersed to hospitals based on the COVID-19 burdens they carry, the HHS said.
The HHS did not respond to Newsweek's request for further comment in time for publication.
Like many individual states, the U.S. as a whole has over the last week reported record numbers of new cases, with more than 2.5 million reported nationwide by Monday morning. A recent study by the Institute for Health Metrics and Evaluation estimated the number of COVID-19 deaths in the U.S. would breach 180,000 by early October.