'Remember the Titans' School to be Renamed, Replacing Segregationist Name
The Virginia high school that served as the backdrop for integration and high school football in a famous Disney movie will now get a new name. The Alexandria City School Board unanimously voted Monday to rename T.C. Williams High School.
The school and its state championship football during integration became the story of the famous football movie "Remember the Titans." T.C. WIlliams High School is the flagship school of Alexandria, according to the Washington Post.
School board members each took a moment to speak of the significance on Monday night, which also included renaming an elementary school that had been named for someone who fought for the Confederacy in the U.S. civil war.
Heather Thornton is a Black member of the Alexandria City School Board who said she was happy about the board's decision.
"It was not easy, but we're here," Thornton said. "I'm very, very happy to be part of this history—of Alexandria City Public Schools."
Gregory C. Hutchings Jr., who is superintendent of the school district, will present new names in the spring to replace T.C. Williams.
Hutchings wore a blue T-shirt on Monday that emblazoned the words "Excellence, Equity, Engagement, Empowerment" to commemorate the historic occasion.
"This is a historic moment for everybody," Hutchings said. "For many years, people have been trying to change the name of T.C. Williams, and they really have not been successful."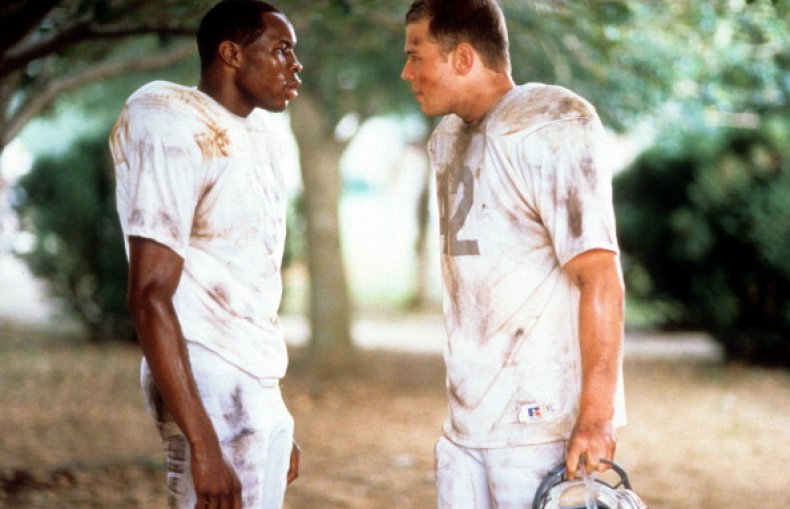 Who is T.C. Williams?
The namesake of the high school comes from Thomas Chambliss (T.C.) Williams, the superintendent of Alexandria schools from the 1930s to the 1960s. Williams fought desegregation, even after the U.S. Supreme Court ruling of Brown v. Board of Education in 1954 that all schools be desegregated.
When a Black cafeteria worker in the Alexandria school district joined an NAACP lawsuit to demand desegregation, Williams reportedly fired her.
Then there's the high school football team that won a state championship during the 1971-72 school year. The movie combines truth with fiction to create the mystical, Disney, come-from-behind win while a star player nurses injuries from a vehicle crash the week before the game.
The school was reportedly desegregated in 1963, and racial tension wasn't as rapid as the movie indicated. Then fast forward to 2020.
Social justice in America hit another fever pitch in the spring and summer of 2020 after the death of George Floyd, a Black man who died while in custody of the Minneapolis (MN) police. A video surfaced of the death, which included Floyd's last words of "I can't breathe."
That sparked nationwide protests against police brutality against Blacks, and also a movement to topple statues of Confederate soldiers and supporters. It also created a movement to remove symbols of segregation in public places across America, which in this case, would be T.C. Williams High.