Remote Work Stifles Innovation and Creativity, Top Hedge Funder Says
Citadel CEO and founder Ken Griffin said Thursday that his employees are back at work in the office, and that he believes "innovation and creativity fall in a remote workforce."
Griffin's comments came during a conference hosted by Bloomberg Intelligence on Thursday, after the billionaire hedge fund manager was asked about how COVID has changed the way hedge funds work.
Griffin said that losing "connectivity to corporate America when we went to a world of Zoom-based calls that became very anodyne, that was a big loss."
He later said that Citadel employees are "back at work around the world absent a few jurisdictions in Asia."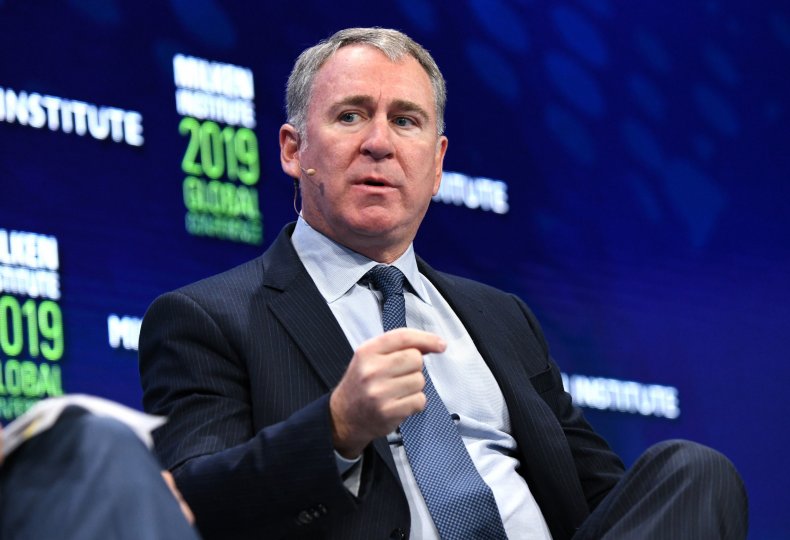 "And that collaboration within our four walls I think has been an incredibly important part of our success story over the last two and a half years. It's something that I wish all of corporate America would embrace because what you see, and there are more and more studies emerging on this—innovation and creativity fall in a remote workforce."
Griffin was then asked if bringing employees back to the office has hurt "keeping talent or hiring."
He said that Citadel has "lost a handful of people over the course of this journey," and that the last year, when workers returned to the office, the "first two or three weeks back for most people was like 'I can't believe they made me come back to work.'" But he said that when the Omicron variant emerged in December, and the company told employees to go home for the holidays that "most people kept coming to work."
"What it's really a statement about is we're creatures of habit. And we create new habits pretty quickly. And when your habit turns back into 'I go to work' you start to say things like 'I actually enjoy the separation of my personal life and my professional life,'" Griffin said.
When reached by Newsweek on Thursday afternoon, Citadel said it had no additional comment to provide.
Data from Gallup published in March shows not all employees prefer a return to the office over remote work, or a hybrid system.
"Currently, nine in 10 remote-capable employees prefer some degree of remote-work flexibility going forward, and six in 10 specifically prefer hybrid work," Gallup wrote in an article at the time.
"Clearly, most employees have developed an affinity for remote-work flexibility that has grown into an expectation for the future," it added.
Early on in the pandemic—in May 2020—an IBM survey found that 54 percent of Americans would like to be able to primarily work from home and 75 percent would like the option to do so occasionally.
Another poll from around the same time found 35 percent of Americans who had been forced to work from home wanted to continue doing so. While the survey found those working from home saved money on child care and public transit, they spent more in other areas, including groceries and utilities.