If you're a director looking to cast a female actor to play a real-life person, a handful of actresses come to mind, and one of those actresses is Renée Zellweger. She won an Oscar playing one of the most recognizable entertainers in Hollywood history: Judy Garland. Now she's taking these amazing skills of mimicry and applying them to her portrayal of alleged multiple murder killer Pam Hupp in NBC's ripped from the headlines mini-series The Thing About Pam. The series premieres March 8.
"I want it to be responsible," Zellweger tells Newsweek. "It's never to lampoon a person or humiliate a person."
In the series, Zellweger dons a suit to make her appear larger, in addition to prosthetics to assist her transformation into Hupp. But before people even knew much about the part Zellweger was playing, it was pictures of her in costume that set social media aflame with accusations of fat phobia and questions over why another actor who better physically fit the role was not cast.
This conversation is not new to Zellweger, whose physical presence has been a topic of obsession ever since the actress starred in Bridget Jones's Diary. Zellweger says, she's been able to largely avoid the online chatter. "That's the fun of not being on social media. Who has time for that?" With that said, she does point out that those conversations about an actor's body often revolve only around female actors. "Can we just stop talking about women's bodies? Stop talking about women's bodies!"
For The Thing About Pam, Zellweger used everything at her disposal to bring Pam Hupp to life, a difficult task considering the insane true story that inspired the series.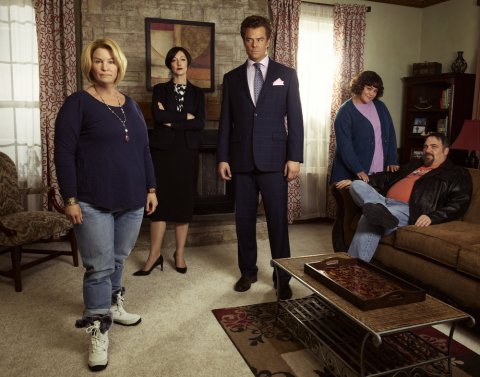 The real Pam Hupp was sentenced to life in prison for the 2016 murder of Louis Gumpenberger in O'Fallon, Missouri, a suburb of St. Louis. Hupp claimed she shot Gumpenberger in self-defense, but prosecutors said the killing was part of a scheme to cover up her involvement in another murder, that of her friend Betsy Faria in 2012. Prosecutors allege Hupp murdered Betsy to cash in on a life insurance policy naming her as beneficiary. Authorities first charged Betsy's husband, Russ, with the killing and Hupp's testimony against him led to his conviction in 2012. His conviction was later overturned in a new trial in 2015. After Russ was cleared, Hupp, posing as a Dateline NBC producer, lured the mentally and physically impaired Gumpenberger to her home and killed him, hoping to pin this second murder on Russ.
Investigators believe Hupp may have been involved in the death of her mother in 2013, also for financial gain. Betsy Faria's murder investigation has been reopened by the Lincoln County Prosecutor's Office and in July 2021, Hupp was officially charged with Betsy's murder, with a trial date yet to be determined.
Zellweger says was drawn to the story by "The escalating absurdity of her behavior and the choices she makes and what happens around all of it. I was really taken by the story of what happened to Betsy Faria and Russ Faria."
The Thing About Pam uses Dateline NBC's distinctive format (complete with Keith Morrison's familiar voiceover work), but in the framework of a mini-series. Dateline not only covered the Pam Hupp case on TV, but it was also the news program's first endeavor into podcasts. Zellweger says "It was a really wonderful opportunity to explore some deeper social issues like personal bias, confirmation bias, and how that comes into play in the criminal justice system. And it's an interesting way to do it through a Dateline podcast."
The Thing About Pam uses dark comedy to send home the absurdity of Pam's story. "I love an opportunity to be cheeky with something," Zellweger says, "What's interesting is we wanted to be really careful with how we navigated the tongue-in-cheek because it's tragic. There's a lot of suffering and loss involved in this case, obviously. So you want to be careful and honorable to the memory of Betsy Faria and what her family experienced. But we just found that it was Pam's choices that she made, the things that are on public record from her interviews, the information that she shared, her personal narrative, it was impossible to tell it without introducing levity, because of the absurdity." Zellweger's Hupp, for instance, carries around an enormous fountain drink and dramatically stabs her straw into it, while locking her eyes on whoever she's talking to.
"It's the juxtaposition of the making you comfortable to laugh and then the tragedy that's ongoing in this story that makes you stop for a second and really feel the gravity of the consequences, the decisions and the choices that this person made. I think without it, it's much more difficult to kind of tiptoe in the underlying themes," Zellweger says.
She says being able to tell a longer and more personal story attracted her to the idea of a TV series. "As a creative person, I just thought that there could be a really interesting way of telling it that would be more compelling than just a regurgitation of the facts that other outlets and other mediums have already presented in several different ways very successfully," she says.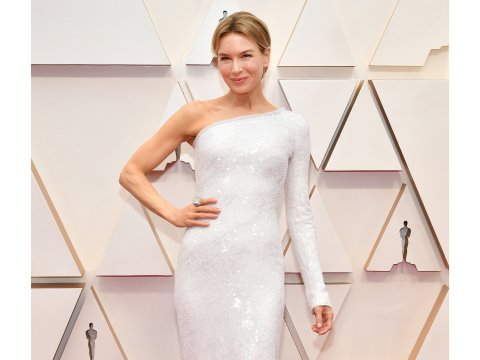 This was the first project Zellweger left her home for during the pandemic and it was a role that required the actress to go through hours of makeup preparation every day. "The process was awesome," she says, " It was peculiar and fun and so stupid. By the third day I got this allergic rash. I'm like, 'Oh my God, that's real glue.' I'm putting real glue on a real face. But it's magic. The fact that they can do it and they can do it safely and so consistently is remarkable."
Outside the production, Zellweger says she didn't do "anything" during the pandemic. She says, "I didn't leave my house—except to do my senior citizen food delivery—for a couple of years there in the canyon. I found that I'm actually suited nicely for that. I like hanging out with my dogs."