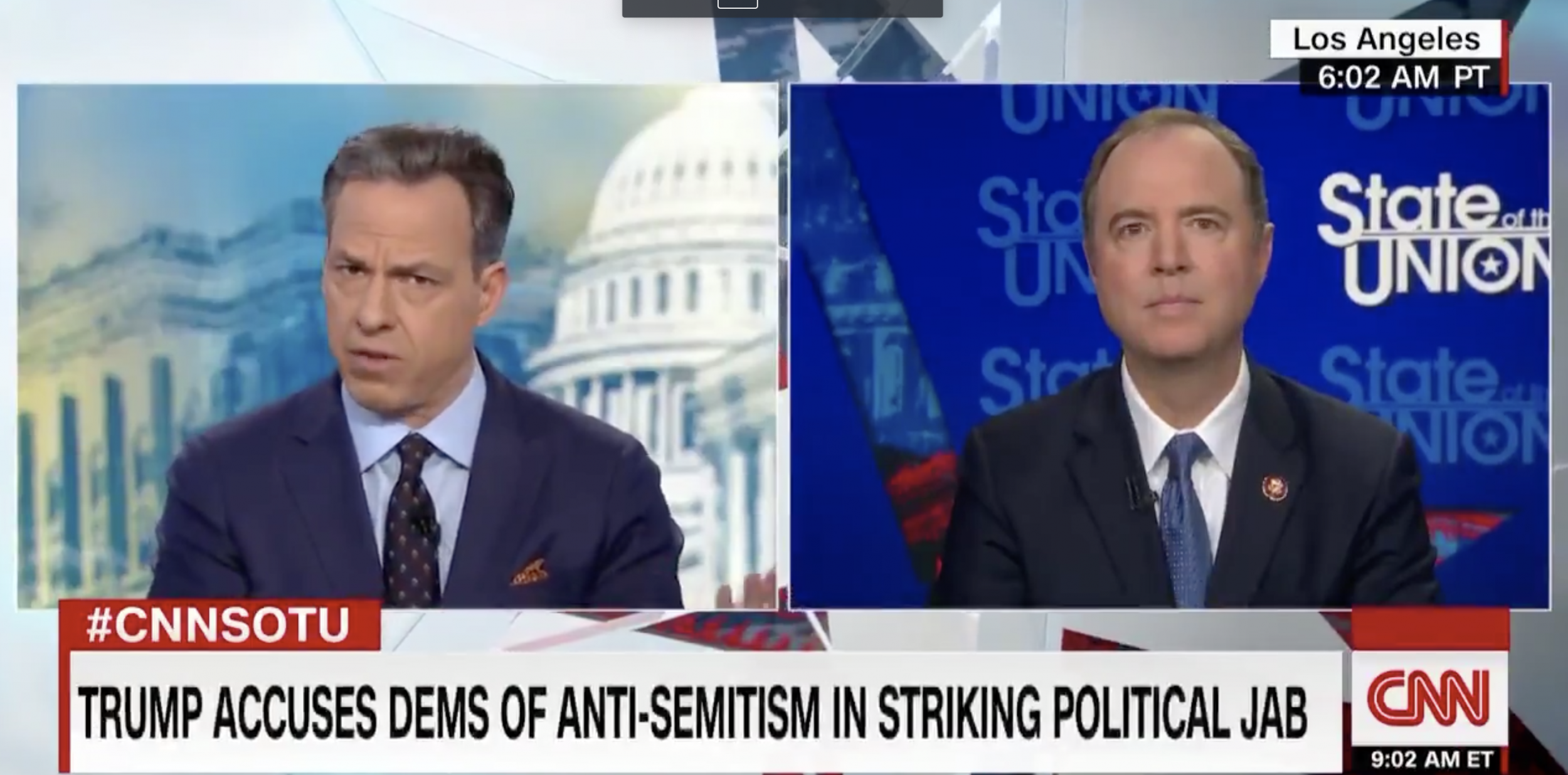 A senior House Democrat responded Sunday to President Donald Trump's recent allegation that the ranks of the Democratic Party had become tainted by anti-Semitism by pointing to the president's previous, highly criticized remarks.
On Saturday, Trump made an appearance at a Republican Jewish Coalition event, where he not only touted his administration's relationship with Israel, but also took aim at Democrats, accusing the opposing party of harboring members with anti-Jewish sentiments.
"The Democrats have even allowed the terrible scourge of anti-Semitism to take root in their party," said the president, presumably referring to controversial comments made by a handful of representatives who have criticized the Israeli government.
Appearing on CNN's State of the Union Sunday, Rep. Adam Schiff, Chair of the House Intelligence Committee, fired back at Trump, using the president's own words against him.
"It's not the Democratic Party that believes there are good people on both sides of a Nazi rally," Schiff told host Jake Tapper. "There's just one party and one party leader who believes that, and that's Donald Trump."
Schiff was referring to comments made by Trump in the days after the tragic "Unite the Right" rally in Charlottesville, Virginia. On August 12, 2017, a rally of far-right and white nationalist groups erupted into a violent confrontation with counter-protestors, and resulted in the death of Heather Heyer, who was killed after one rally attendee rammed his car into a crowd on a small side street.
"I think there is blame on both sides," Trump said in the aftermath of the event, which included throngs of white nationalists changting things like "Jews will not replace us."
Continued the president, "You had some very bad people in that group. You also had some very fine people on both sides."
On CNN Sunday, Schiff argued that Trump is actually helping to solidify the Democratic support from the Jewish community.
"If there's anything that is likely to cement the relationship between the Democratic Party and the Jewish community it's the presidency of Donald Trump," said the congressman. "The lack of character and values that are certainly inconsistent with Jewish values I think are only consolidating support in the Jewish community, and I think the president needs to look inward when it comes to the rise of anti-Semitism in the country and his own actions and his own words and how that may fuel some of the rise in hate that we see, not just in the form of anti-Semitism but the rise in acts of hate of all kinds."
Perhaps the most high-profile Democratic lawmaker to make remarks critical of Israel is Rep. Ilhan Omar, who received significant backlash following her implication that American politicians' support for Israel was "all about the Benjamins."
Trump specifically called out Omar by name during his RJC speech Saturday.
"Special thanks to Representative Omar of Minnesota," joked the president, adding "Oh, I forgot. She doesn't like Israel."
This comment came only hours after it was revealed that a New York state man had been arrested by the FBI for allegedly threatening to "put a bullet" in the congresswoman's skull, accusing her of being a member of the Muslim Brotherhood.
Omar is also one of the few members of Congress who supports the Boycott, Divestment, Sanctions (BDS) Movement, which aims to "end international support for Israel's oppression of Palestinians and pressure Israel to comply with international law."
Speaking to Tapper, Schiff responded to concerns about Democrats who are in favor of BDS.
"I certainly don't support the BDS movement and yes, there are isolated comments by members of our caucus that I have strongly condemned as being anti-Semitic but it's one thing when you have a few members who make comments and it's another when the President of the United States makes comments like he did about Charlottesville," he said. "There's quite a difference. I'm very proud of our leadership and its condemnation of anti-Semitism."
Speaker of the House Nancy Pelosi explicitly denounced BDS, referring to it as "bigotry masquerading as policy."
Omar hit back at this sentiment, telling Newsweek, "A condemnation for people who want to exercise their First Amendment rights is beneath any leader... I hope that we find a better use of language when we are trying to speak as members of Congress that are sworn to protect the Constitution."