Arizona Republican Congressman Andy Biggs said during a Monday radio interview produced by the conservative Christian group, the Family Research Council (FRC), that he voted against the Families First Coronavirus Response Act (FFCRA) on Saturday because it included provisions for domestic partnerships, including same-sex relationships.
According to the Southern Poverty Law Center, the FRC has been labeled a hate group because of its fervid anti-LGBTQ stance.
Biggs was one of 40 Republicans who voted against the FFCRA, although the legislation was ultimately passed by the House of Representatives.
Language within the Emergency Paid Sick Leave Act, which is part of the overall economic package, defines both the terms "domestic partner' and "committed relationship."
"The term 'domestic partner,' with respect to an individual, means another individual with whom the individual is in a committed relationship," read the legislation.
"The term 'committed relationship' means a relationship between 2 individuals, each at least 18 years of age, in which each individual is the other individual's sole domestic partner and both individuals share responsibility for a significant measure of each other's common welfare," the bill continued. "The term includes any such relationship between 2 individuals that is granted legal recognition by a State or political subdivision of a State as a marriage or analogous relationship, including a civil union or domestic partnership."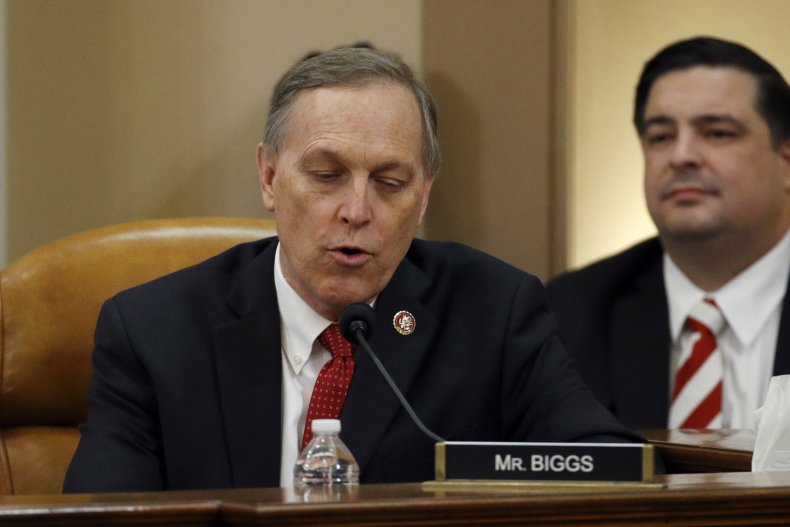 Biggs took issue with the definitions by claiming the legislation attempted to redefine the meaning of 'family,' something Biggs claimed federal laws had never attempted to accomplish in the past.
"They've redefined family for the first time in a piece of federal legislation to include committed relationships," Biggs said. "The problem with that, of course, is it's really hard to define a committed relationship and it's really hard to define anything related to that and so they've tried to—they've put in, in my opinion—sort of an amorphous definition. But that leaves it wide open and then they expand it, expand on that."
Biggs also said that the provision has nothing to do with the coronavirus, but "that's just par for the course for the Left."
"While LGBTQ couples can be rightfully recognized in marriage today, many LGBTQ and non-LGBTQ Americans remain in domestic partnerships," GLAAD Chief Communications Officer Rich Ferraro told Newsweek. "Voting to harm his LGBTQ constituents and their children is nothing new, but using COVID-19 to do it is a new low for Representative Biggs."
"Representative Biggs' constituents, his wife Cindy Biggs, and their family should be ashamed and angry that during a national crisis when Americans are coming together, Representative Biggs is busy continuing his long campaign to harm LGBTQ families and also using his unethical relationships with anti-LGBTQ hate groups like the Family Research Council to inaccurately claim this relief bill would 'redefine family,'" Ferraro added.
Biggs and his wife have been previously linked with United Families International (UFI), a conservative Christian group noted for its stance against same-sex marriage. Representative Biggs was reportedly the group's policy adviser while his wife, Cindy, was the secretary and treasurer.
In an article published on UFI's website in February, the organization says that shifting the definition of marriage away from the traditional viewpoint of one man and woman "is to ignore a fundamental truth that gives substance to our understanding of how human beings interact, and how we teach this moral belief to our children."
"When marriage is undermined the healthy family is as well, and thus the strength of our nation," the article adds.
Correction: This article was corrected to say Biggs is a representative, not a senator.