Rep. Brian Mast Tells Tucker Carlson He Won't 'Play' Pelosi's 'Stupid Game' on Mask Fines
Republican Congressman Brian Mast of Florida had harsh words Friday evening for House Speaker Nancy Pelosi's decision to keep fining House members who don't wear facemasks.
Mast, a guest on Tucker Carlson's Fox News opinion show Friday said, "I'm just not going to play her stupid game that falls somewhere between dog and pony shows, smoke and mirrors and pure manipulation," speaking about House Speaker Nancy Pelosi's decision to keep the mandate in effect in Congress.
Mast made these comments in response to Carlson asking why he stood up at the House podium during an unrelated vote and said, "Madam Speaker, as the member designated for the representative from Florida Brian Mast. I asked that, given the updated CDC guidance, we all take off these stupid masks."
Mast posted the same video to his Twitter feed yesterday. The short video shows him holding his cloth mask in his hand while at the podium. Carlson said Mast "was threatened with a fine for being maskless on the House floor."
House Speaker Pelosi had previously announced on Tuesday that House members would be allowed to remove their masks on the floor when they are recognized to address the chamber, which Mast had been in the video. It was unclear from the video and the interview whether or not the Republican congressman left the podium with his mask off, and if these were the conditions that may have prompted a threat of a fine.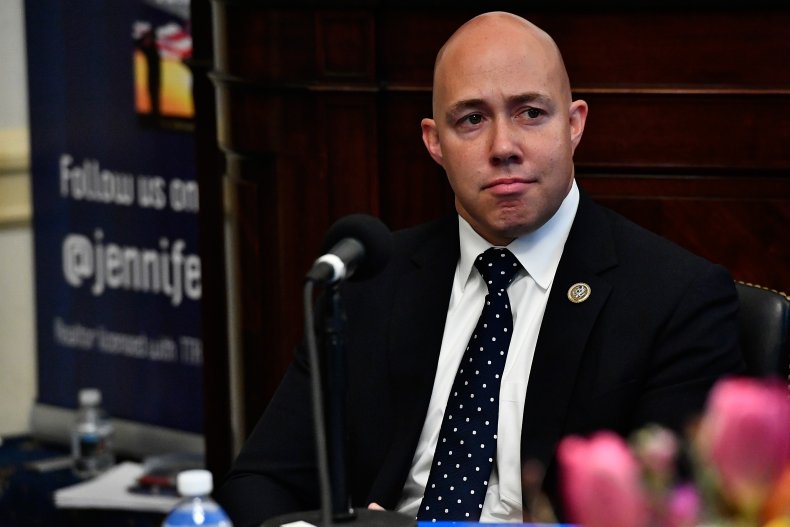 In a tweet on Thursday, Mast wrote: "The Capitol Attending Physician has determined that it is safe to 'resume activities without wearing a mask or staying 6 feet apart' if vaccinated. Ignoring this determination & CDC guidance, Nancy Pelosi is keeping the mask mandate. It's not about science. It's all about power."
Mast echoed these sentiments on Carlson's show, saying, "We're just not gonna follow Speaker Pelosi's tyrannical rule here." However, Speaker Pelosi's office has explained that she feels unable to lift the mask mandate in the house because only about 75 percent of Congress is fully vaccinated. And in an internal letter obtained by Newsweek, written by the Capitol Attending Physician, Dr. Brian P. Monahan, it states that the rules for unvaccinated members of Congress remain unchanged.
Mast, a self-stated assault weapon enthusiast, took the opportunity to make a comparison between guns and masks as means of self-protection.
"Let's see if they use the same fervor about protecting yourself when it comes to us physically protecting ourselves, you know, say personally, with our firearms or things like that. I don't think it will apply for them in the same situations," he said.
Newsweek has reached out to Speaker Pelosi and Rep. Mast for comment and will update this story with any response.