Rep. Cori Bush Gets Private Security—What About the Rest of Us? | Opinion
An essential member of the Squad, congresswoman Cori Bush (D-Mo.) has established herself as a passionate advocate for socialist and progressive ideals. She's an even-keeled, clear-eyed visionary fighting for freedom, didn't you know? We are lucky to have Bush, and boy does she know it.
In comments to CBS News, Bush responded to accusations that she's a hypocrite for hiring private security while calling to defund the police. She's not a hypocrite, she says. She's just more important than you.
"I'm going to make sure I have security because I know I have had attempts on my life, and I have too much work to do, there are too many people that need help right now for me to allow that," she said. "So, if I end up spending $200,000, if I spend ten more dollars on it—you know what? I get to be here to do the work. So suck it up, and defunding the police has to happen. We need to defund the police and put that money into social safety nets."
Bush will have security because her safety is on the line. The hundred-plus homicide victims in her district of St Louis? They apparently didn't need security, or, if they did, they weren't worthy of protection.
Do you live in a city that defunded police? Are you the victim of repeat offenders in New York and Seattle? Were you a gunshot victim in the alarming rise of gun violence in Portland? Did the understaffed police not respond to your emergency in Minneapolis? The message from Bush: "suck it up."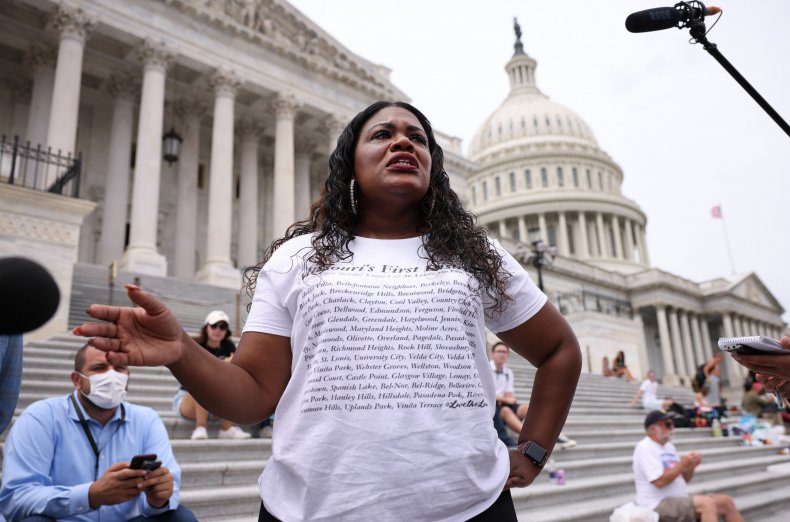 The Democratic congresswoman will get her way, and her way is the right thing for this country. Though, just in case it isn't, she'll be protected by her high-priced security.
Bush doesn't hide what she thinks of herself and the public. She appears to believe she's more worthy of protection from society's dangers because she has a cause greater than yours. She's fighting for democracy, while you're just trying to live a safe life with your family.
As odious as this position is, I'm thankful for Cori Bush's honesty.
Usually, Democrats pushing to defund police will pretend they're doing it to help people, despite increasingly clear data that it's hurting. But Bush is open; this is about her peace of mind, not ours.
Republican candidates and PACs will likely use her interview in campaign ad after campaign ad to remind voters what's at stake in the midterm election. It'll be a great reminder to any Democrats foolish enough to continue these talking points and blame the GOP. Still, we have a clear video of a progressive darling saying the quiet part out loud.
This horrific interview will be good for conservatives. We don't need to alter snippets out of context to make a slicker attack ad, nor will we ever have to get creative in our interpretation of what Bush says and believes. We just have to play a few seconds of video, and she'll have made our point.
We shouldn't condemn Bush for her comments; we should thank her for them. It tells the world who she and her colleagues genuinely are.
Jason Rantz is a frequent guest on Fox News and is the host of the Jason Rantz Show on KTTH Seattle, heard weekday afternoons. You can subscribe to his podcast here and follow him on Twitter: @jasonrantz.
The views expressed in this article are the writer's own.