Rep. David Cicilline Says He'll Propose Rule to Stop Marjorie Taylor Greene's Delay Tactics
Representative Marjorie Taylor Greene's repeated efforts to delay work in the House of Representatives has drawn bipartisan ire and may result in a new rule change.
After Greene, a Georgia Republican, tried Wednesday to stall the lower chamber's final vote on President Joe Biden's $1.9 trillion coronavirus relief package by forcing a motion to adjourn, Representative David Cicilline (D-R.I.) said he will propose a rule change to ensure it doesn't happen again.
"I'm dead serious," he told reporters.
The rule would mean a member can do a motion to adjourn only if the representative is a member of a committee. Greene was stripped of her committee assignments by House Democrats last month after some of her controversial social media posts resurfaced. In them, she promoted QAnon and other conspiracy theories and advocated violence against Democratic leaders.
"He's trying to come up with a solution for the repeated attempts made by one of his colleagues to go home early from work and disrupt the important work Congress has to do. He plans to discuss this further with leadership and the Rules Committee," said Cicilline's press secretary, Matt Handverger.
Asked about Cicilline's proposal, Greene told Newsweek: "Do you mean Rep. Mussolini? Not only did Democrats unilaterally strip away my committees, now they want to remove any powers I have to represent my district. The Democrats run the House of Hypocrites with tyrannical control."
Greene's motion to adjourn on Wednesday failed in a 149-235 vote, with 41 Republicans voting against it. In fact, each of Greene's attempts to end business in the lower chamber for the day have failed, and every time more Republicans have bucked her motion.
Representative Jim McGovern (D-Mass.) told reporters that it was "unconscionable that they are doing everything they can to try to, again, delay getting aid to the people, including their constituents who are in desperate need."
Republican Representative Dan Crenshaw of Texas told CNN Tuesday, "I am not voting for any more motions to adjourn. These things are the games that both sides play. I'm not a fan of it from either side."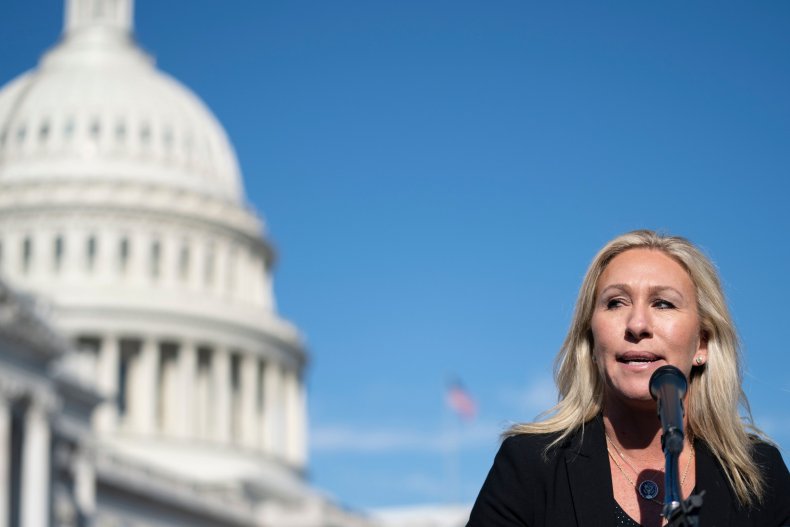 Despite the slight delay, the House is poised to pass the president's sweeping relief package on Wednesday afternoon. Biden is expected to sign it into law by Sunday, which is when key unemployment programs expire.
The American Rescue Plan will provide $1,400 direct payments to individuals making less than $75,000 annually, $350 billion in state and local aid, $14 billion for COVID-19 vaccine distribution and $170 billion for education. It will also provide an additional $300 in weekly jobless benefits through September and a child tax credit of up to $3,600.
In a Twitter post announcing her motion to adjourn, Greene said Republicans "should do everything to stop" Biden's relief package from being passed.
"I just made a motion to adjourn to stop Congress from passing the $1.9 trillion massive woke progressive Democrat wish list," Greene wrote. "The GOP has messaged against this ridiculous bill. We should do everything to stop it. Pay attention if Rs vote to adjourn. Or with the Dems."
This story has been updated to include a comment from Representative David Cicilline's office.