Rep. Jim Jordan Faces Backlash After Tweet Stating 'Real America Is Done With COVID-19'
Ohio Representative Jim Jordan is facing criticism for writing a Thursday morning tweet about COVID-19 that many have deemed as insensitive.
"Real America is done with #COVID19," the Republican lawmaker wrote. "The only people who don't understand that are Fauci and Biden."
His message soon went viral and was met with a swift backlash, including by many commenters who cited the deaths the nation—and Ohio—has experienced due to the virus.
Matt McDaniel was one of the early critics to respond. McDaniel, a senior director of programming for Pluto TV, wrote: "104 Ohioans were done with Covid on Tuesday. (They died of it.)"
Jordan's tweet comes as many public officials—including President Joe Biden and his chief medical advisor, Dr. Anthony Fauci—speak about concerns regarding the new COVID variant Omicron.
Along with numerous civilians speaking out against Jordan's comments, fellow politicians have criticized him. This included Illinois Representative Sean Casten.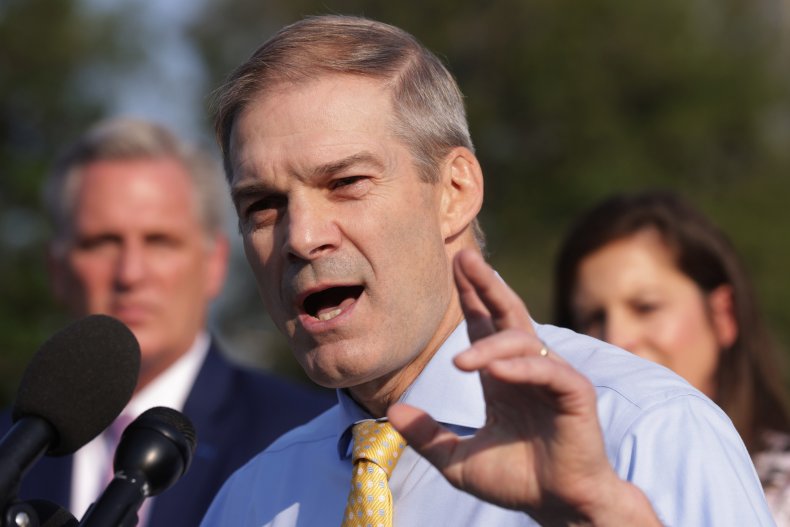 "Regardless of what you may hear from this gentleman, Ohio is, in fact a part of Real America. As such, it's a good place to get vaccinated," Casten wrote. "We don't want to lose any more of you."
"Republicans seek to divide us," California Representative Ted Lieu wrote. "There is no such thing as Real America. Whether you are a long suffering Browns fan or a Lions fan; live in Paris TX or Perris CA; slurp kale smoothies or eat apple pie; prefer beer that tastes great or is less filling, WE ARE ALL AMERICANS."
Common Defense, an organization of progressive military veterans, also wrote a scathing critique of Jordan's tweet. It read: "Real America is trying our hardest to end the pandemic by following public safety protocols like getting the COVID vaccine. It's like these Republicans think COVID just goes away if you ignore it."
"A good friend of mine has been in the hospital for a month with Covid but yeah... real America is done with Covid. I'll text him the message," actress Angela Belcamino wrote.
Many Twitter users brought up allegations about Jordan during his time working for Ohio State University. Jordan coached wrestling at the school from 1987 to 1995. During his time there, a team physician allegedly engaged in sexual misconduct against student wrestlers. Several former wrestlers have since alleged that Jordan knew of the abuse and chose to ignore it, a charge that Jordan has denied.
"Does Real America tell authorities when wrestlers on the team they coach are being molested by the team doctor?" Jeremy Newberger, CEO of Ironbound Films, posted. "Just want to make sure we are thinking of the same America."
Although Jordan has yet to respond to the criticism, he offered another COVID-related post on Thursday hours after his "Real America" tweet. He wrote: "Defund #COVID19 mandates."
Newsweek contacted Jordan's office for comment.
Update 12/02/21, 2:30 p.m. ET: This story has been updated to include more responses to Jordan's tweet.